Disclosure: This post may contain affiliate links, meaning we get a small commission if you decide to make a purchase through our links, at no cost to you. TheSalonBusiness.com is a subsidiary of Mangomint.
Learn more...
Are you considering Salon Iris Software for your salon?
Then you've landed in the right place.
Salon Iris is one of the most popular and well-known salon software on the market.
But is it the right for you and your salon?
This is what we're going to figure out today.
This is an honest review of Salon Iris where I cover all the pros and cons of the software. I'll go into depth on the features and show you how the salon software works so that you can make an informed decision if it's the right solution for you.
I really think this review will be helpful for you. But I also recommend you give Salon Iris a test drive yourself. Salon Iris offers a 14-day free trial that allows you to try it before you buy. I also have a discount code that you can use to get a better deal if/when you decide to sign up for a paid plan.
Let's start with an overview of the review.
Salon Iris Software Review at a Glance
Description
Salon Iris is an award-winning, full-featured, salon software that is designed to help salon businesses grow through support in all areas of their business. For over 20 years, Salon Iris has helped hair, barber, nail, tanning and beauty salons in all sizes manage their business.
They offer plans for all types of salon businesses – from individual booth renters all the way up to multi-location franchises.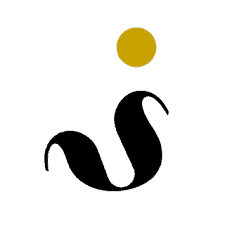 Overall Score
4.6
Salon Software Type
Full Feature Salon Software
Cloud hosted or available for offline use
Accessible in web browser, desktop application, iOS App, Android App, and dedicated POS system
Pricing
Basic: $29/month (for single users)
Delux: $59/month (up to 3 users)
Premiere: $109/month (unlimited users)
Review Breakdown
Ease of Use (4.0)
Appointment Management (5.0)
Client Data Management (5.0)
Salon Marketing Features (4.5)
Point of Sale (5.0)
Business Management & Reporting (5.0)
Customer Service (4.5)
Pricing (4.0)
Review Summary
There's no doubt Salon Iris is a top player among the salon software solutions on the market. It's the most extensive software I have come across. You really need to dig hard to find a feature that isn't there.
Salon Iris shines with its sophisticated, yet easy to use, appointment scheduler, its email marketing program, and the business management & reporting tools.
The interface is clean and easy to use but given the large amount of features, I had to spend some time just to figure out where things are and it was not always intuitive (even if you get a hang of it after a while).
Pricing is fair and competitive for its standard program but when you start to add on some third-party tools and want to increase the number of SMS or request other more advanced things, it starts to get more pricy. Salon Iris is not the cheapest solution on the market but you also get a lot more than with other solutions.
Even if you can use Salon Iris everywhere in the world, their support is U.S. centric and also some features. For their standard cloud plans, you're fine independently of where you are. But if you run a multi-location salon chain outside the U.S., I'd probably consider a local salon software supplier.
My overall assessment of Salon Iris is very strong, I'm really impressed with it and strongly recommend it. 
Pros
Most complete salon software on the market
Powerful and flexible appointment management
A rich e-mail marketing program
Only dedicated salon software with physical POS system
Cons
Many advanced features which can make it appear complex to use
Only U.S. support phone number
Not the cheapest solution (even if pricing is fair)
What is Salon Iris?
Salon Iris is a full-featured salon software that is designed specifically for salons to help you simplify your work and grow your business. In fact, users of Salon Iris has reported profit growth of at least 20%.
It's one of the salon software that has been around the longest (founded 1999) and is also one of the most popular salon software on the market. It has received multiple awards: Stylist Choice Award, American Salon Award, Nails Readers Choice Award, and Launchpad Readers Choice Award – just to name a few.
Being a full-featured salon software means the software deliver support across all aspects of a salon business: appointment & client management, salon marketing, salon business management, and salon point of sale (POS). There are more full-featured salon software solutions on the market. But out of the ones I've reviewed, Salon Iris is the most complete solution when it comes to the number of relevant features offered.
Let's get into detail on what that means for you.
Who is Salon Iris For?
Salon Iris is for the salon that wants complete system support to grow their business but at the same time keep things simple by having everything in one place. We'll cover the different features shortly but you'll see that their offer is extremely rich and covers everything a salon needs.
What Type of Salons can use Salon Iris?
Salon Iris is for small to large salons. The type of salons who use Salon Iris are hair salons, nail salons, beauty parlors, barbershops, tanning salons, lash, and blow-out bars.
They do offer a plan for individual stylists and booth renters as well. The only question I'd ask if you're an individual is if you really need the richness of Salon Iris or if you're not better of with a less comprehensive solution (where you can also save a few bucks) but I leave that to you.
Which Countries do Salon Iris Support?
The solution is cloud-based which means you can access and use it anywhere in the world. However, Day Smart (the company owning Salon Iris) is based in the U.S. So there are a three things you need to have in mind if you're based outside the U.S.
Check with them that their SMS service works in your county. Not all countries are supported.
You need to be prepared to call a U.S. phone number to reach their support (and adapt to U.S. time zone opening hours).
Salon Iris also offer a physical POS system that integrates with their salon software. This system may not be available in your country in case you're not U.S. based.
Other than that, it works in every county.
Salon Iris Facts Overview
Before we go into detail, below are a few facts about Salon Iris .
Founded
1999
Salon Software Type

Full Feature Salon Software
Cloud hosted or available for offline use
Accessible in web browser, desktop application, iOS App, Android App, and dedicated POS system

Pricing

Basic: $29/month (for single users)
Delux: $59/month (up to 3 users)
Premiere: $109/month (unlimited users)

Expect additional cost for POS hardware and 3rd party add-on features.

Free trial
Yes (available here)
Located in
Michigan, United States
Owner
DaySmart Software
Phone number
+1 (800) 527-7600
Salon Iris Features Overview
Salon Iris is a a complete, full feature, salon software. This means the salon software combines appointment support, marketing activities, business management, and point of sale into one. It's the most complete solution I've come across which makes it easy to manage all your salon operations and data in one place.
They do not have their own salon marketplace (like Shedul, Vagaro or Mindbody) but you can register your salon on different listings separately. This also means they do not charge clients for booking with you on a market place. The way they make money is via your subscription so you're in full control.
Below is an overview of the features Salon Iris offer. I'll go into more detail on each part of the salon software in this review.
Salon Appointment Software

Online booking
Appointment reminders (SMS/ e-mail)
Easy, drag and drop appointment schedule
Store detailed data, images, history and notes for each client

Salon Marketing Software

Automated and personalize sms & e-mail messages (e.g. on birthday, just after salon visit, or when it's time to book again)
Facebook & Instagram Integration
Client loyalty program
Reputation management: See and manage client reviews on Yelp, Facebook, and Google directly in Salon Iris (partner add-on)
Automatic client review syndication to Google, Bing, Citysearch, Yellowbook and more (via Demandforce partner add-on)
Automatic salon inclusion in salon directories (via Demandforce partner add-on)

Salon Management Software

Advanced inventory management with reminders when stock gets low.
Support for gift cards and membership products
Full payroll support
Manage multiple commission structures
Control access levels for each salon employee
Track vacation, sick days, and time off
Advanced business reporting: Live report, employee performance, product sales statistics, client metrics (retention etc.)

Salon Point of Sale System

Manage check out on any platform
Also offers a dedicated check out unit with drawer, barcode scanner, and receipt printer.
Credit card processing. Process on PC, iPhone, iPad, or Android device (via CardConnect partner)
Gift cards that can be topped up.

Salon Software App

iOS App
Android App

Cloud hosted (access from any web browser)

Salon Marketplace

Salon Iris does not have their own salon marketplace. Neither do they charge clients for booking with you (like many salon marketplaces does). They do however help get your salon listed in directories automatically via third party.
Salon Iris Salon Appointment Software
Salon booking management is probably the most important feature for any salon. Being able to accept bookings online and manage calendars and client data effectively has an massive impact on a salon business.
Salon Appointment Book
The Salon Iris appointment book is super intuitive and easy to work in.
You can drag and drop appointments around and you can have the different type of appointments color coded so that you intuitively see what's up next.
Each employee can also get their view on the calendar so that they see what the need to see, and not more.
I cannot see anyway that the appointment book could be made better.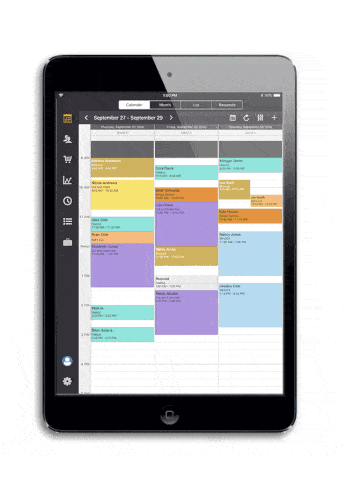 Salon Appointment Notifications
Salon Iris allows you to set up automatic reminders before and after appointments to minimize no-shows and increase customer engagement.
It also gives you the ability to send notifications if and appointment changes or if you want your clients to confirm their appointment ahead to, again, minimize the risk of no-shows.
The level of sophistication at which you can manage the communication around appointments with Salon Iris is impressive and I could not ask for anything more.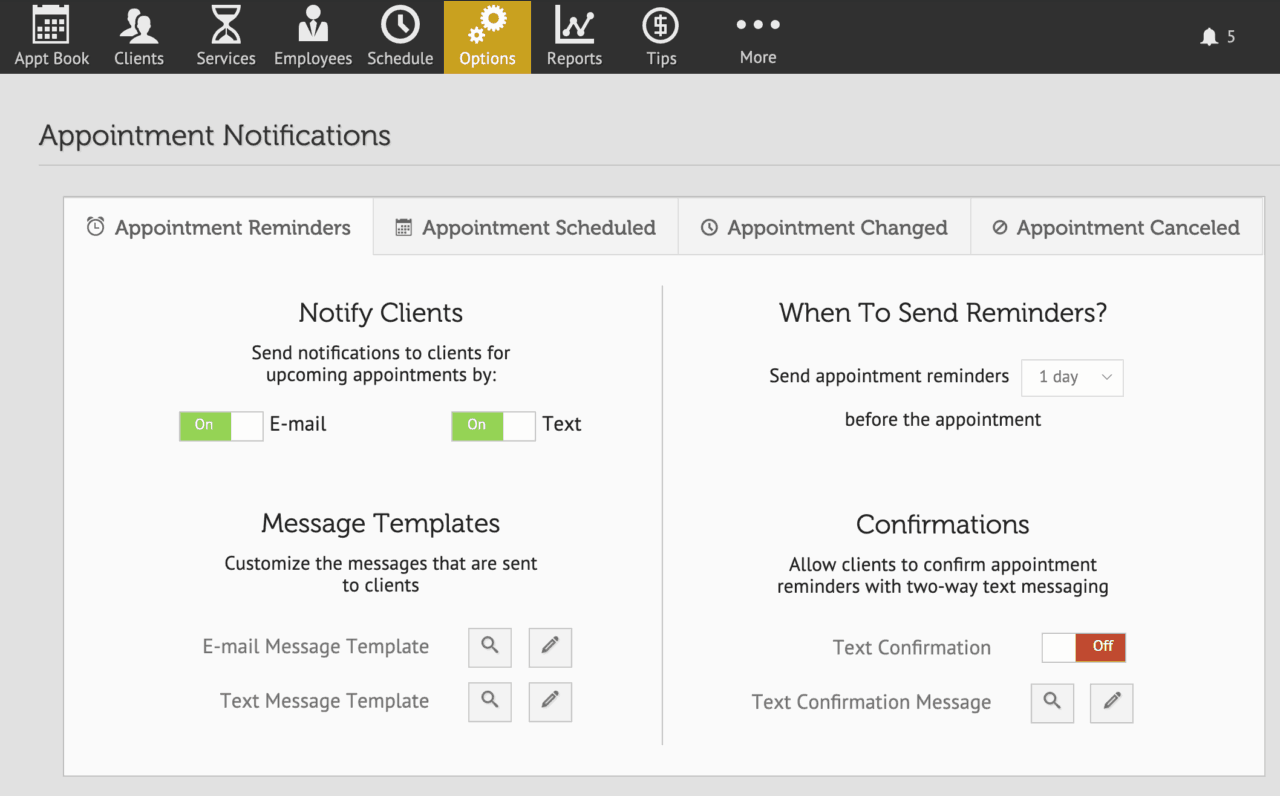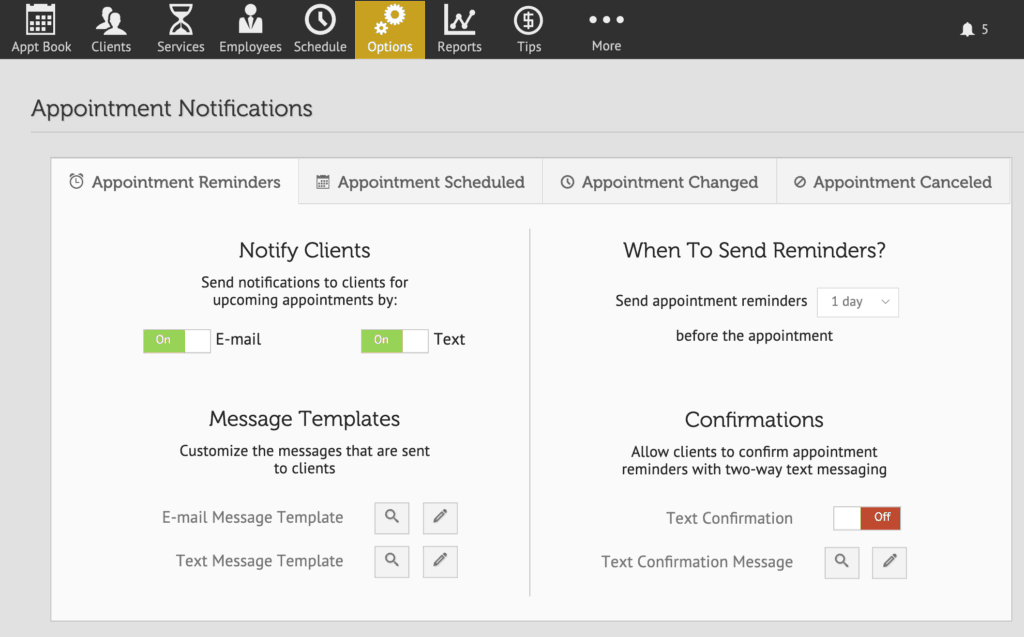 Making Your Online Booking Visible to Clients
The online booking feature is crucial for any salon. And you want to promote it everywhere you possibly can.
1. Create Your Salon Website in Salon Iris
Salon Iris allows you to create your own salon website using one of their predefined salon website templates.
Even if you're not tech-savvy, you can get a website up in just a few minutes. All you need to do is fill out information about your salon.
Having said that, the website you can create with Salon Iris is very basic. And I personally would not use Salon Iris to create my official salon website but a real website builder (like the salon website builders I recommend here)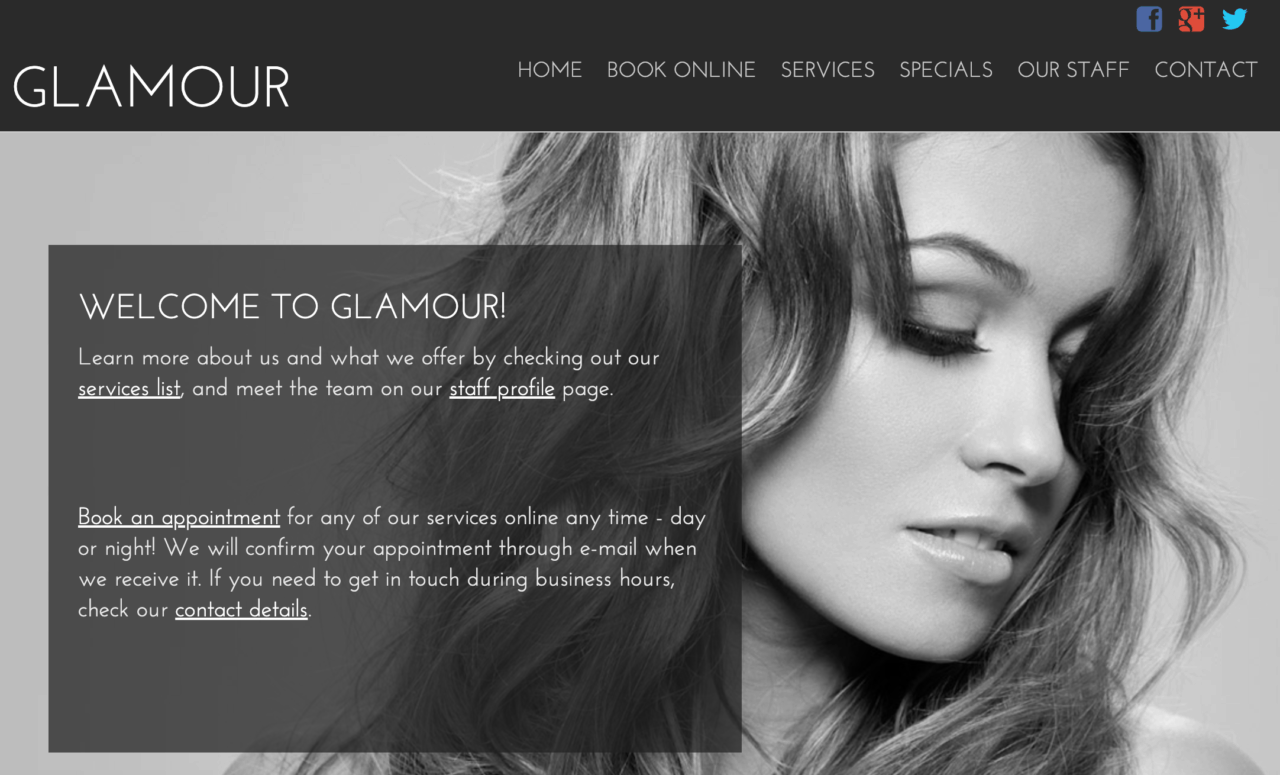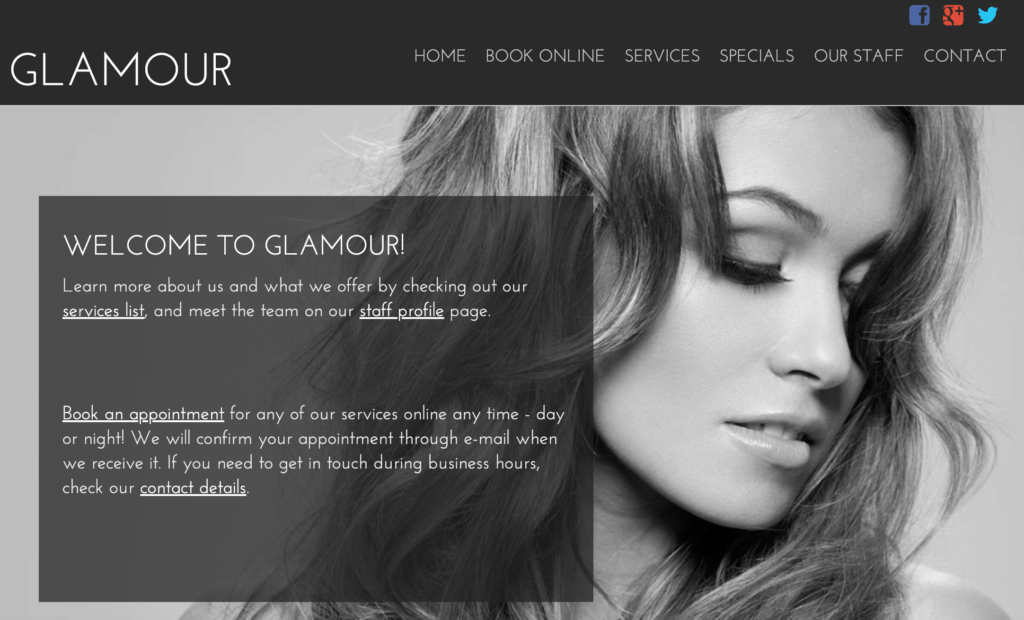 One salon website template out of the 11 themes that are available inside Salon Iris.
It's great to have the option available to get a salon website up fast and easy. And I wouldn't say that any other salon software does a better job than Salon Iris here. You just need to acknowledge that no salon software can really beat a specialized website builder whose only job is to create stunning and functional websites.
But the good news is that Salon Iris supports integration with any other salon website builder.
2. Integrate Salon Iris Booking with Your Website
Independently on which website builder you're using to create your salon website, you can always add the Salon Iris Booking Plugin.
This is a short html code that you just copy and paste onto the page where you want the booking feature to appear.
Salon Iris give you full flexibility to change the design (font, colors etc.) of the booking plugin so that it fits in seamlessly on your website.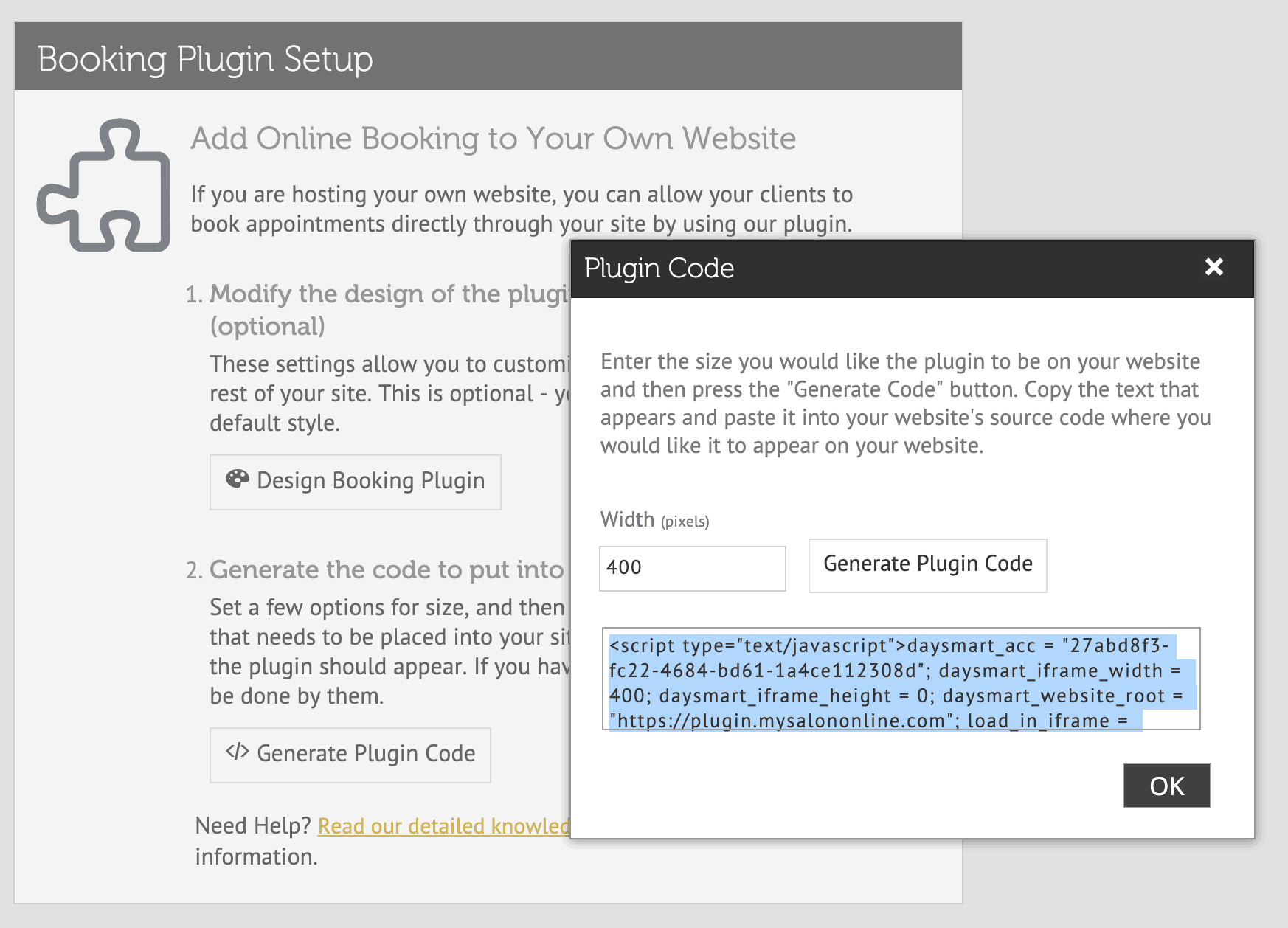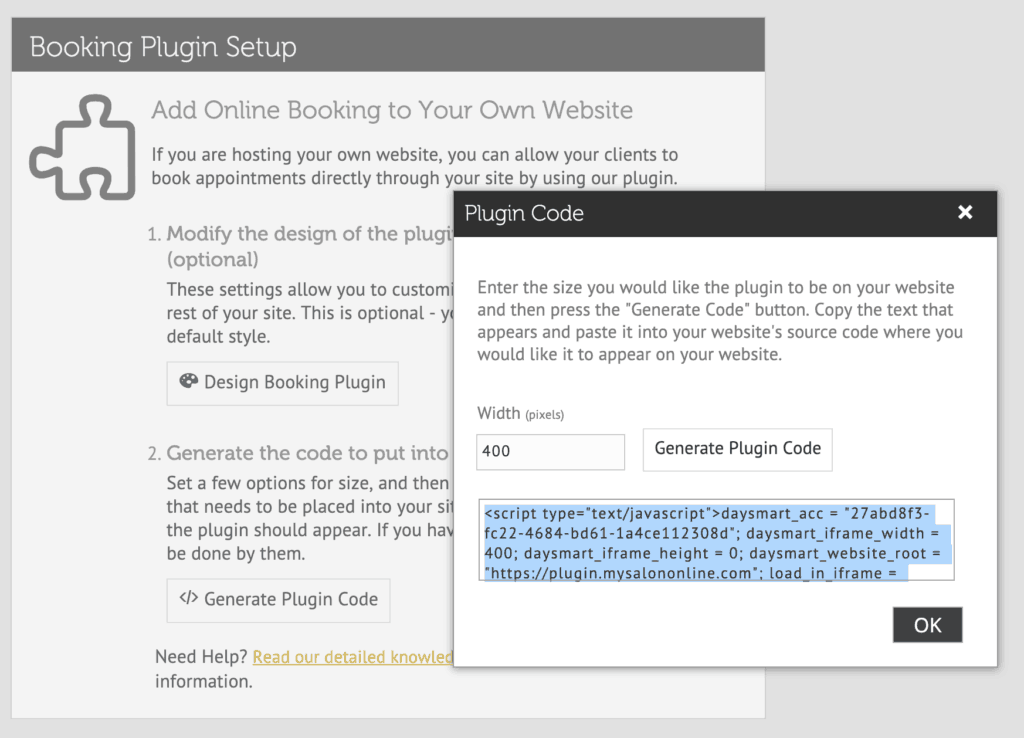 Just to illustrate what this can look like, below is an example from a Salon Facebook Ads campaign where people I sent new salon clients to a specific landing page with an offer. This page was created with a different salon website builder but integrates the Salon Iris booking seamlessly as part of the flow.
Step 1: Client lands on offer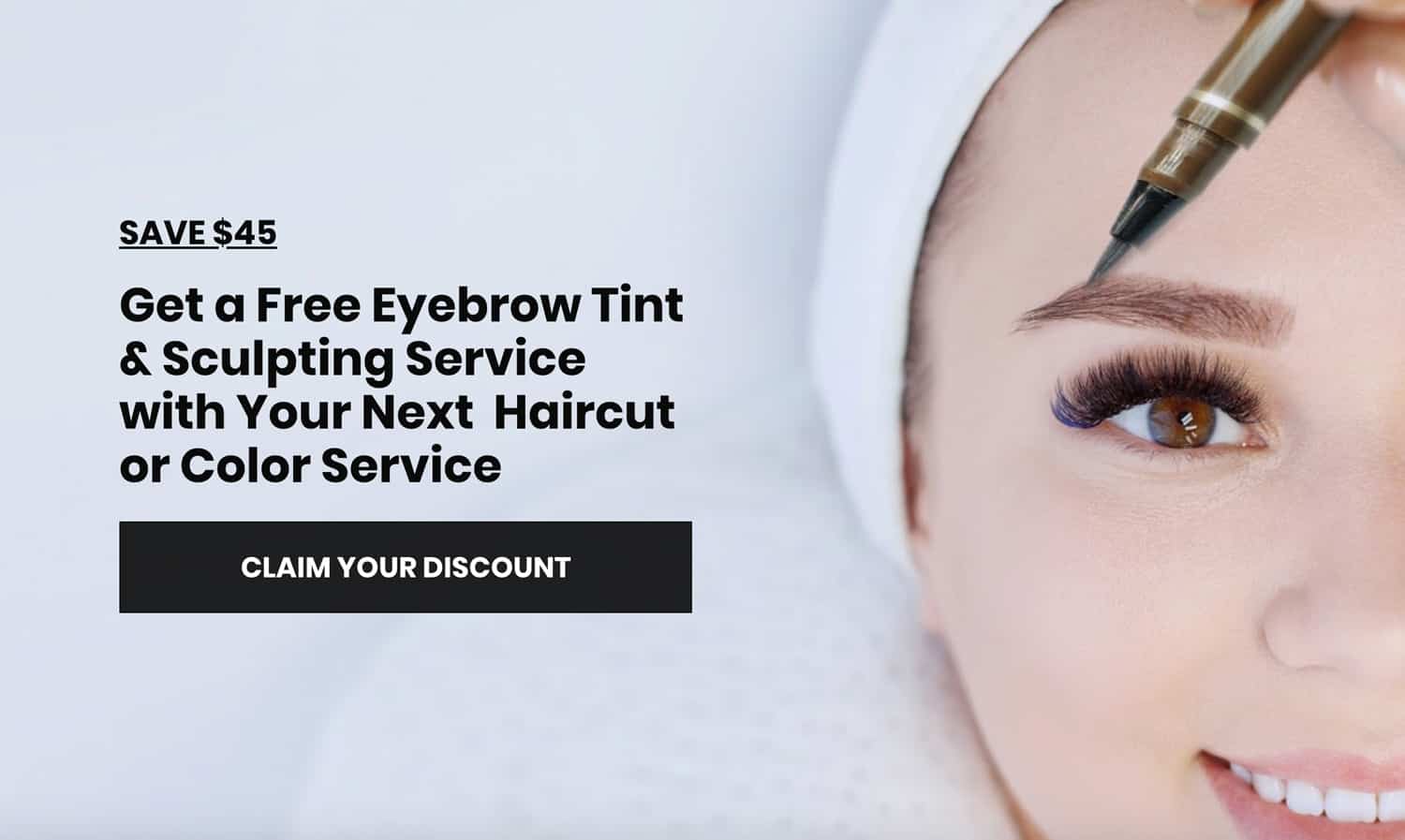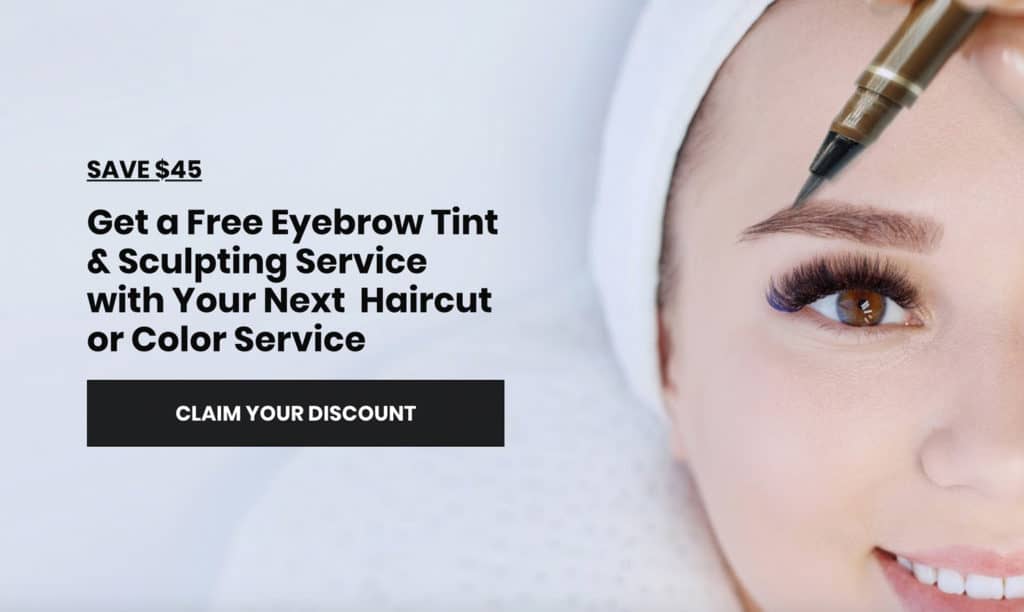 Step 2: Claims discount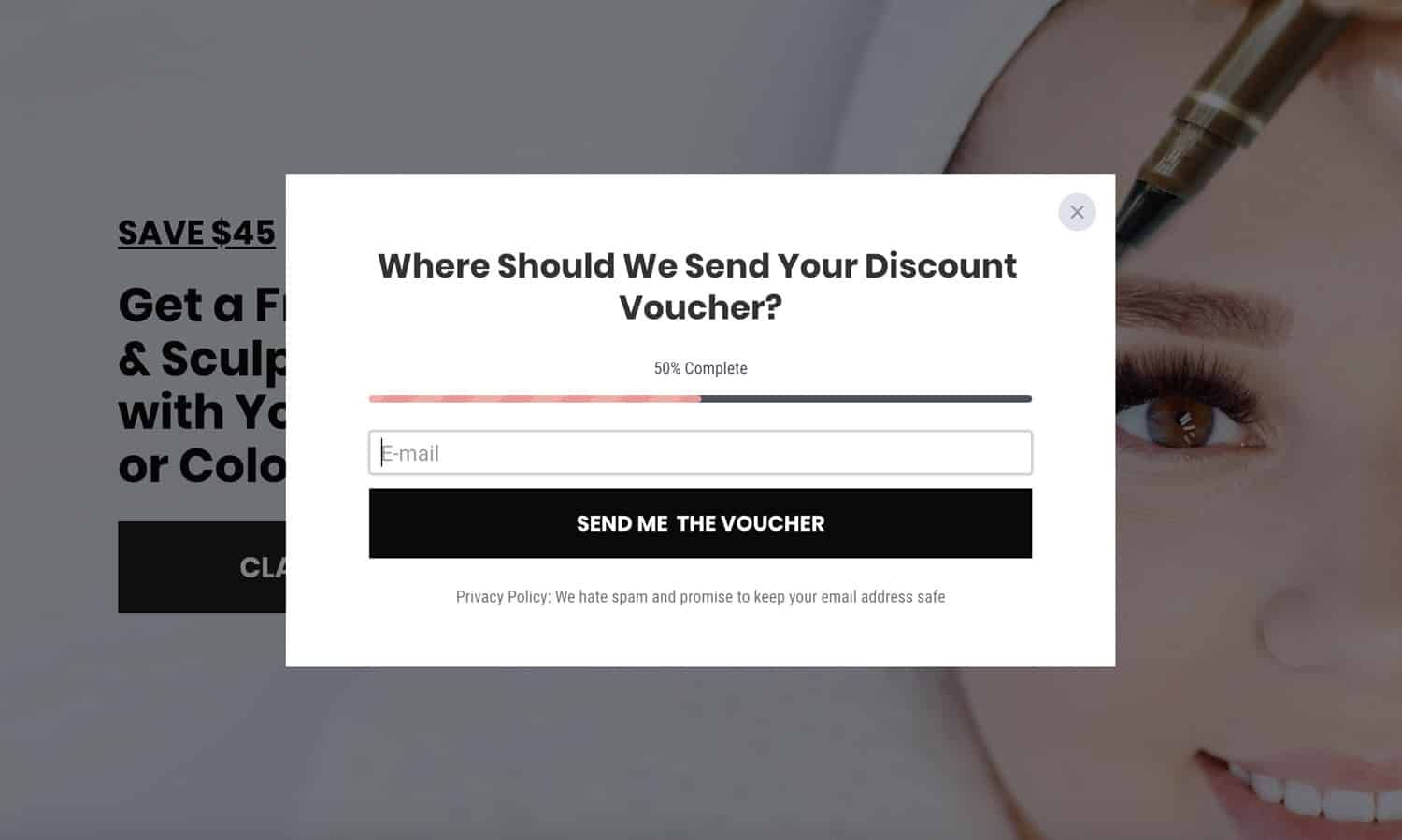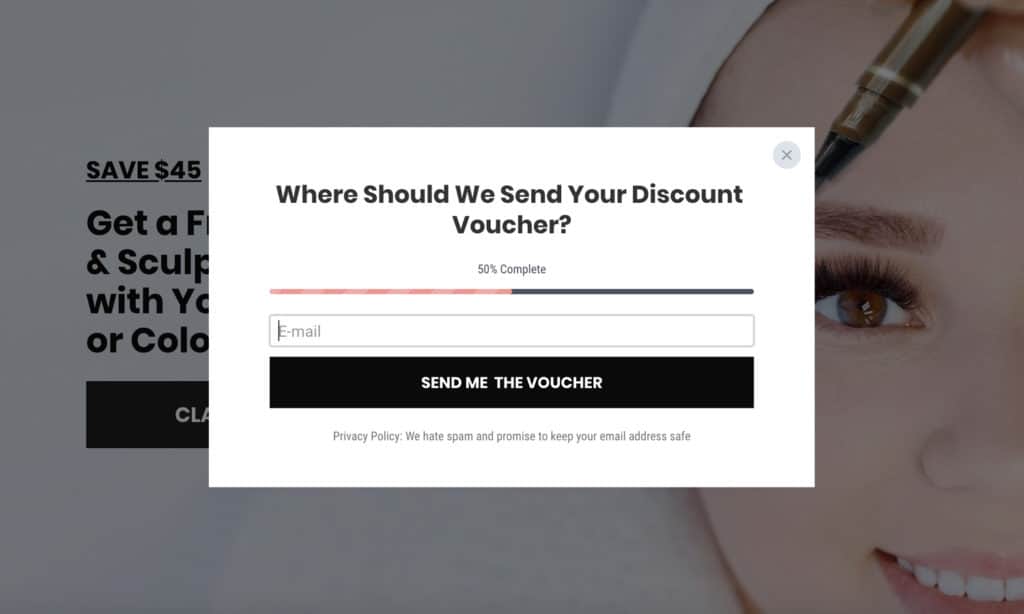 Step 3: Client books via Salon Iris on the same page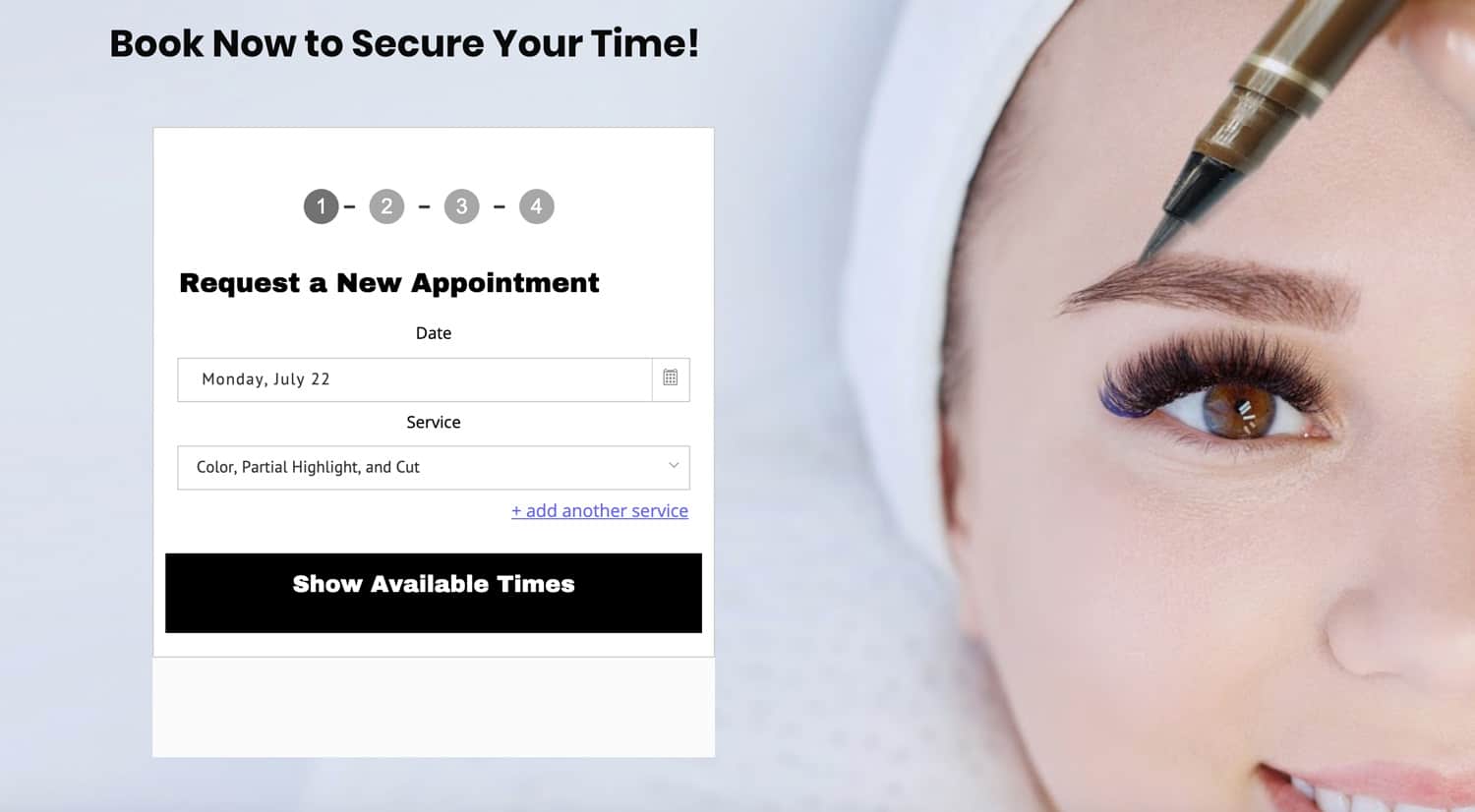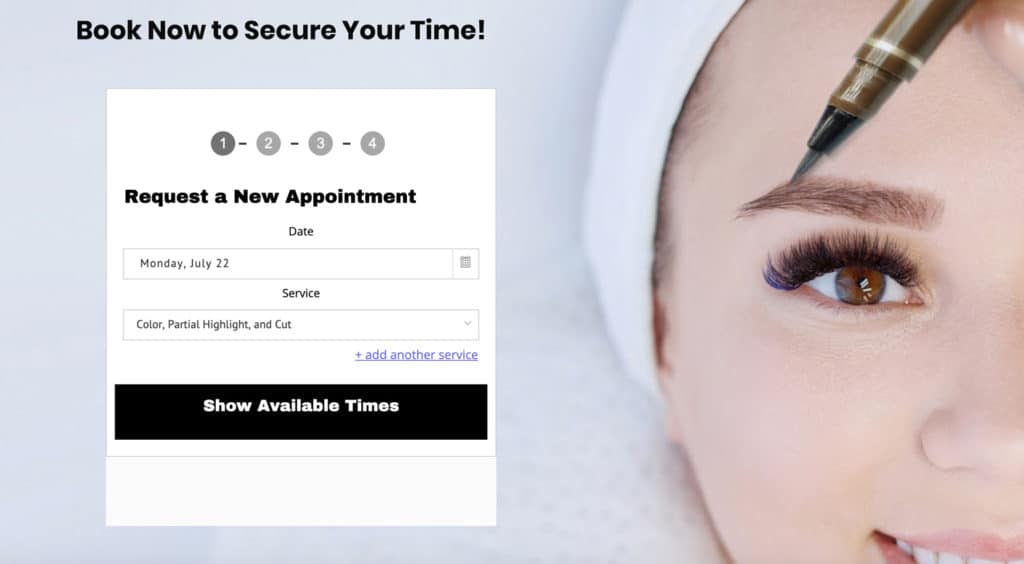 3. Integrate Salon Appointment Booking with Social Media
Salon Iris allow you to connect in with Facebook in order for user to be able to book their appointment without leaving your Facebook profile page. Given instagram is more basic, you'd simply need to include a link to your booking website in your salon Instagram bio.
Managing Client Information and Data
Salon Iris offer rich support for managing data and information about your clients. Store all personal details, view history from previous appointments, record notes at each visit, save images during the appointment, and mange what information your client should receive in your marketing program.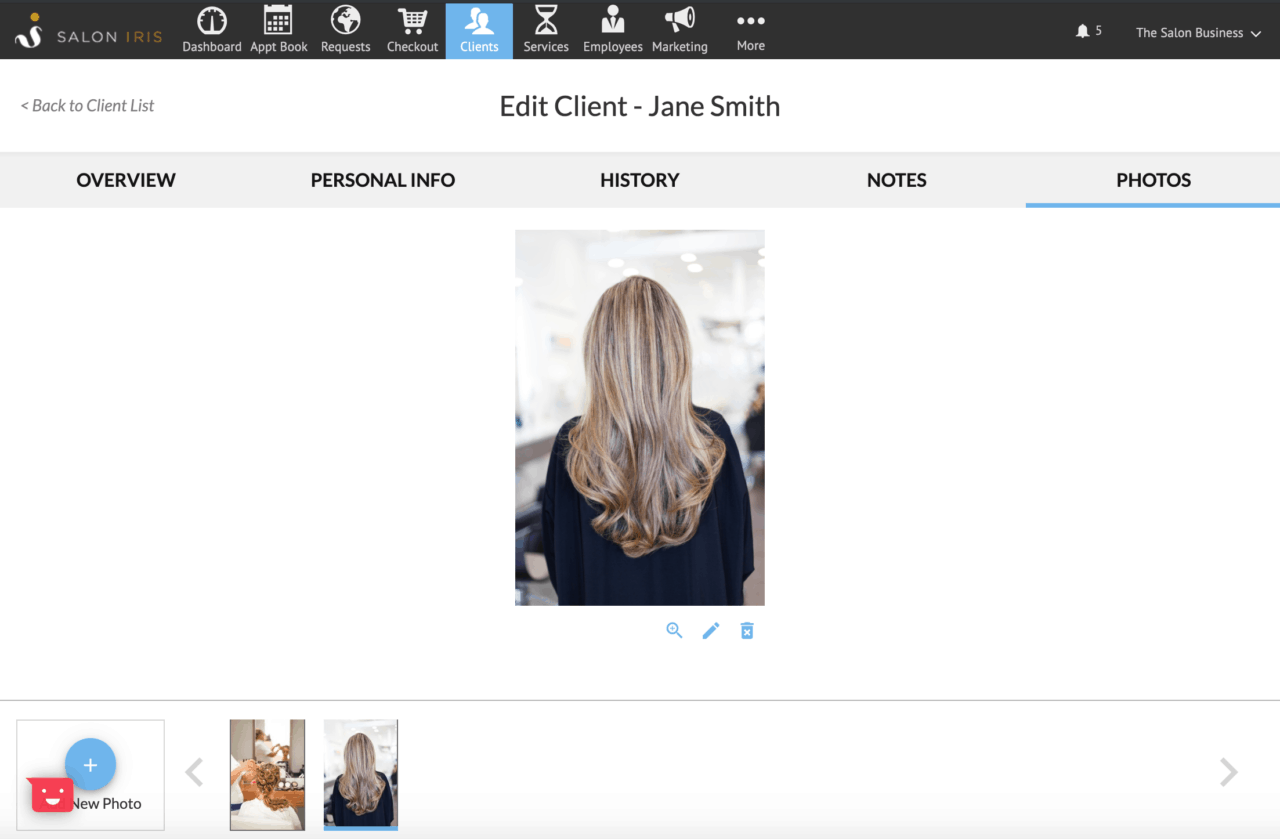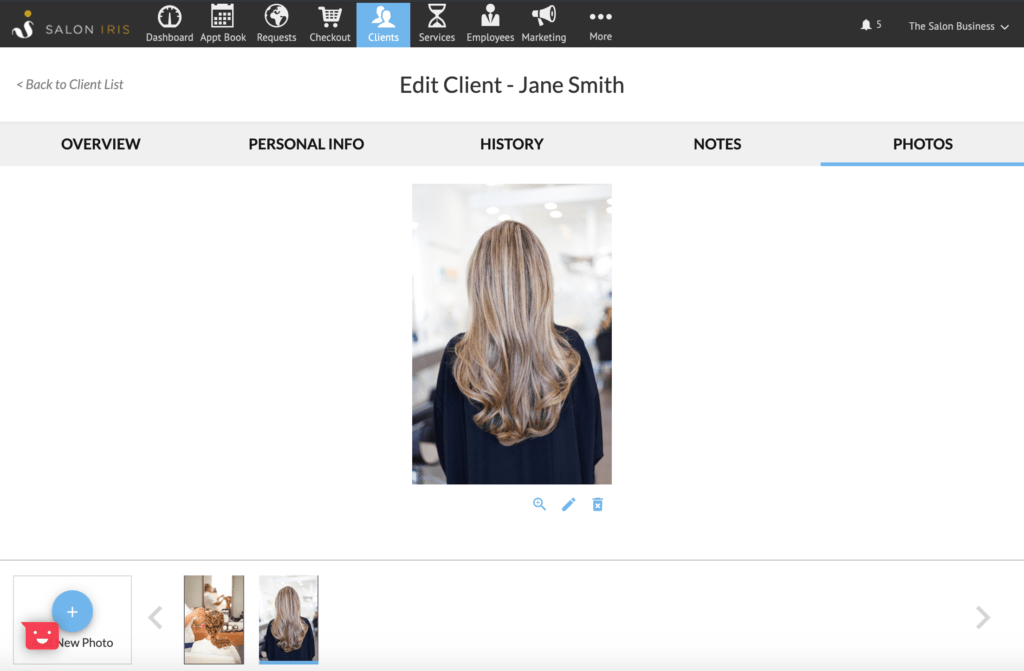 You can also pull individual reports that show you what appointments your clients have booked in the past or what products she usually purchases from you. These are great tools to give you more insight into your client so that you can serve her best possible while opening opportunities and ideas for what more you can offer.
Salon Iris Salon Marketing Software
If you've been following me for a while, you know how passionate I am about effective marketing for salons :). The salon software you choose can make a big difference in how effective you can make your marketing.
Let's go over some of the key ways Salon Iris can help you here.
Email Marketing
I know, e-mail has been around a long time and may not sound like the most cutting edge marketing method. But the fact is, despite all the development of new social media channels, e-mail is the most effective way of reaching your existing and new clients today.
Salon Iris understands this.
And they provide you with rich e-mail marketing capabilities so that you can run your salon newsletter and promotional e-mails.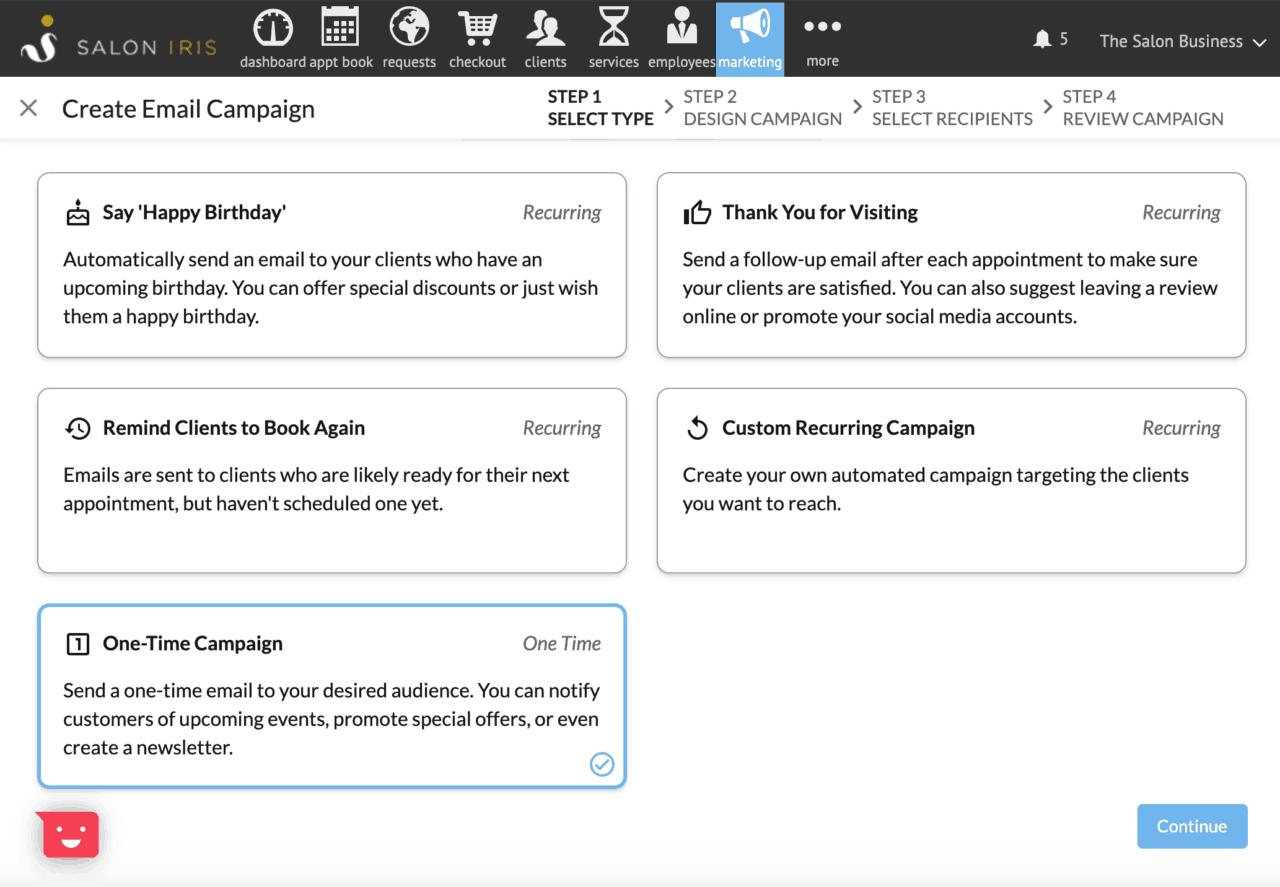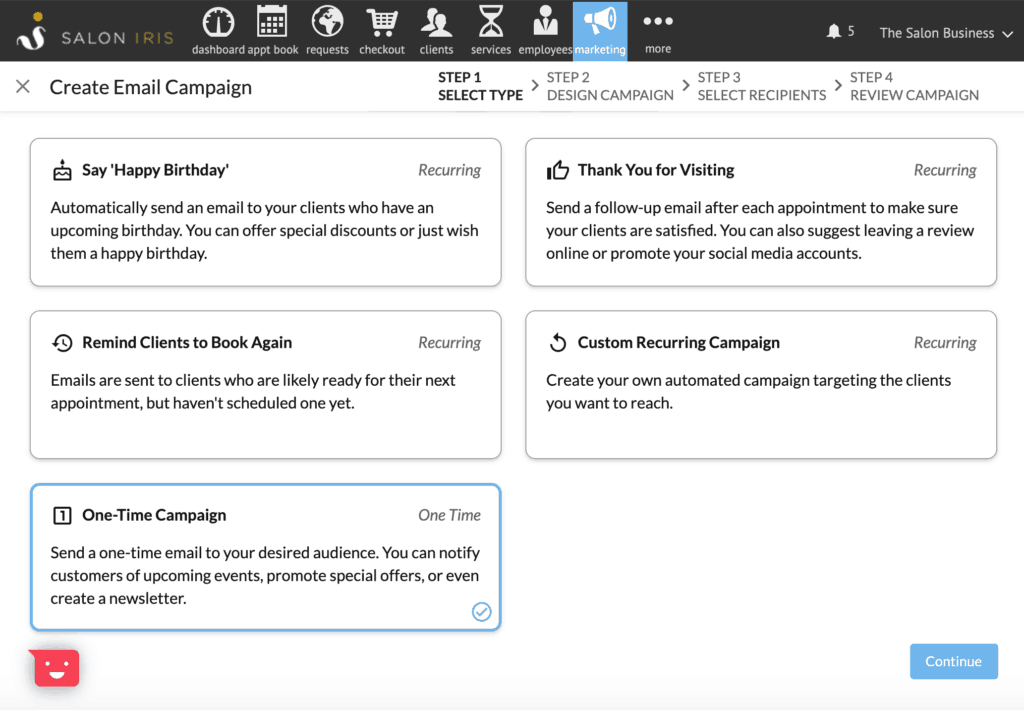 You can hook into multiple events – like when a client has a birthday or just after they've visited your salon or you can send newsletters to your full client base.
Salon Iris also comes with pre-designed salon e-mail templates that you can take and adapt to fit your salon.
Given the richness of Salon Iris e-mail marketing capabilities, I don't see any reason to have a separate e-mail marketing solution for your business unless you're doing some really advanced e-mail marketing.
Salon Reputation Management
Managing your salon's reputation is crucial.
Like it or not, people will research your salon online before they book with you and they listen to what other people say about you. Ratings and reviews of your salon will not always be positive. But this doesn't mean you can shy away from them. Not having ratings and reviews will impact the visibility of your salon online and lower the trust in you.
Salon Iris does not have its own reputation management feature. Instead, they're relying on a third party, called Demandforce, for the service. I can see why they've decided not to create this feature themselves. It's difficult to stay up to date on how to best manage ratings, reviews, and listings on directory websites. Where you should be listed constantly changes and it's probably better to leave it with an expert on how to manage it.
What's good about their Demandforce partnership is that the platforms integrates with each other so that you can manage and view your ratings and reviews directly inside Salon Iris.
But you will need to create a separate account with Demandforce (which also costs money) where the "only" benefit you get is that it's visually integrated in Salon Iris.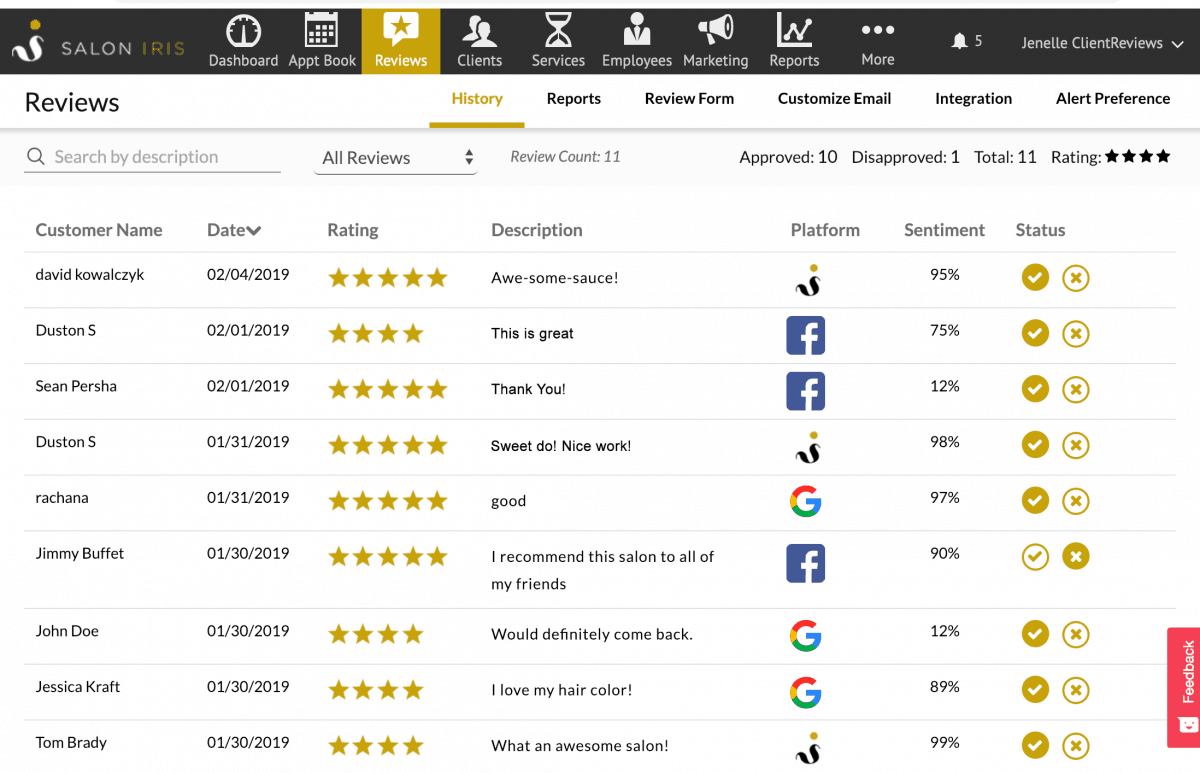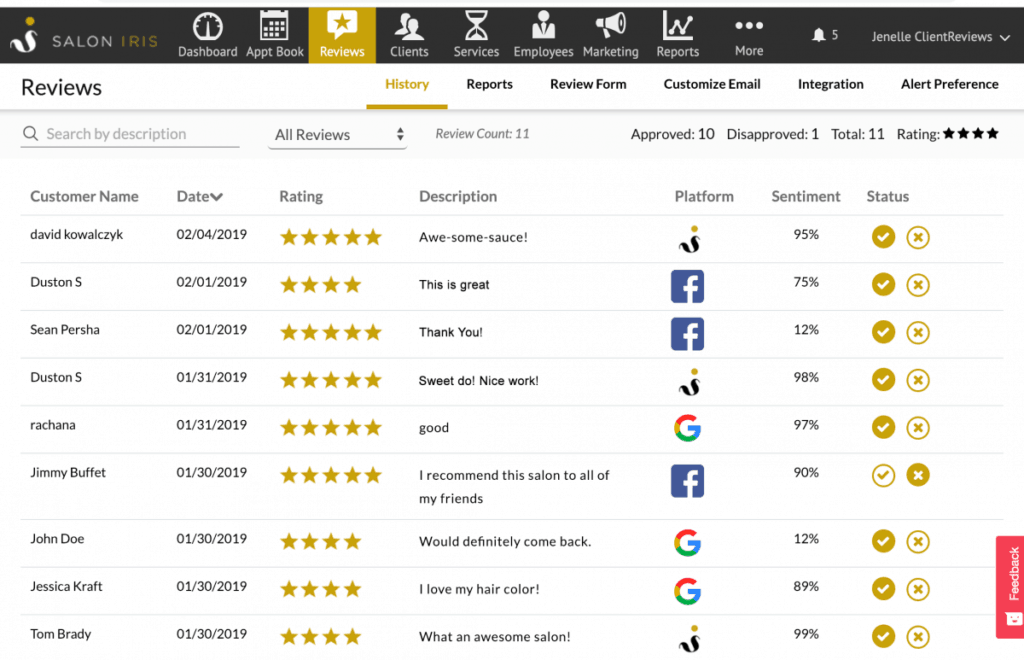 The purpose of this review is not to review Demandforce so I'd leave it to you if you go with this solution or if you have another reputation management platform that you prefer to use.
In any case, you can always use the built in email marketing feature in Salon Iris to send an email that automatically encourage your clients to leave a rating and review after their visit.
Salon Loyalty & Referral Program
Salon Iris includes a loyalty program that allows your loyal clients to collect points as they spend with you. You can also set up a referral program so that clients who bring in new clients to you get rewarded.
This is not a unique feature for Salon Iris but yet a powerful tool to grow your business. The loyalty program is not available in their basic plan but you need to sign up for a Delux plan.
Salon Iris Salon Management Software
Your salon software should not only help you with good marketing to grow your business. It should also help you streamline your operations and simplify your operational tasks so that you can spend your time on value adding activities.
I do see salon management as one of the key strengths of Salon Iris . But let's look at what I mean with that and how Salon Iris can help manage your salon business effectively.
Salon Inventory Management
Salon Iris offer rich capabilities when it comes to managing your inventory. They provide you with a simply report you can run to see the stock status of active products so that you can plan ahead for your next order. It can also notify you when you're about to run out of a specific product.
You can maintain all the information you need on each product – at least I haven't come across any information that I thought was missing.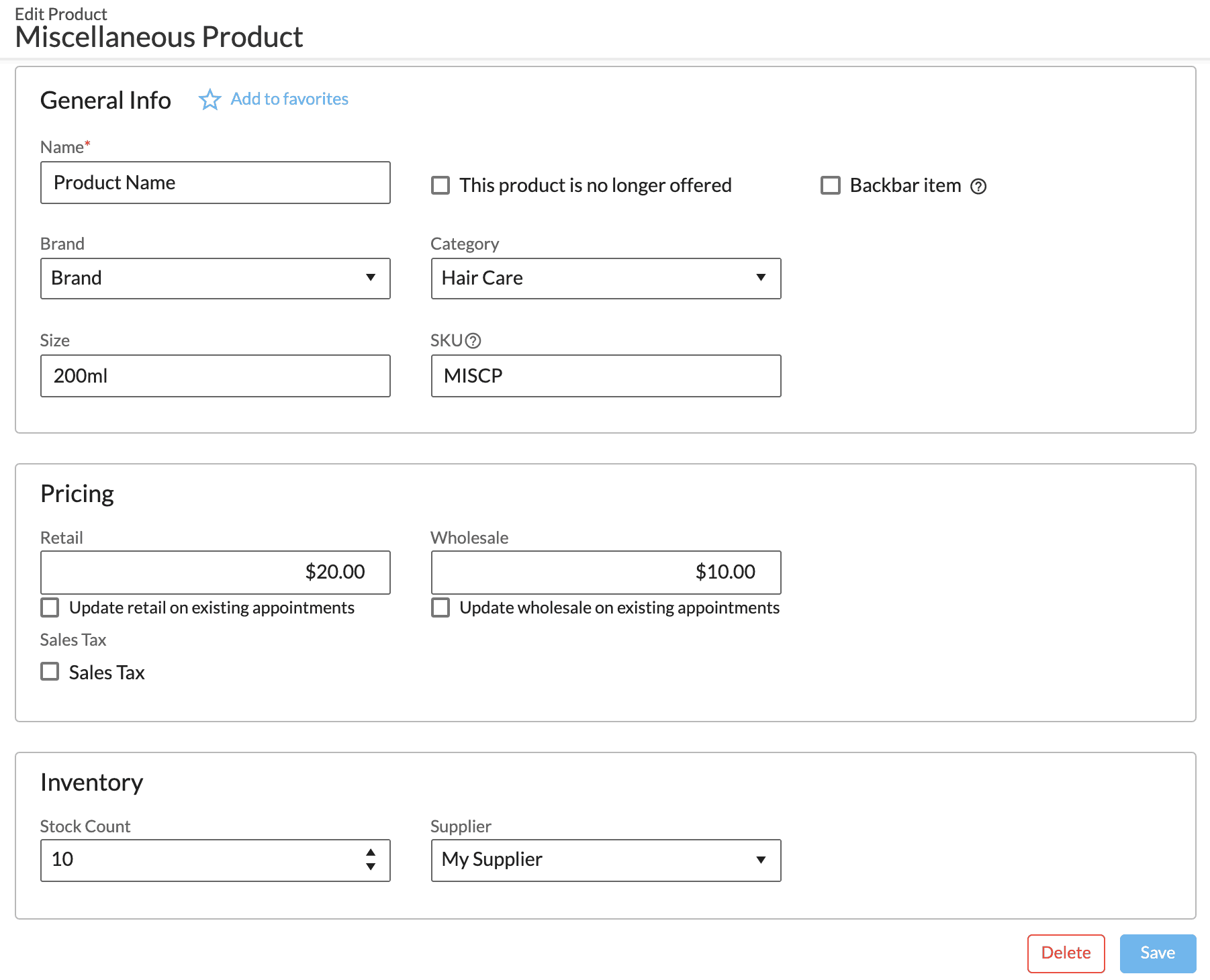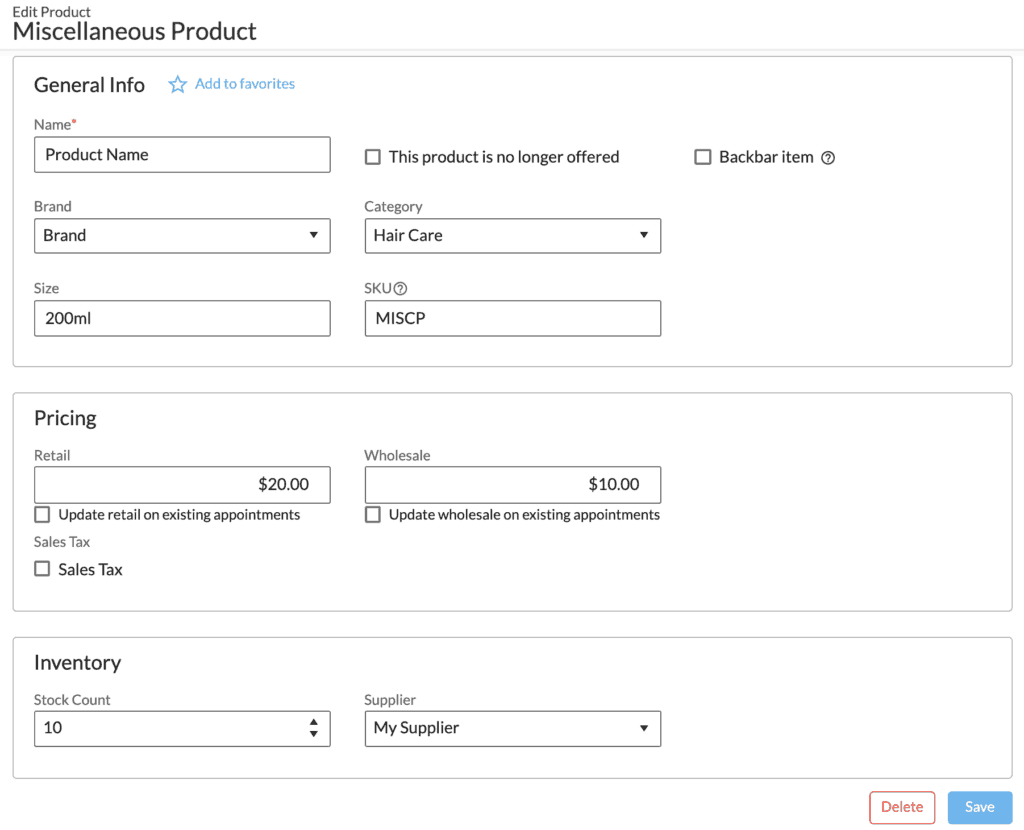 Salon Payroll
You can manage payroll fully in Salon Iris and automate payslips on the interval that fits your business.
You can manage commission setup across employees with commission profiles, or you can set it up on individual employees. You can have different commission structures depending on the product or service offered.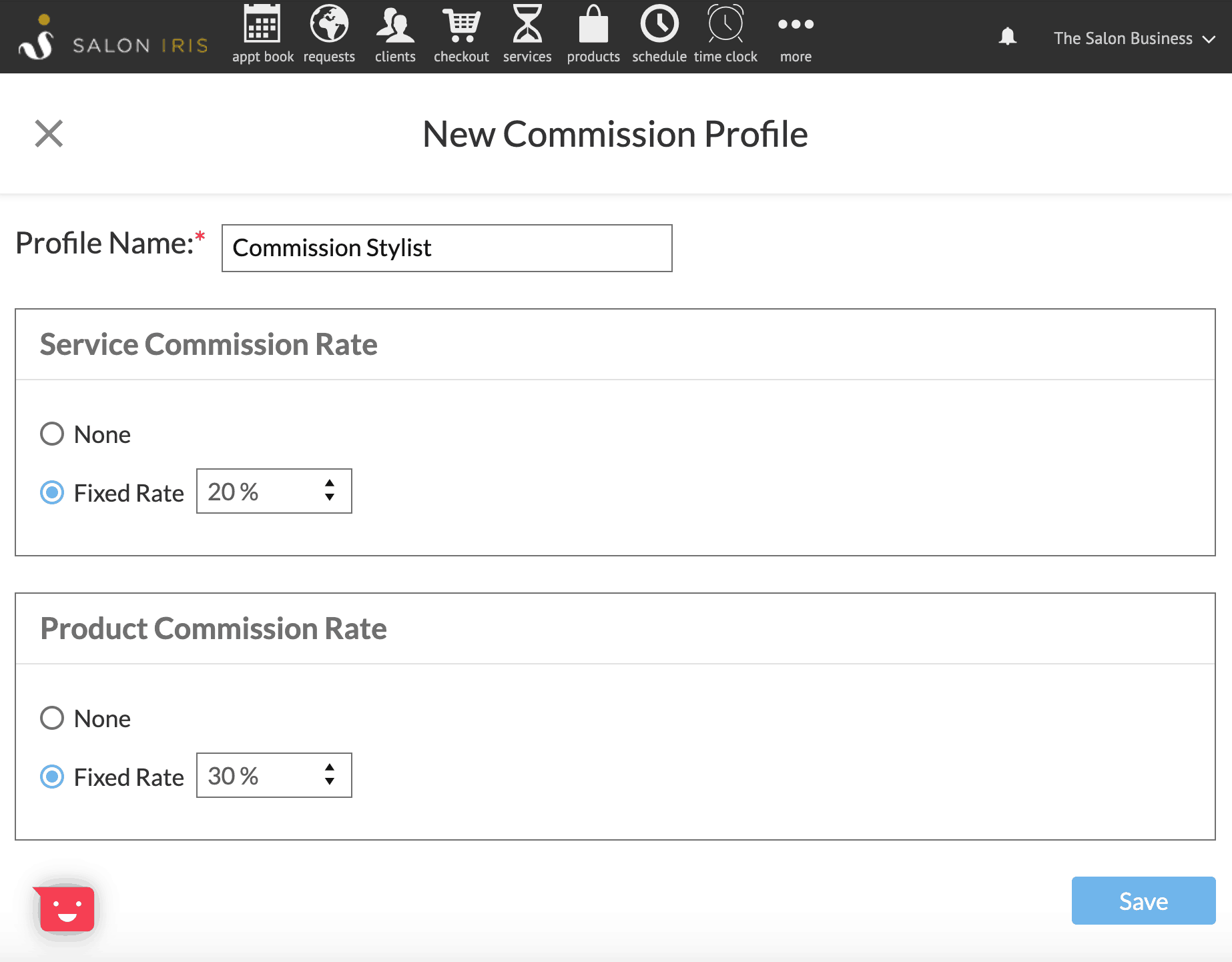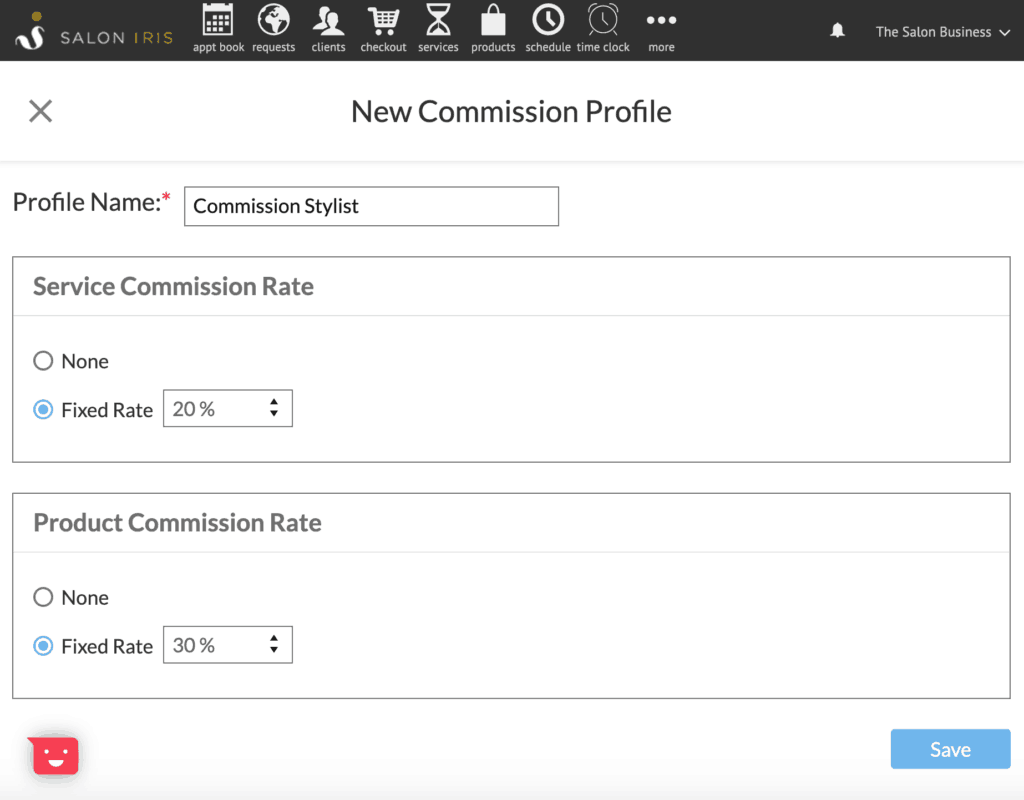 Salon Business Reporting
I'm sure you agree with me that being able to track and analyze your salon business performance is crucial to be successful.
And the team at Salon Iris understands this too.
They give you a complete suite of ready-made reports you can run to analyze your business. You have reports for sales & profit (e.g. sales forecast), clients (e.g. no-show progression), products (e.g. product sales statistics), services (e.g. service sales statistics), employees (e.g. percentage booked), and online booking performance.
I find their reporting tool simple and straight forward to use whilst giving great insight into your business.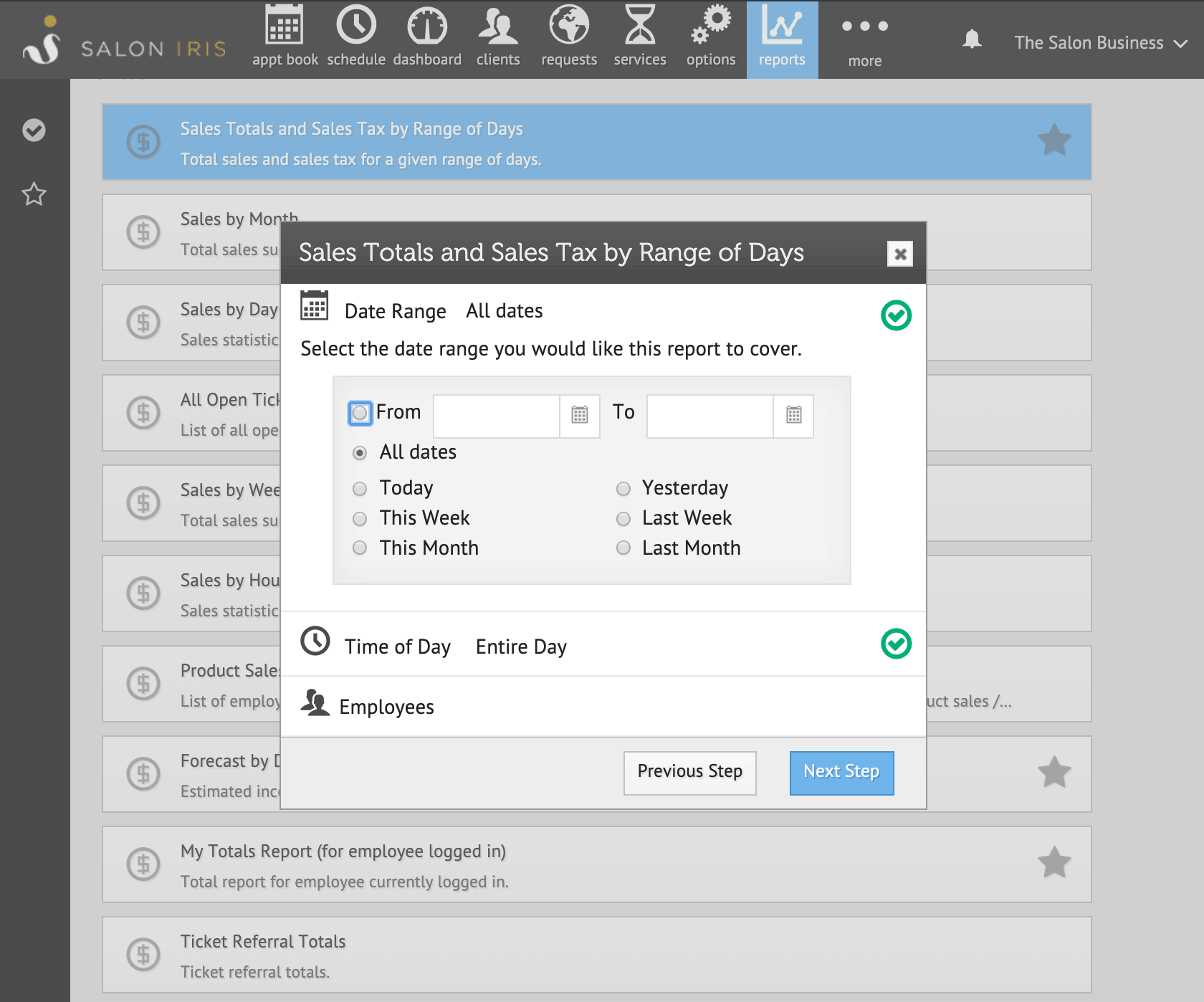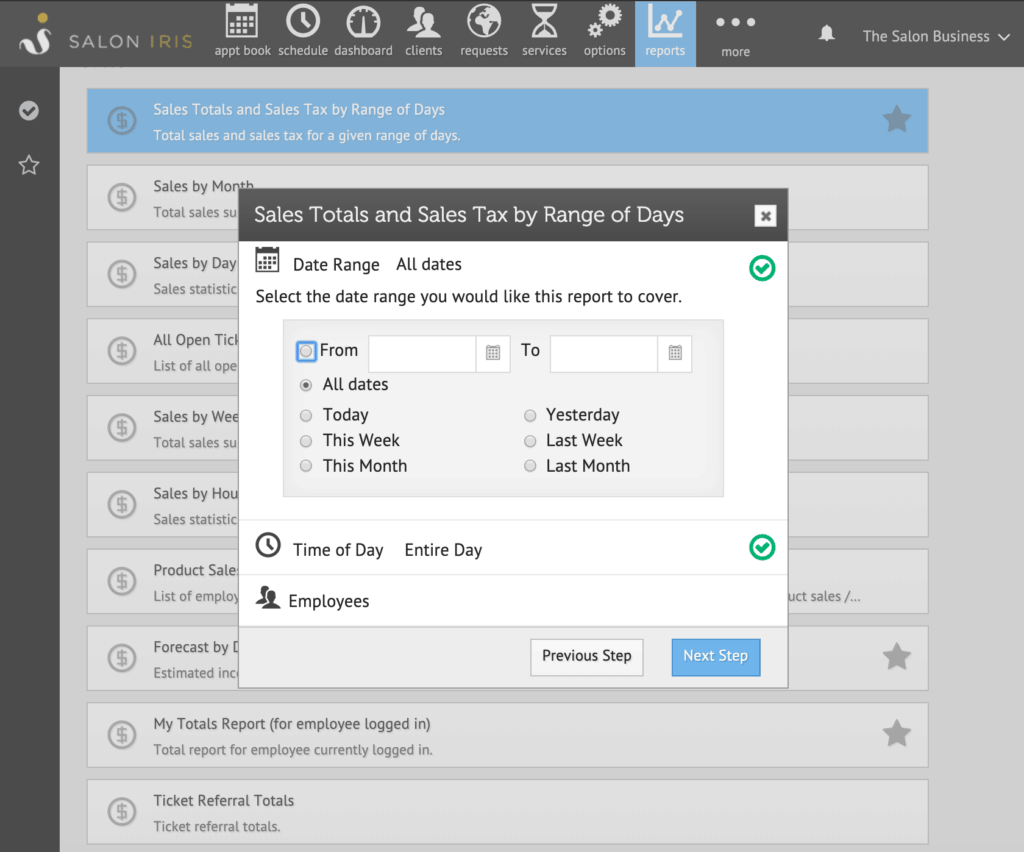 Salon Iris Salon Point of Sale (POS) System & Checkout Process
The POS system from Salon Iris is one of the features that makes Salon Iris unique. In fact, out of the salon specific solutions I've tested, Salon Iris is the only one that offer a physical POS system as part of the software.
In fact, in my review of the best POS systems for salons and spas, this is one of the top recommendations.
The check out process is simple and intuitive. When you hit the check out button, you'll be present with a list of clients that are booked in at the moment. Just select the client and add/remove and product/ services changes vs. the booking and select payment method.
Payment Options
As you go through the check out process you'll be presented different options that the client can use to pay: Credit card, cash, gift card, check or if you have another need you can define a custom payment option.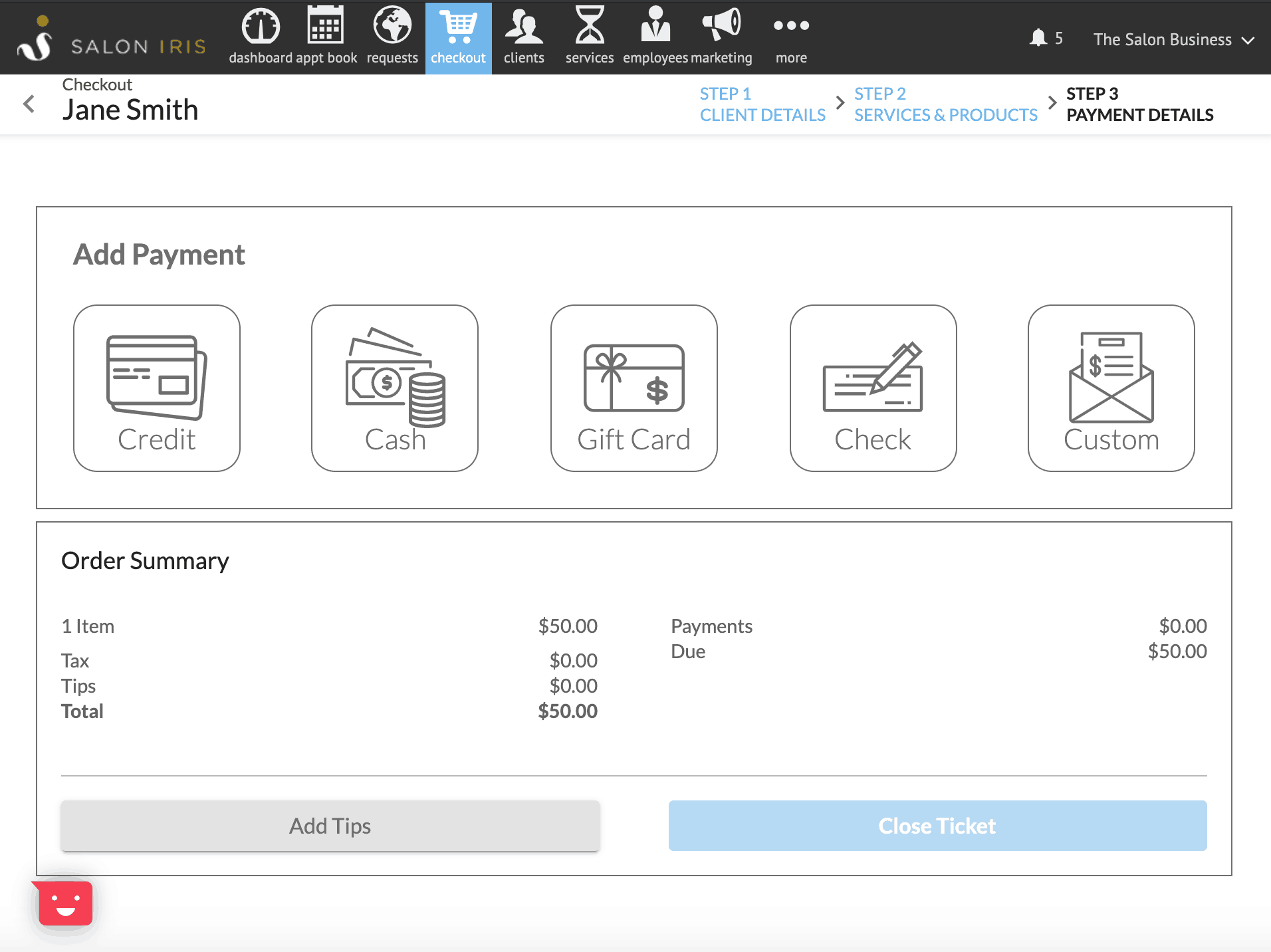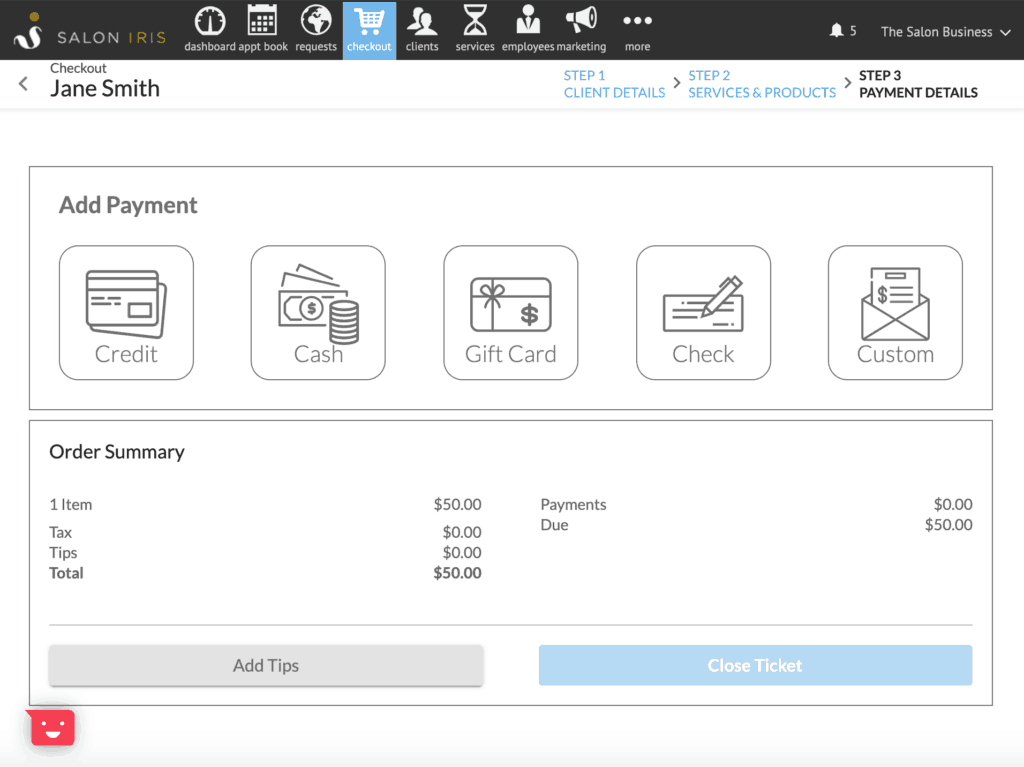 Physical POS System
If you sign up for the All-in-One plan, you'll get the POS unit to support the software.
The system comes with a display to access the software, receipt printer, cash drawer, and barcode scanner. You can also connect your credit card reader to the platform.
Below is a video from Salon Iris that walk you through what the system looks like.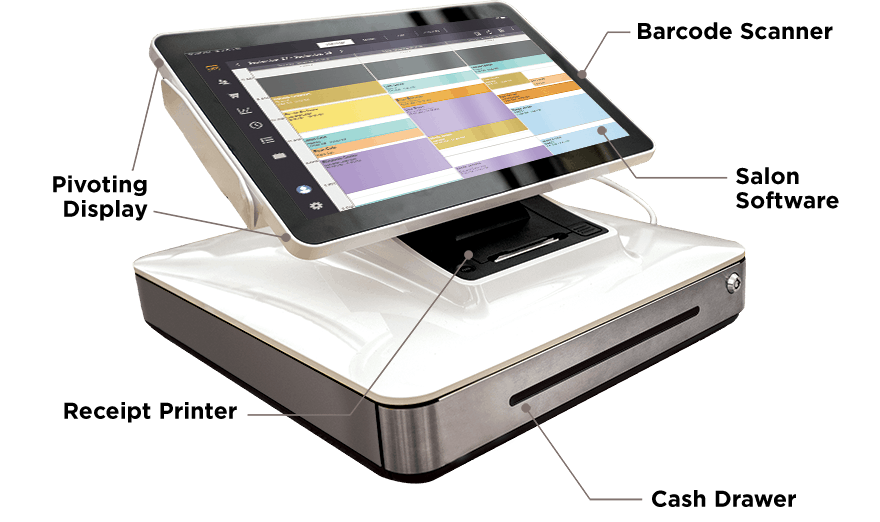 Credit Card Transactions
Salon Iris integrates with CardConnect. This is the partner they use to provide card readers and process card transactions. It doesn't cost anything extra to add the credit card service and they claim the have "meet or beat" processing fees and that you should lower transaction costs with CardConnect vs. current provider.
Transactions can be done both inside the software, in the online booking, or via a card reader in the salon. They also have a card reader that integrates with your phone. This can be convenient also if you're a mobile stylist, booth renter, or work at events and fairs and want to be able to charge clients while on the go.

Salon Iris Salon Booking App
There's more ways you can access the software than web browser of via the point of sale system. Salon Iris comes with a mobile app for Android and iOS.
This way you can check out your client at the chair or view your upcoming bookings as you commute to the salon and more.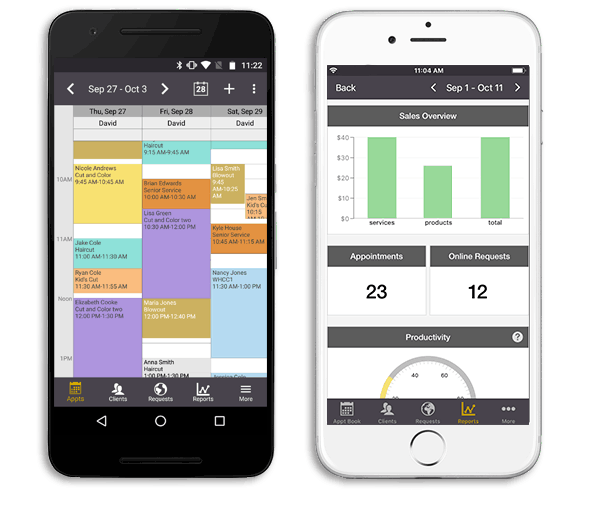 Salon Iris Pricing
As you've noticed from this review, Salon Iris is a very comprehensive solution for salons.
There's really all features in their that a salon needs. Naturally this means it's not the cheapest solution on the market. If you're only looking for a simple booking app and you don't have the need for the richness of Salon Iris, there are cheaper solutions you could go for.
However, their pricing is fair and they do offer different plans so that you can start small and basic but as your salon business grows, you have a system that can grow with you . Below are the prices of their different plans which are competitive vs. other platforms.
Basic For individuals
$29/mo
+ 1 User
+ SMS package included
+ eMail support
– No phone support
Delux For the small salon
$59/mo
+ 3 Users
+ SMS package included
+ eMail support
+ Phone support
Premier For the big salon
$109/mo
+ Unlimted users
+ SMS package included
+ eMail support
+ Phone support
Summary & Conclusion
I hope you found this review of Salon Iris helpful and that you've been able to decide on if Salon Iris is right for your salon business or not. 
If you want to learn about more options on salon POS systems, you can also read my review of the best point of sale systems for salons.