Disclosure: This post may contain affiliate links, meaning I get a small commission if you decide to make a purchase through my links, at no cost to you.
Learn more...
Square Appointments or Acuity Scheduling – which one should I go with?
This is a question asked by many service business owners.
And no wonder.
These are two of the most popular online booking software on the market.
Both have been featured in my top list of the best appointment-scheduling software for salons and spas.
But, as always, the answer to this question is:
It depends.
This article will break down Acuity Scheduling and Square Appointments to help you answer that question for your business.
I will first take you through an overview of Acuity Scheduling and Square Appointments. This is then followed by an overview of these two appointment booking apps as well as a detailed, feature-by-feature, review.
By the end of this article, you'll know which is the best option of the two. However, if you run a salon or spa business, I strongly recommend you go through my list of the best salon and spa software. Then you'll also see how they stack up vs. other alternatives.
Let's get to it!
Square Appointments: Free & Feature Rich Appointment Software with Powerful POS and Built-in-Features
If you're looking for a free appointment scheduler with a minimalistic design, rich features, and ease of use, you have found a great option. Square Appointments has all the features you need to manage your appointment book effectively.
Square Appointments integrates with all other Square products (like POS system, credit card reader, and marketing suite) which combined make a complete solution for small as well as large businesses.
Square Appointments is for the business owner who wants a complete business solution without worrying about integrations and learning several new tools.
This is why it's also one of the options on my top list of appointment software.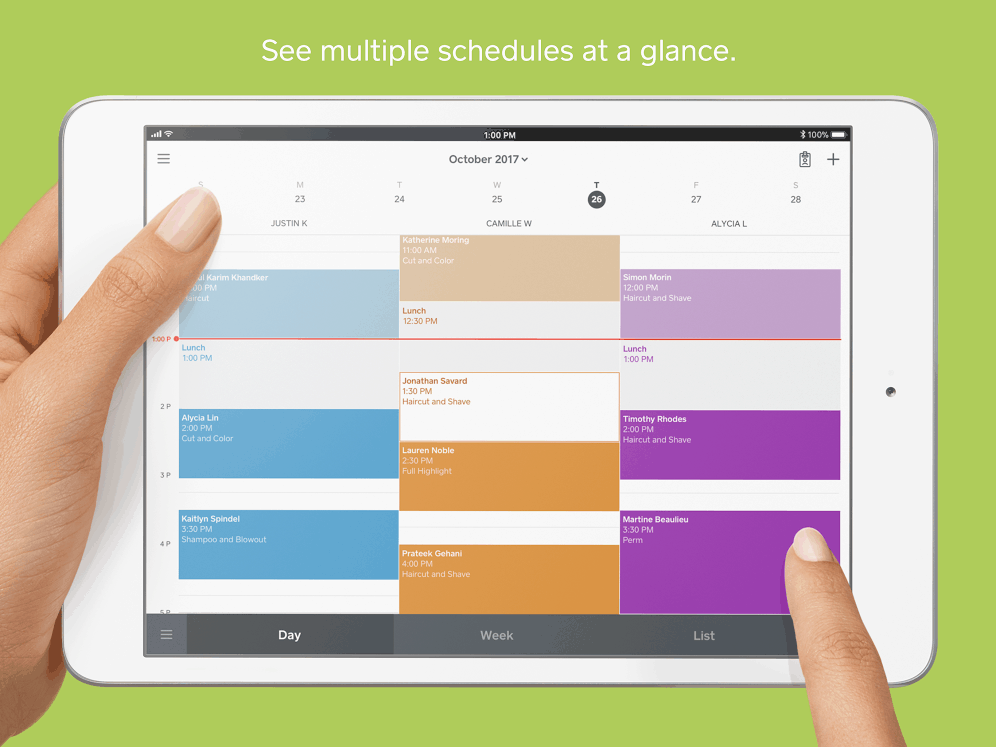 Key Features
Dedicated booking website
Booking widget for website integration
SMS & Email Reminders
Seamless integration with all tools from Square
Easy-to-use, drag and drop calendar
Advanced client data (with images)
Advanced inventory management (with stock alerts)
iOS & Android App
Acuity Scheduling: Customizable Appointment Scheduler with Strong Integration Support
Do you want to control every aspect of your booking experience? Then it is Acuity Scheduling you're looking for.
You can customize everything with Acuity. You don't need to compromise on anything.
Brand your booking page or website widget as you like. Acuity is the most flexible appointment scheduler on the market and it allows you to integrate bookings with a full suite of third party software which, together, becomes a powerful business support setup for you.
Acuity is for any size service business that wants the ultimate scheduling experience and is ready to invest the time (or money) to configure the platform to work as you want. It's not difficult to use. But to get the full benefit of the platform, you'll want to configure it to work with other platforms and design it to fit your brand.
This is why also Acuity has been featured as one of the top options on my list of appointment software.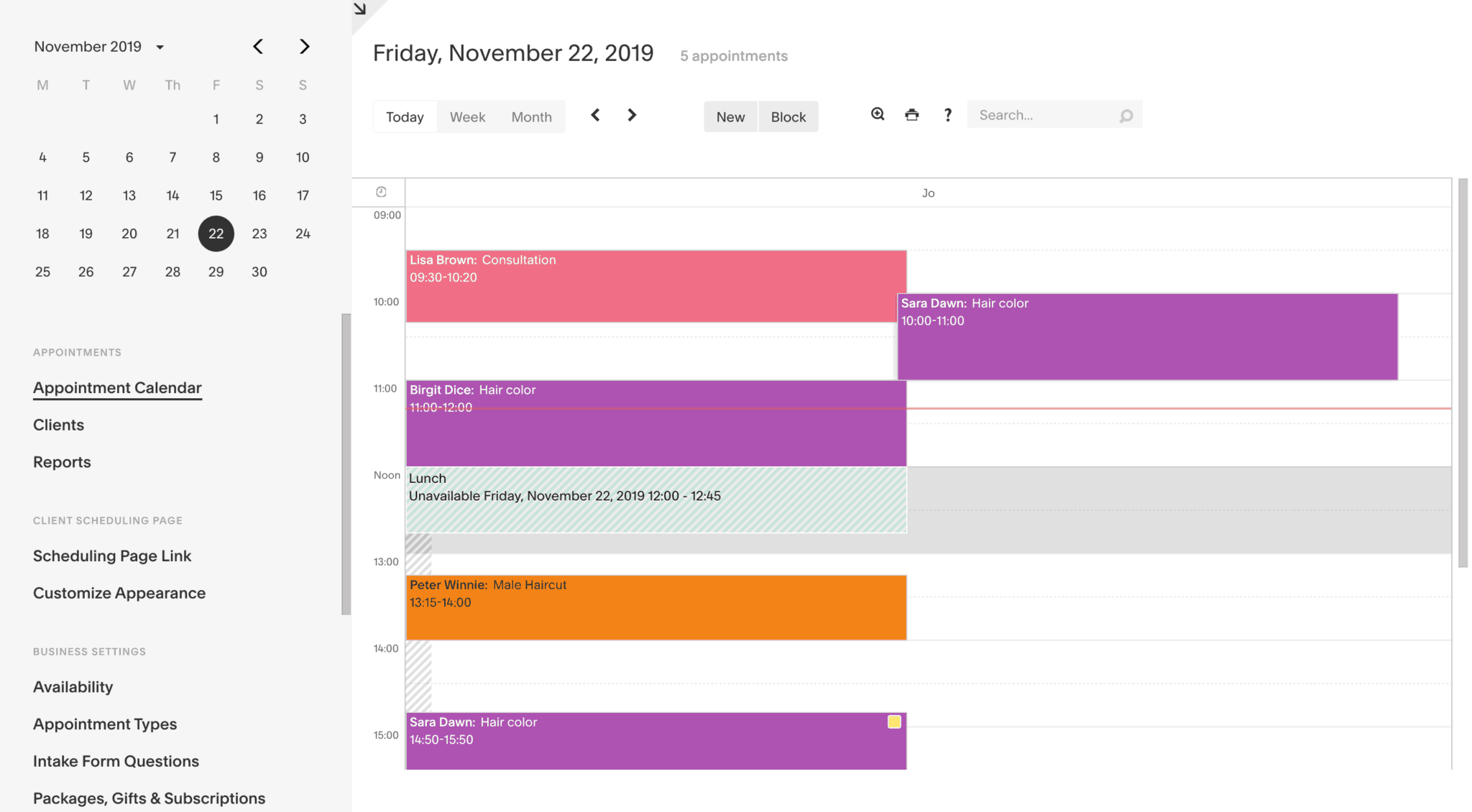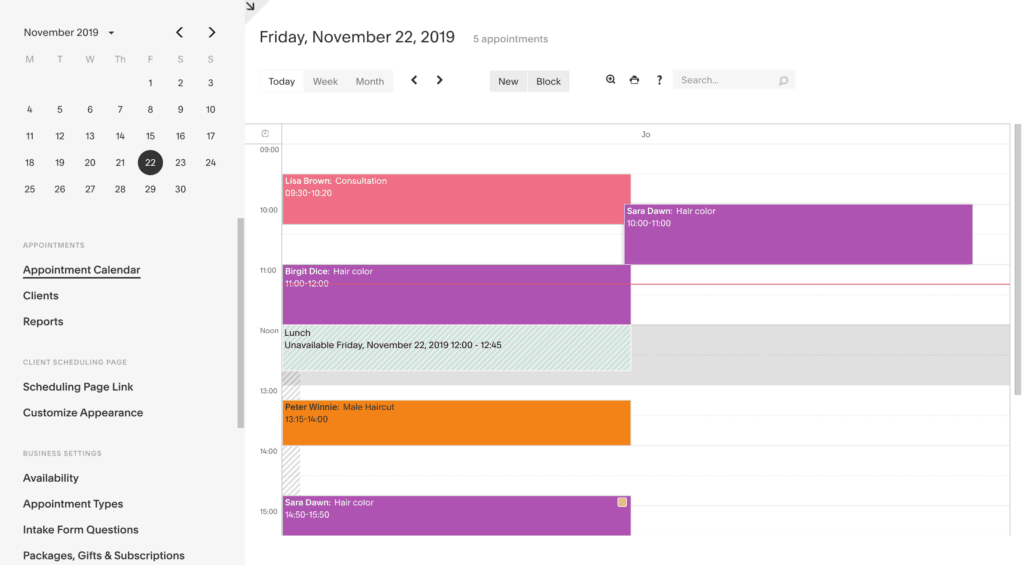 Key Features
Fully customizable website booking widget
Fully customizable SMS & email reminders
Integrates with all leading software for marketing, accounting, and POS directly or via Zapier.
Available worldwide
Drag and drop, easy-to-use, calendar
Packages and gift cards
Network of specialized consultants who can help with advanced setups
Advanced appointment reporting
Free for individuals
My Top Salon & Spa Software Alternatives
Here's my salon & spa software top list for 2023.
To see more alternatives, visit my complete list of salon and spa software recommendations here.
Acuity Scheduling vs. Square Appointments
There are four things you should consider when choosing between Square Appointments and Acuity Scheduling: location, cost, and customization.
Location
Acuity works worldwide and equally well in all countries. Square Appointments is currently limited to the United States, Canada, and Australia.
Cost
Square Appointments is free to use for individuals (even with a lot of advanced features). Acuity is also free for individuals but only with very limited functionality so you probably will end up paying a minimum of $15/month. However, if you have a small team, Acuity offers more attractive price plans. For example, If you have a team of five, Acuity costs $25/month whereas Square would cost you $50/month.
Square earns their income and credit card transactions. This is why they can offer so much at this low cost. Acuity does not have its own payment gateway. Thus, any card transactions made in Acuity will be processed by Square, Paypal, or Stripe and you'll pay the transaction fee there instead.
Learn more about Square's transaction fees here.
Compare transaction fees for the top credit card processing alternatives here.
Customization
Although Square Appointments is rich in features, you'll not be able to change designs or customize much. You'll need to stay with the pre-designed layouts (which looks very good and fits most). Acuity, however, allows you to customize everything to make it act exactly as you want.
Features & Integrations
This is where Square & Acuity differ the most. Square offers a full range of business tools that all work with Square Appointments for full business support. Acuity instead relies on integrations with other 3rd party tools.
This makes Square easier but Acuity more flexible. You just need to be prepared to configure integrations and learn more tools with Acuity.
The remaining part of this article is dedicated to features. This should make it clear what is incorporated into Acuity and which parts you'll need to set up integrations with other tools for.
Appointment & Booking Support
These are the most central features of both tools.
Online Booking
The ways to accept online bookings vary across the platforms and so does the level of design customization ability.
Square Appointments
With Square Appointments you can create a booking website or generate three types of widgets to embed on your website. You cannot customize the design much, but it's simple.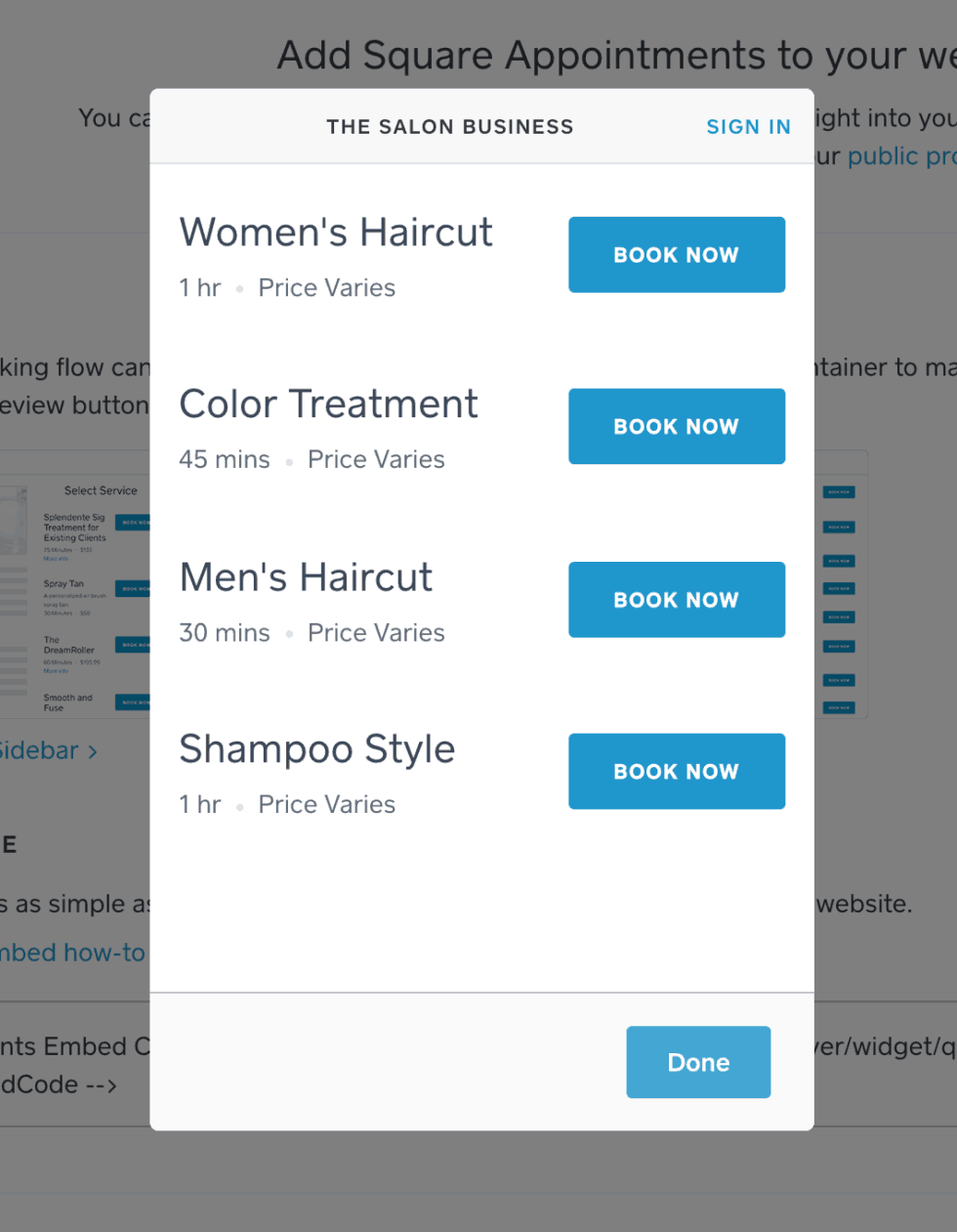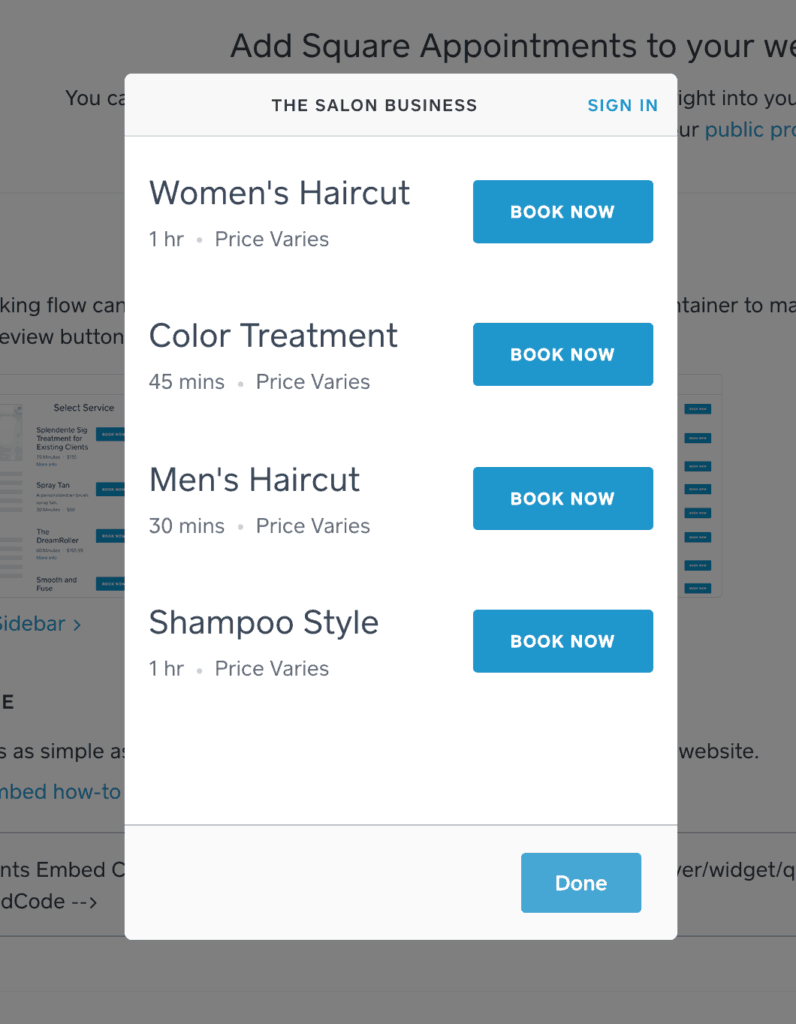 Acuity Scheduling
Acuity allows you to create a simple, clean, booking website. You also have several options to integrate the booking widget on your website or social media.
In order to integrate the booking widget on your website, you need to upgrade to a paid plan, and if you want to customize its design of it, you need to upgrade to their largest plan.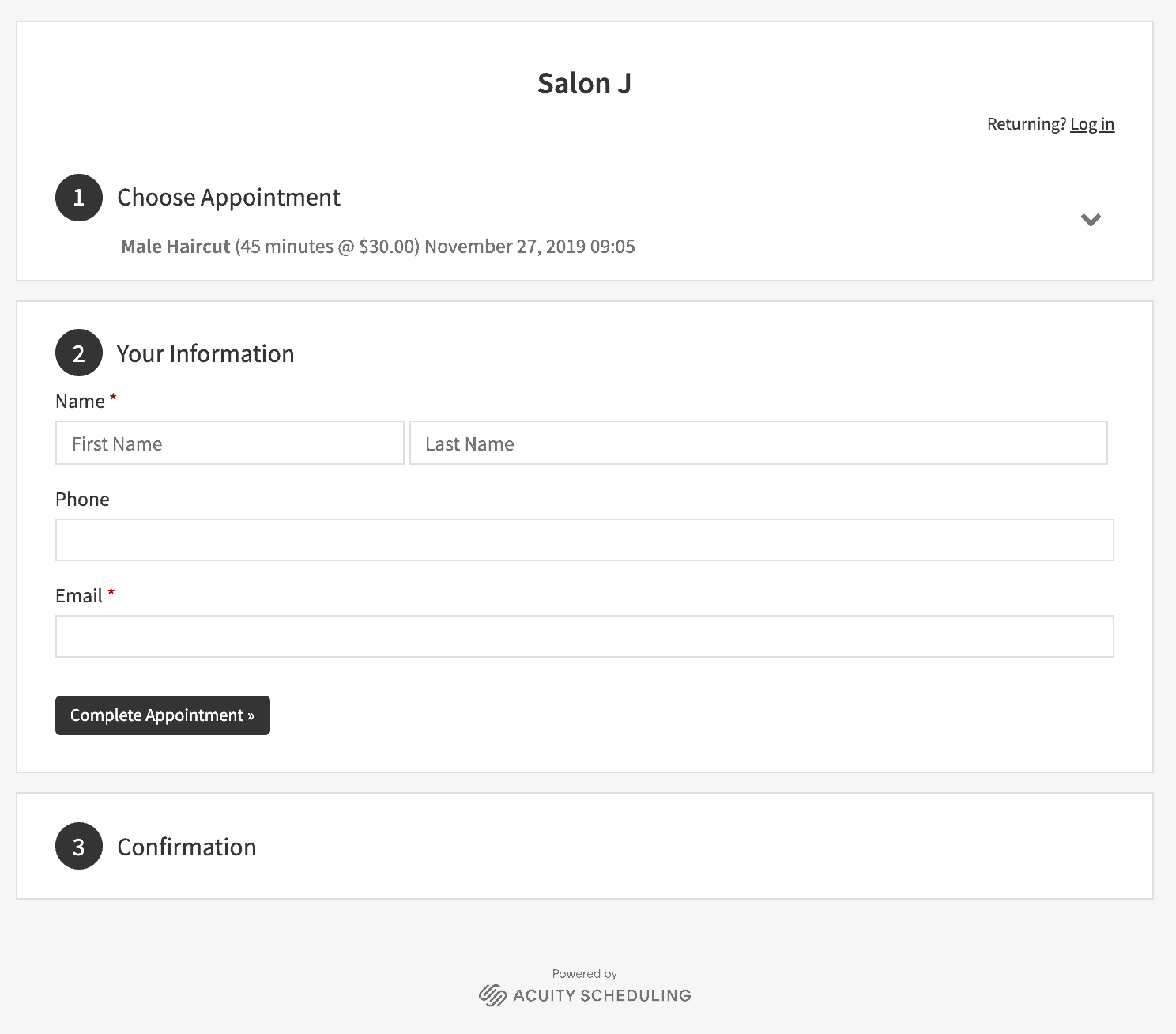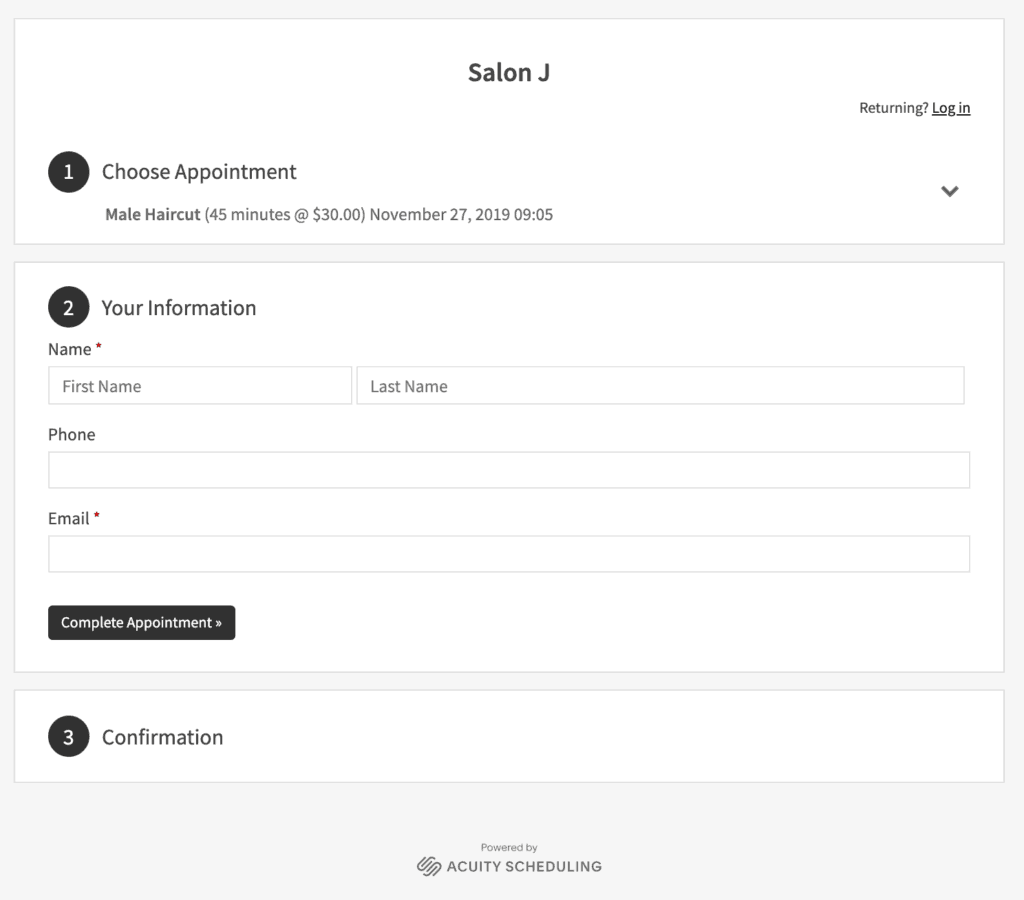 Appointment Calendar
The appointment calendar is similar between Square Appointments and Acuity Scheduling. Thus, I would not see this as a judging factor when choosing between the two options.
Square Appointments
Square Appointments calendar is fast and easy. Drag-and-drop your appointments and switch between different calendar views.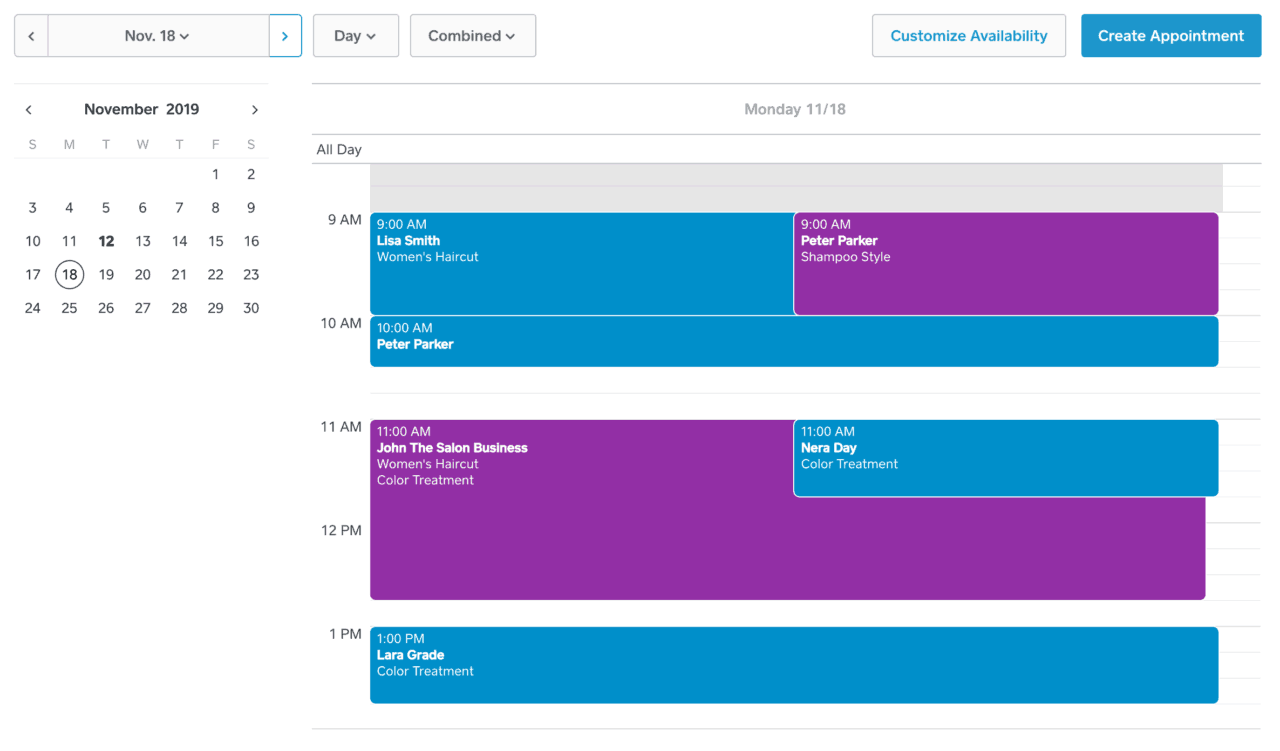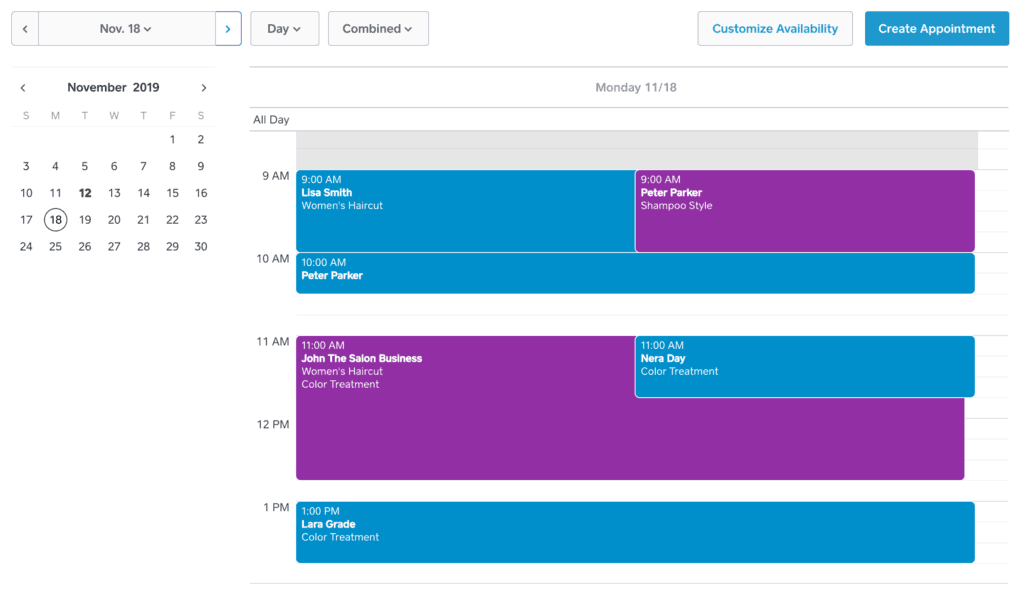 Acuity Scheduling
The Acuity calendar is easy to use. You can drag and drop appointments to change time and quickly update appointment information.
Each service can have it's unique color code which makes it easy to get a view on the calendar.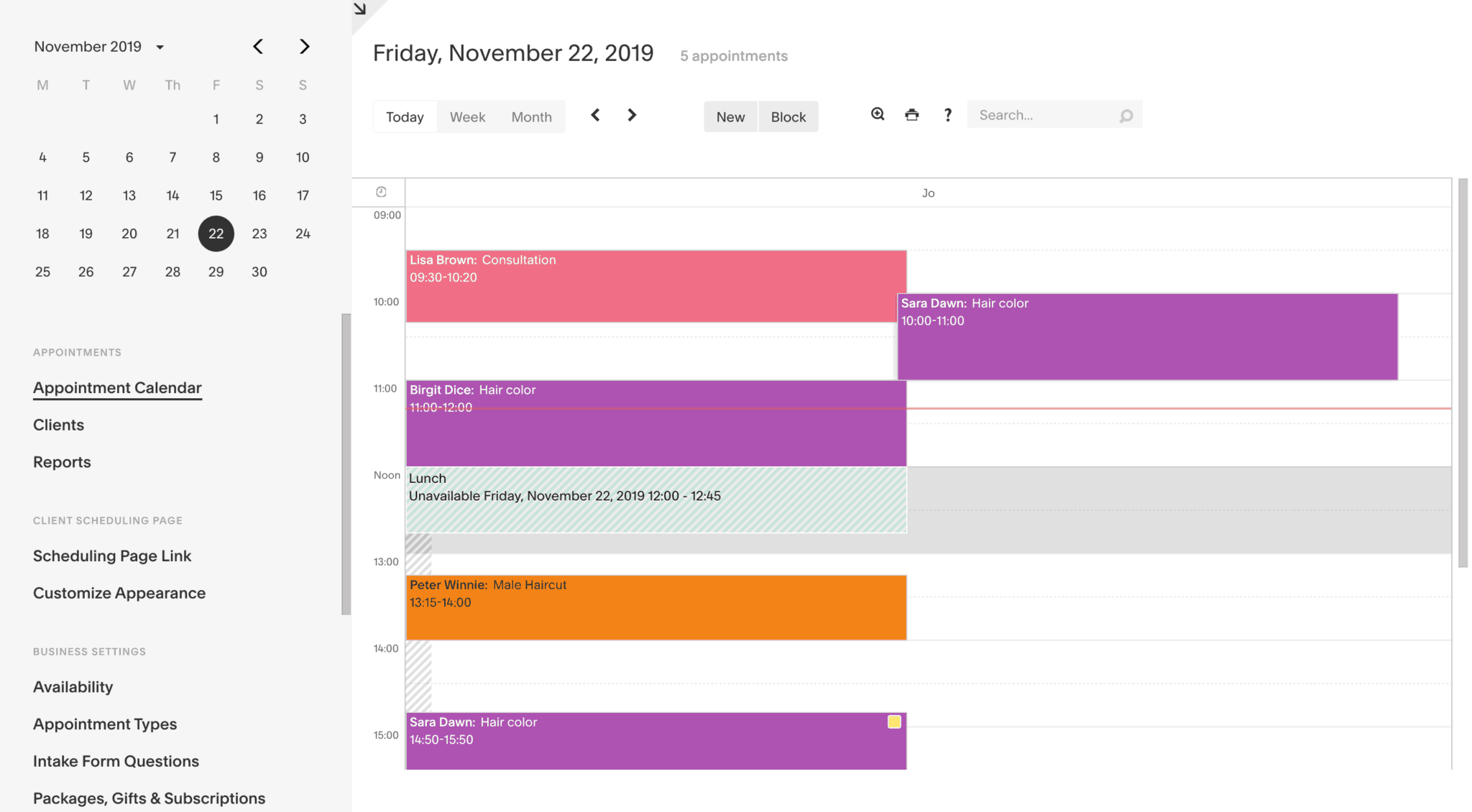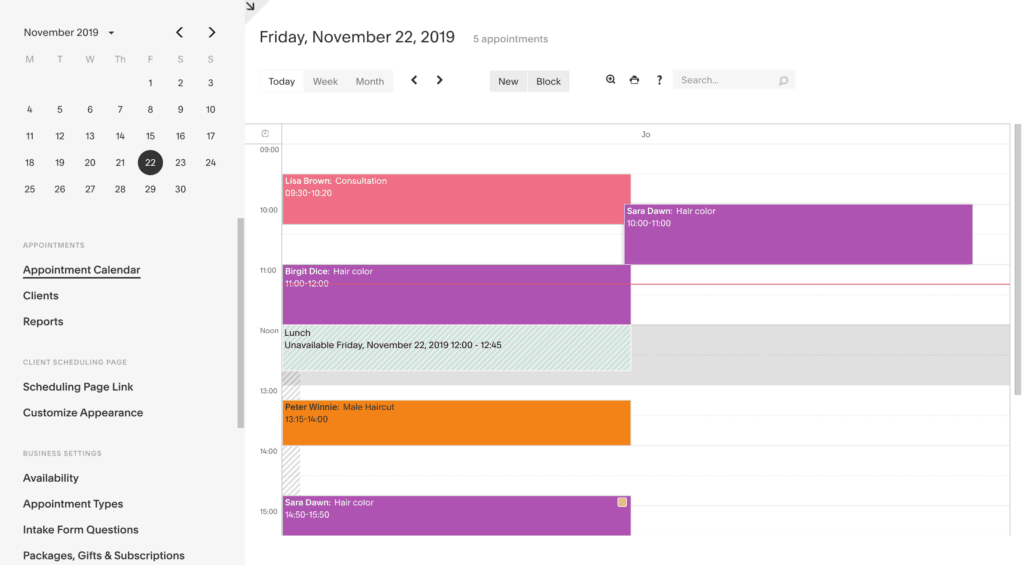 Client Data Management
Managing client data and history is an important part of your operations. Let's look at the differences.
Square Appointments
Store all information you need, get a quick view on past and upcoming appointments. You can store media files, like client pictures, in the system.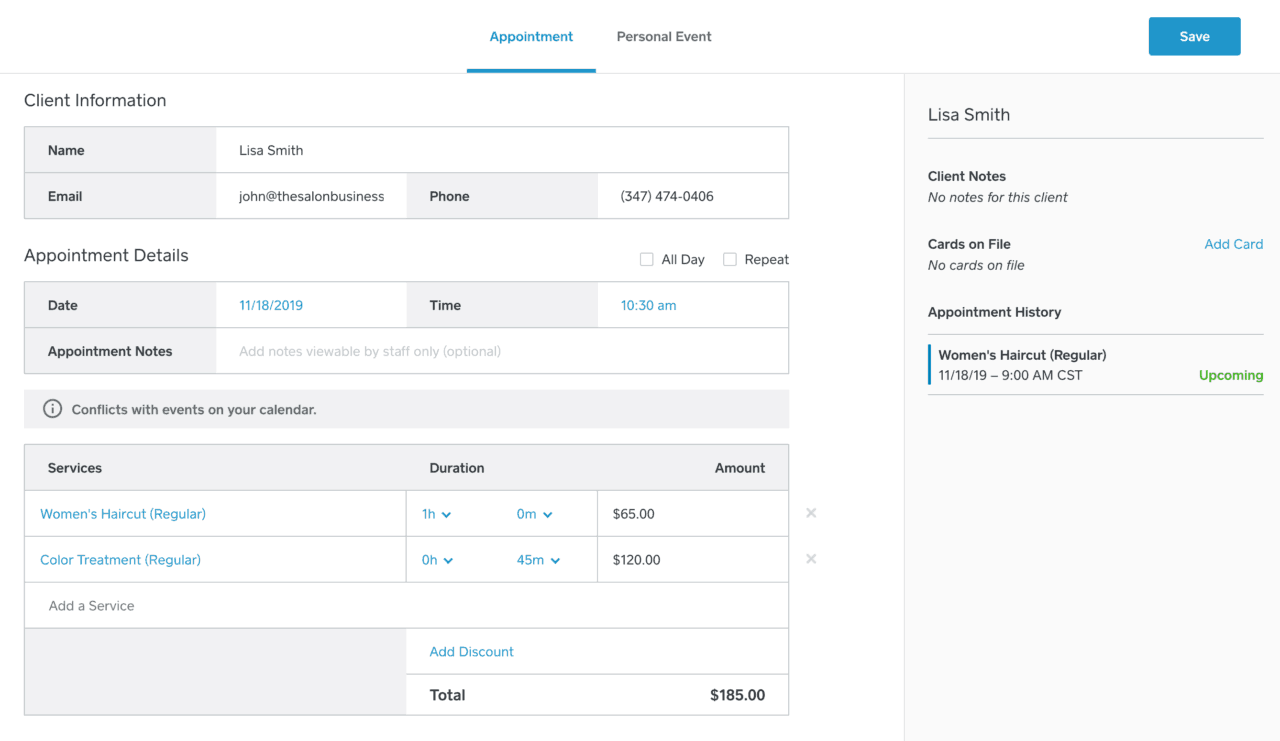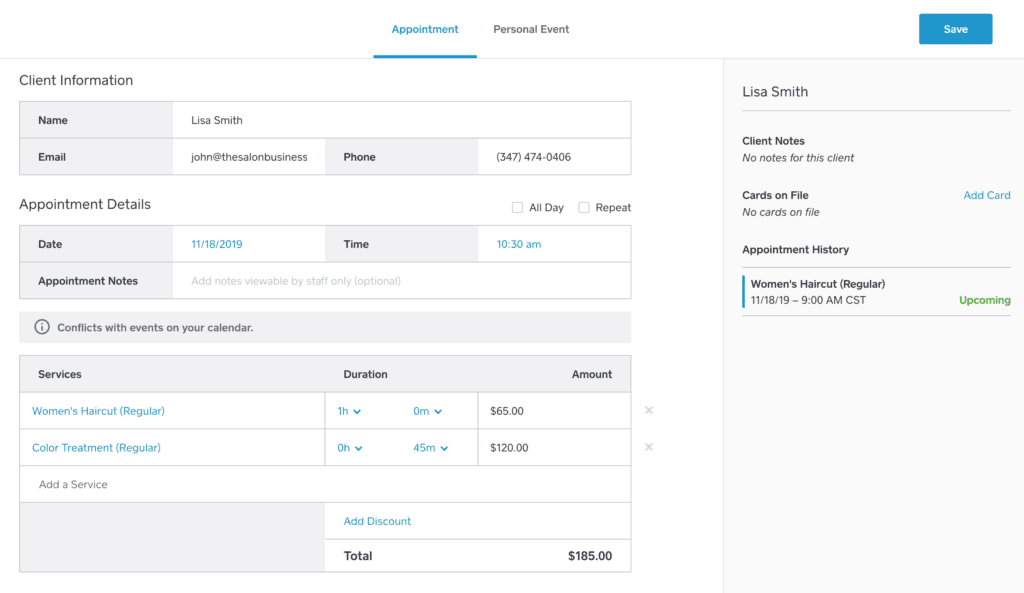 Acuity Scheduling
You can easily browse clients, and bulk edit or upload clients.
You get a simple and clear view for each client that also shows you upcoming and past appointments in Acuity.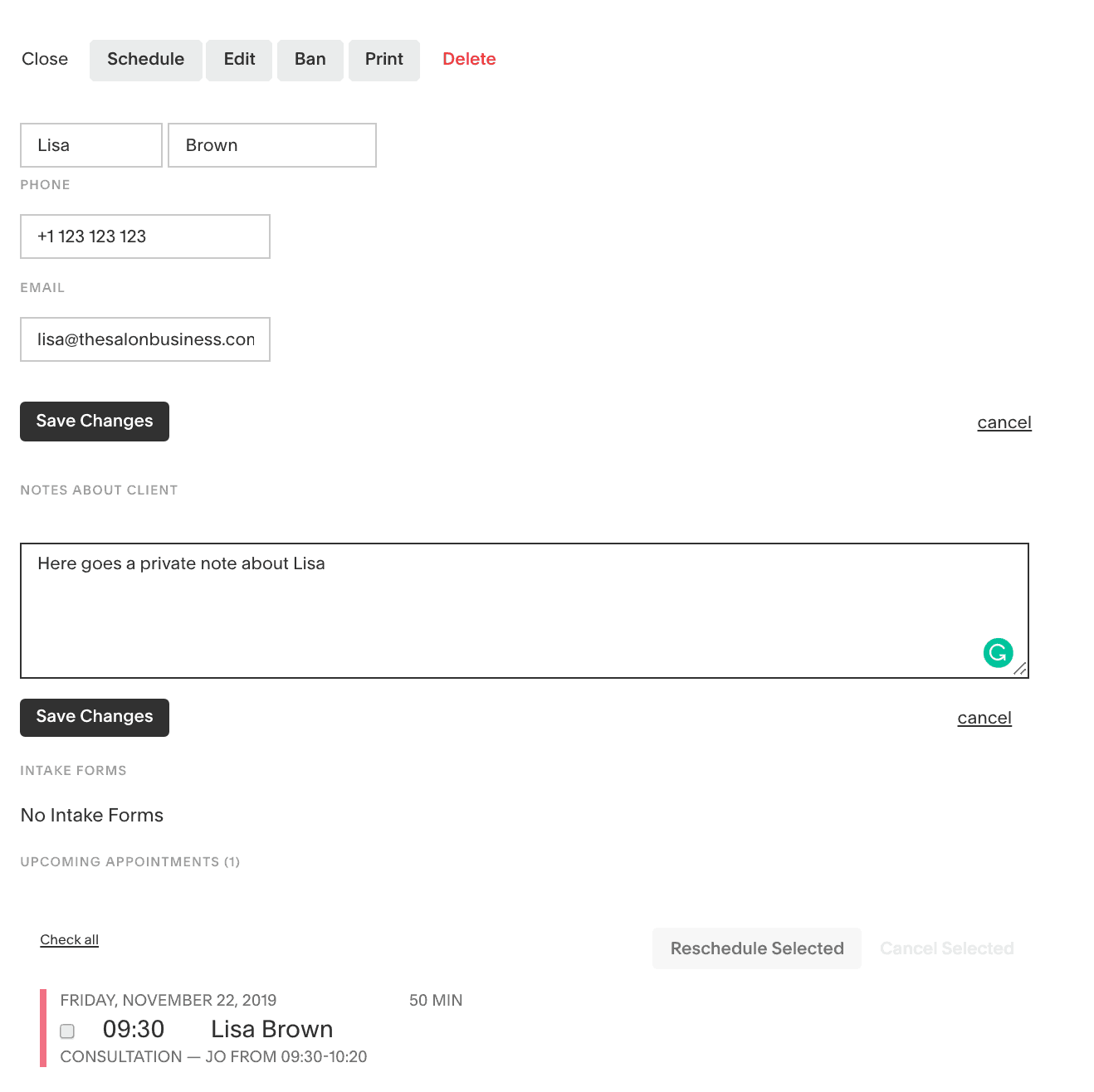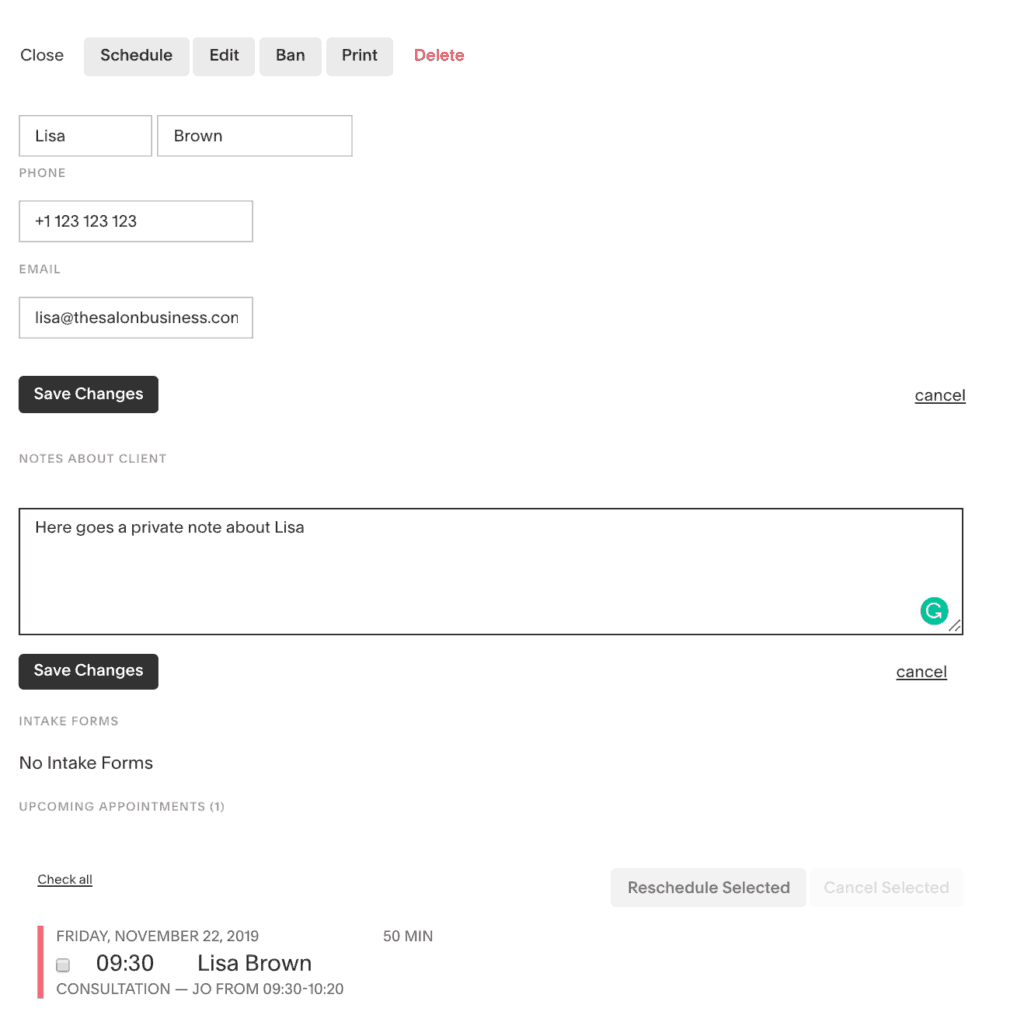 Client Reminders
Reduce no-shows and stay in touch with your clients using automatic reminders and notifications.
Square Appointments
Very rich notification and reminders support for both clients and employees. On top, you can have your clients reply and confirm bookings etc. via SMS which is a really helpful feature Square Appointments offer.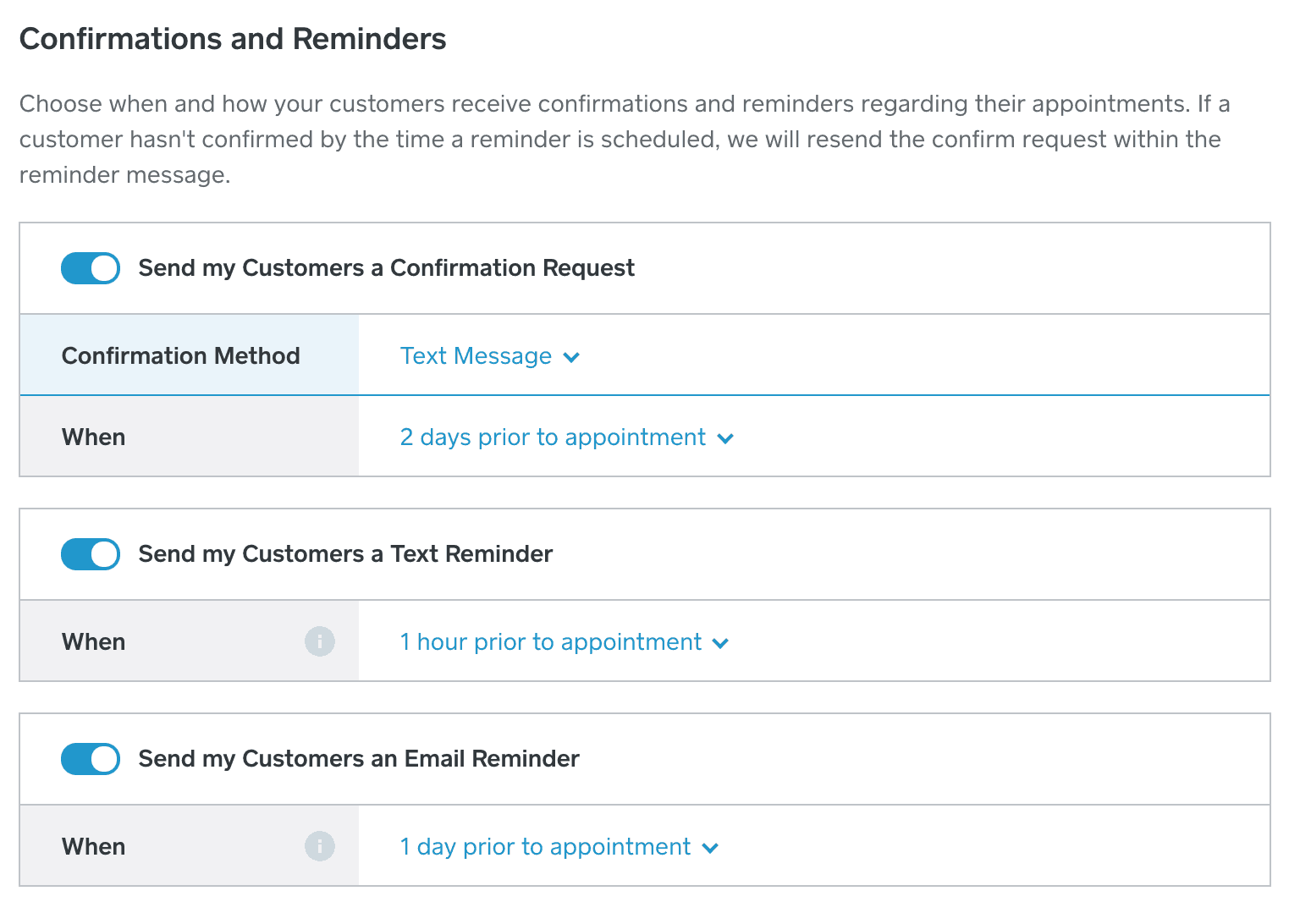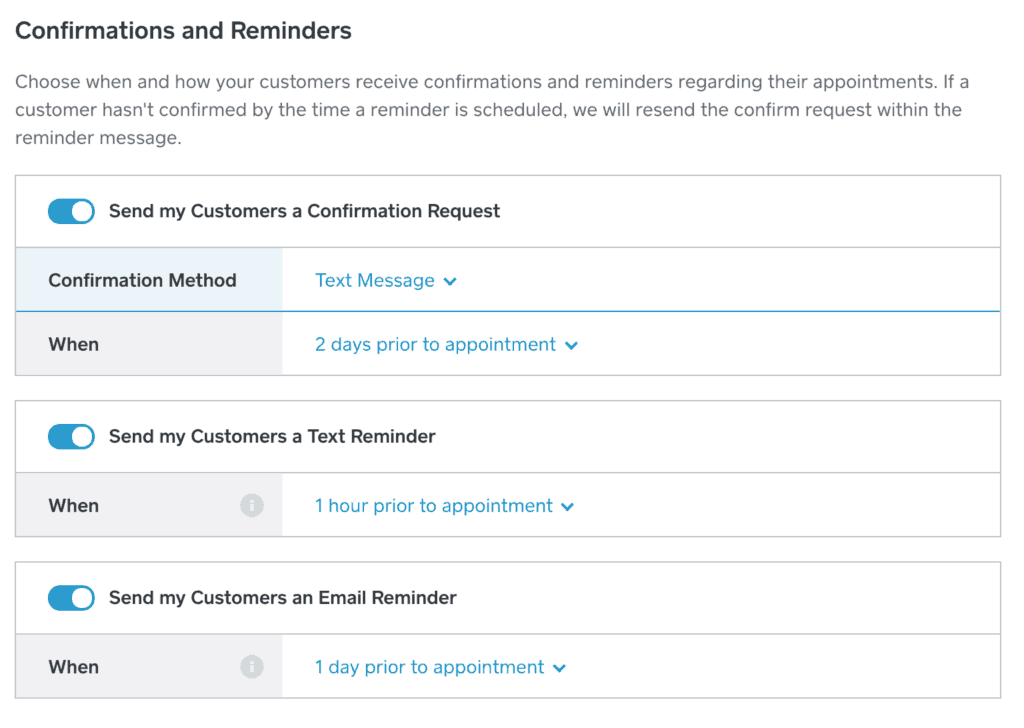 Acuity Scheduling
You get good support for SMS and email notifications and reminders with Acuity .
Their SMS service is worldwide and cost for messages is included in their larger paid plans.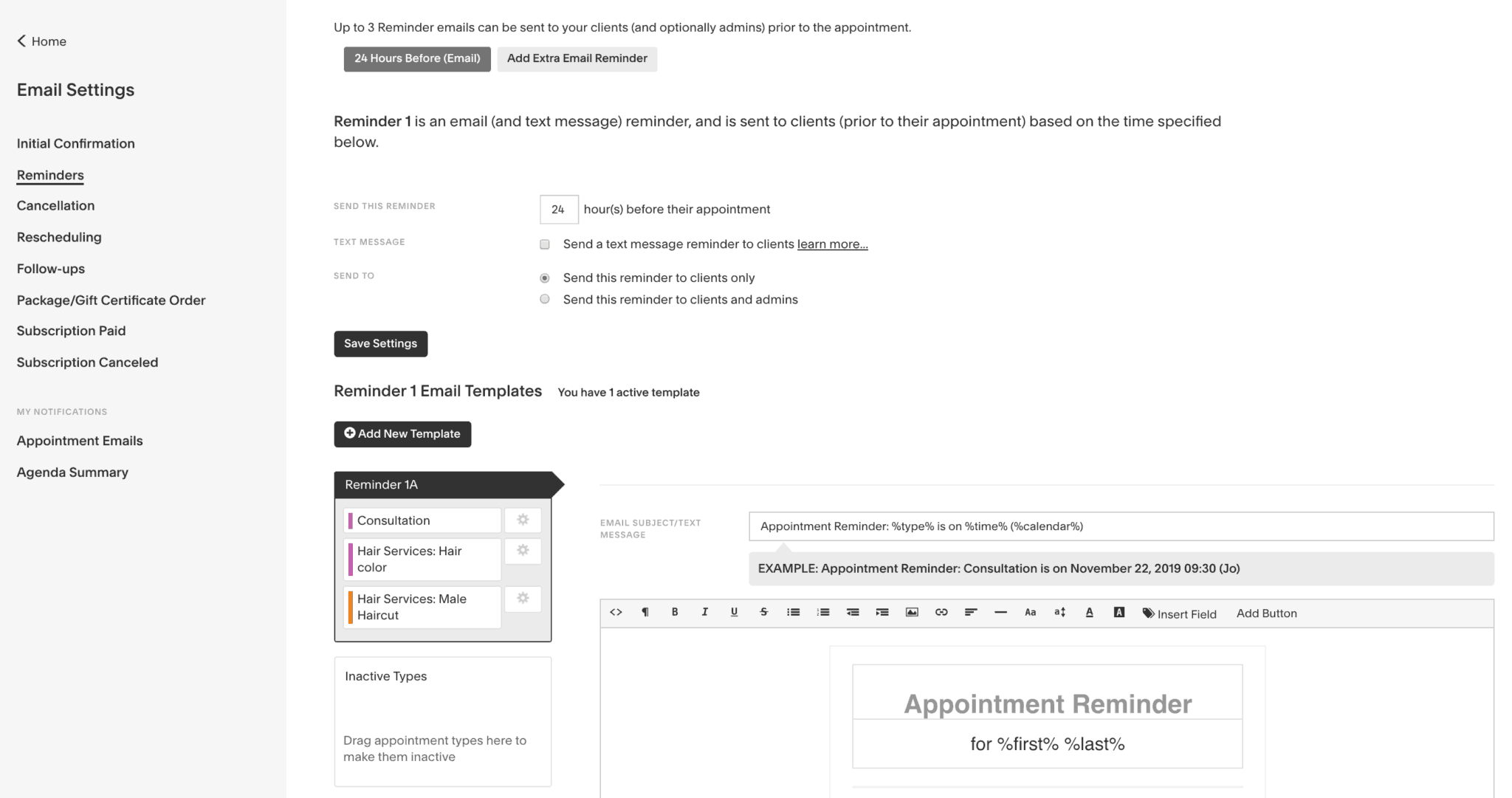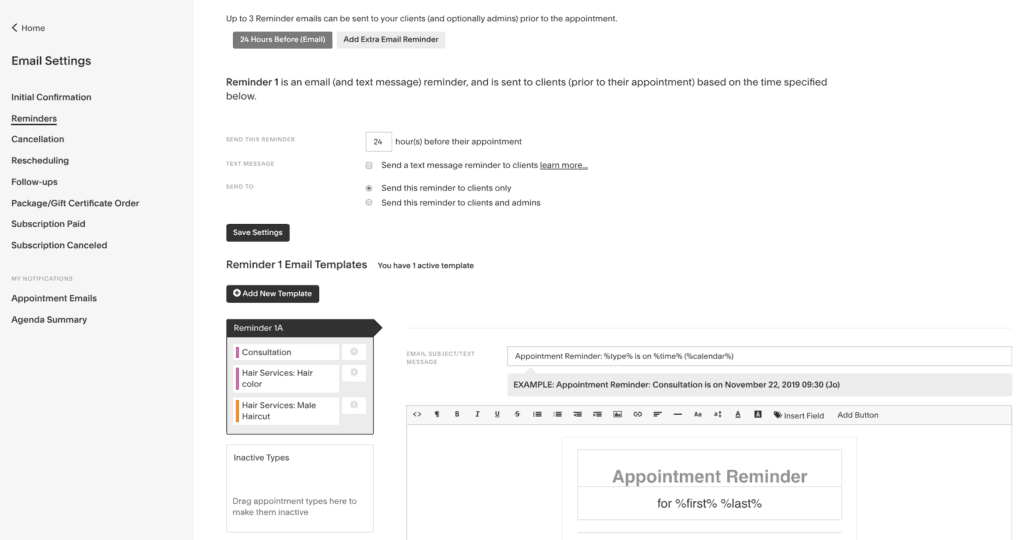 Business Management
Let's look at how Acuity and Square can support your business operations beyond appointment scheduling.
Payroll & Employee Management
Square Appointments
Square Appointments allows you to manage multiple staff schedules and system access as soon as you upgrade to their paid plan.
You can get really advanced payroll support with Square but this is manage in another solution called Square Payroll which also comes at additional cost.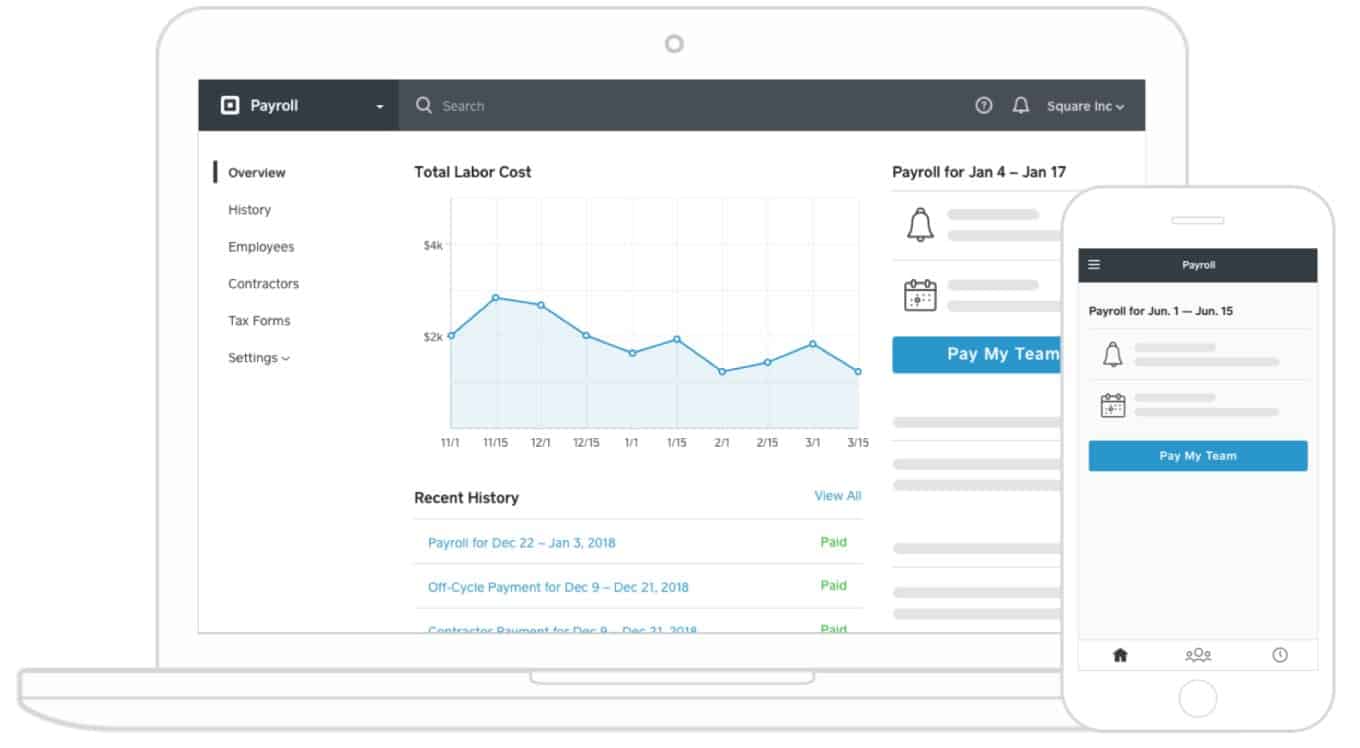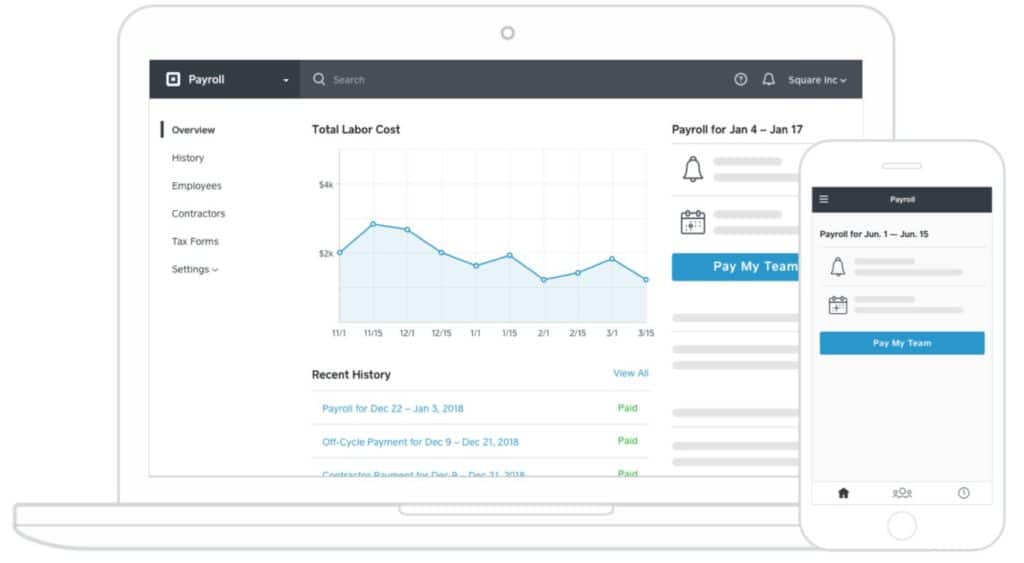 Acuity Scheduling
You can setup multiple user logins and staff calendars. and control which calendars staff should be able to see.
You need to be on one of their premium plans to add staff though.
There's no further support for employees in Acuity.
However, the power of Acuity is that it integrates with almost all other software providers so you can get a separate payroll system that it can work with.
Business Reporting
"You get what you measure" – that's an old saying but so true. If you're serious about growing your business, you need to define business targets and have a good reporting system to help you track your progress.
Square Appointments
When you sign up for Square Appointments , you also get free access to their reporting app.
As shown in the list below, you'll find several predefined reports available and you can also create custom business reports.


Acuity Scheduling
Acuity can provide good appointment-related reports, but not really more than that.
After all, Acuity is an appointment software (and a great one) but not a full business support tool.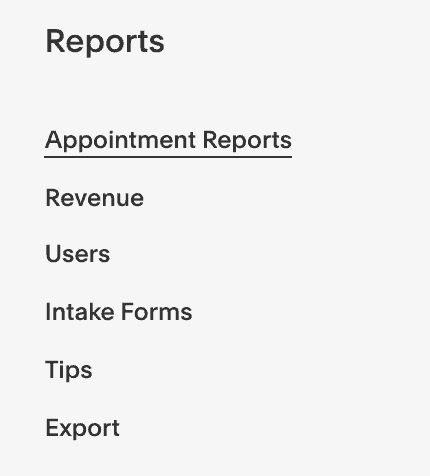 Inventory Management
Square Appointments
Square Appointments comes with the accompanying "Items" app where you manage your inventory of products and services.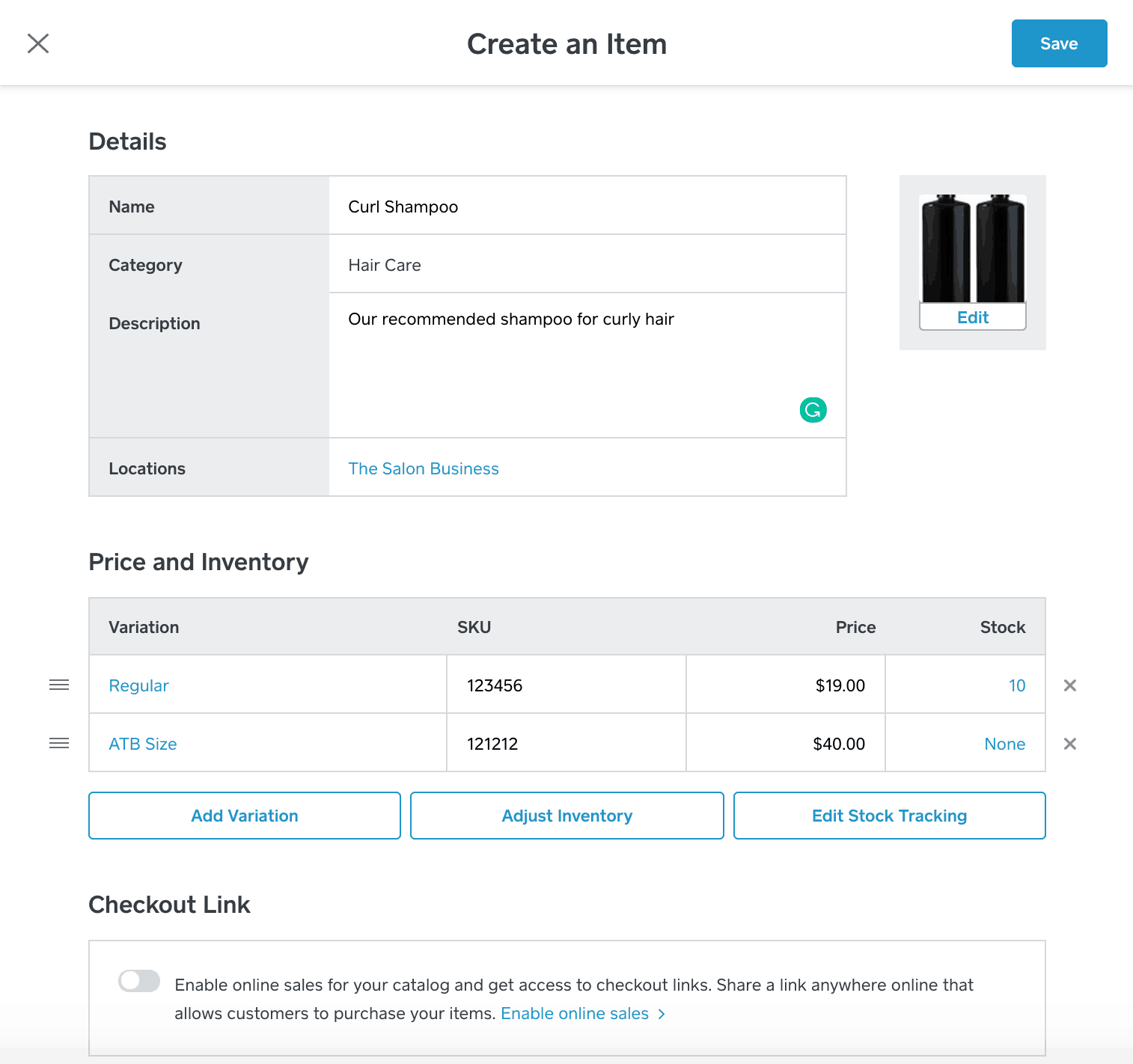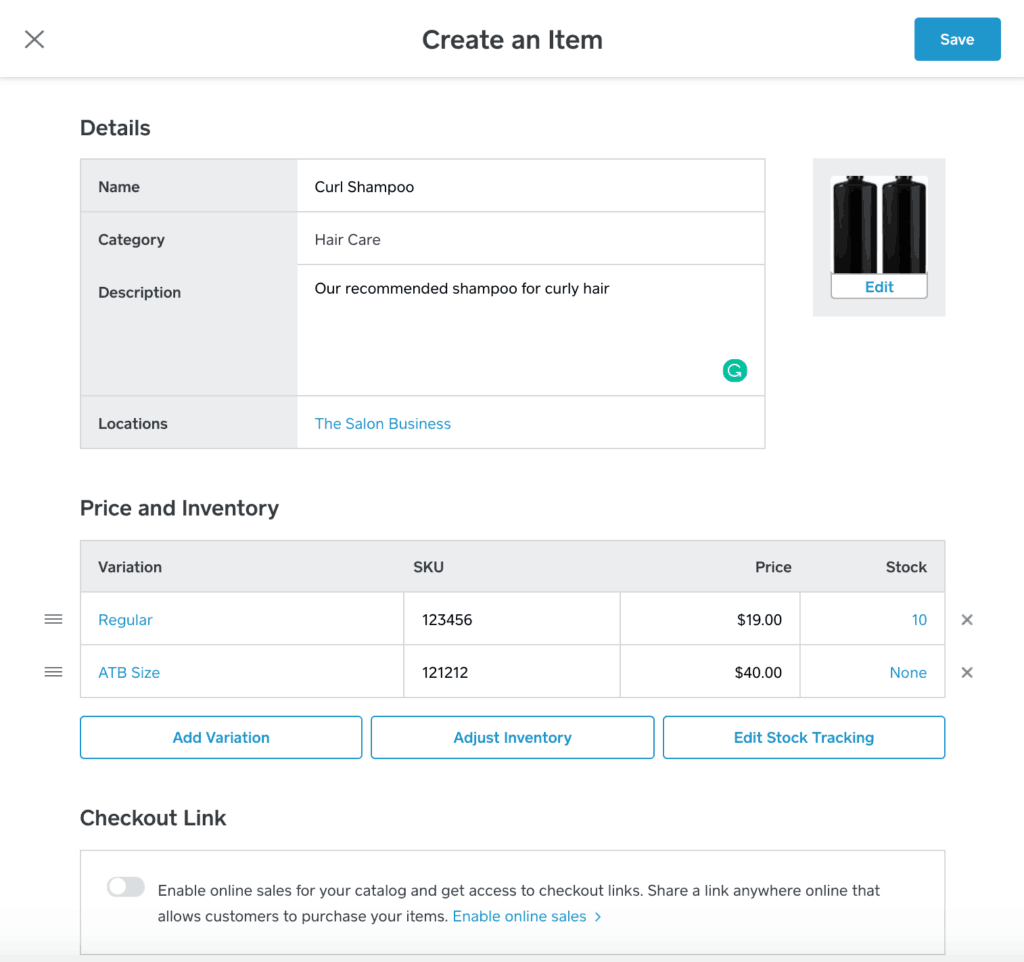 Acuity Scheduling
Acuity does not support inventory management. Instead, you can pick the solution of choice for this which (most likely) can integrate with Acuity.
Marketing Support
Email & SMS Marketing
Even though email and SMS are old technologies that have been around for a while, they're still the most effective ways for you to keep in touch with your clients (as well as potential new clients) at scale.
Square Appointments
Square Appointments does not have email marketing built in (only appointment notifications). However, they have another Marketing products that integrates seamlessly with the appointment app.
This is a dedicated email marketing solution and which you need to pay a small fee for but you get a great solution.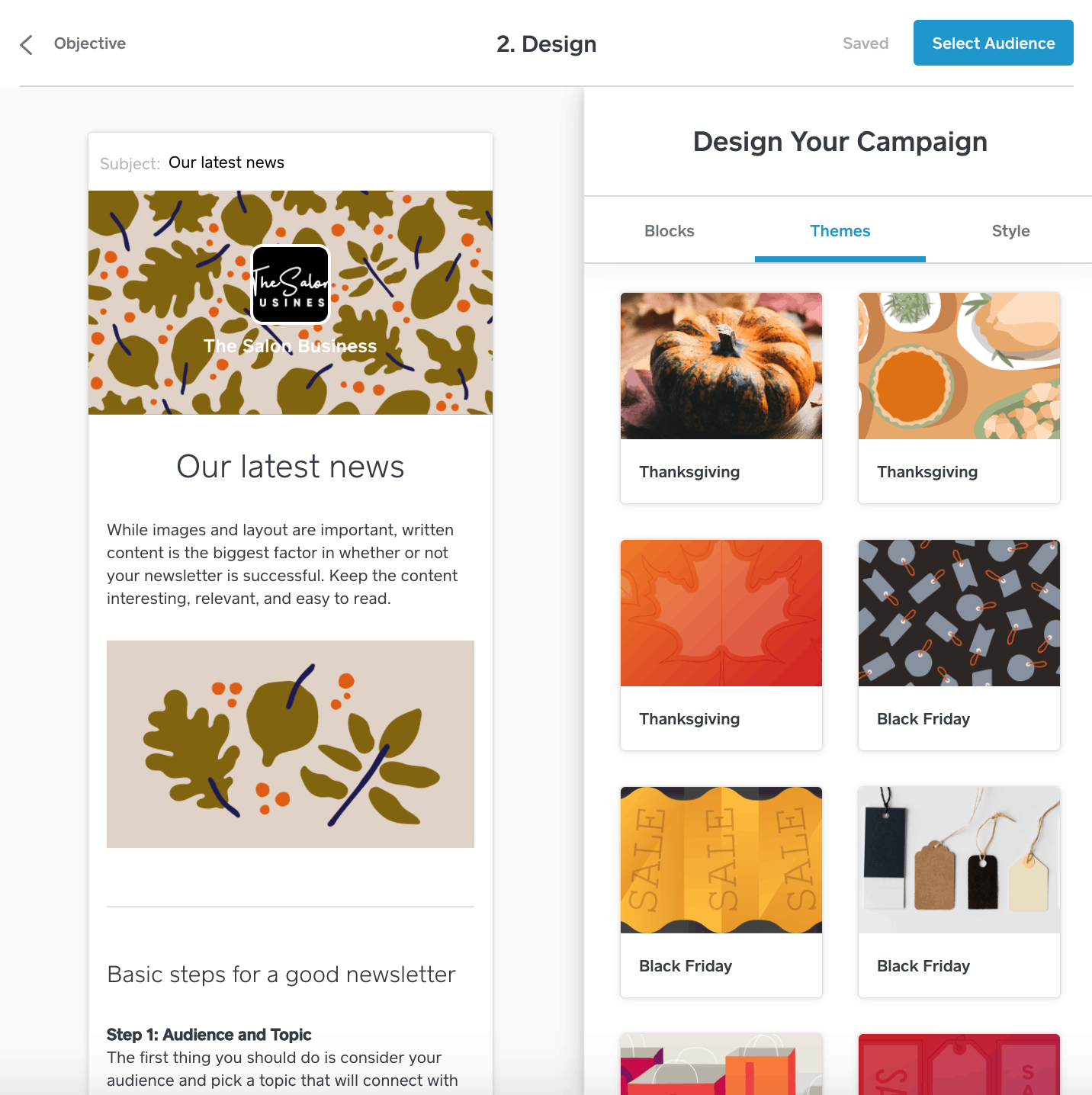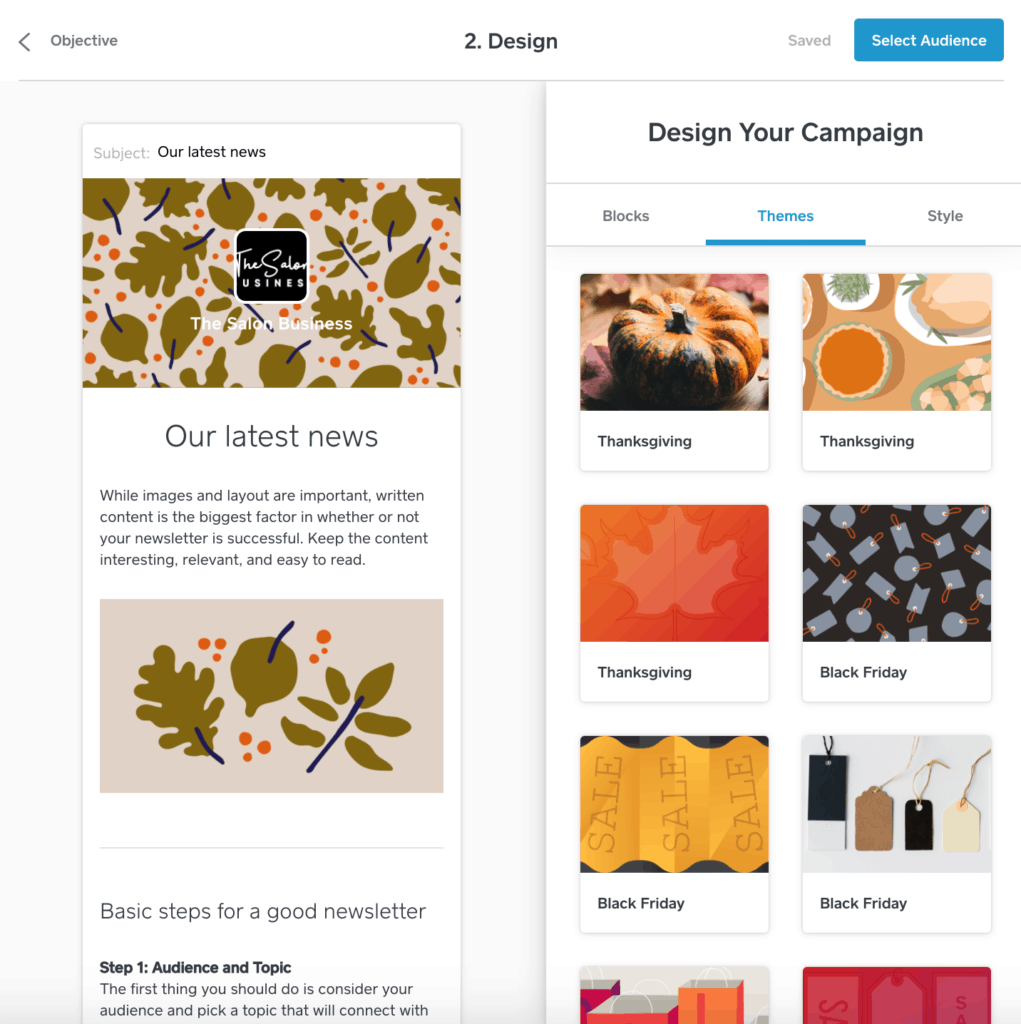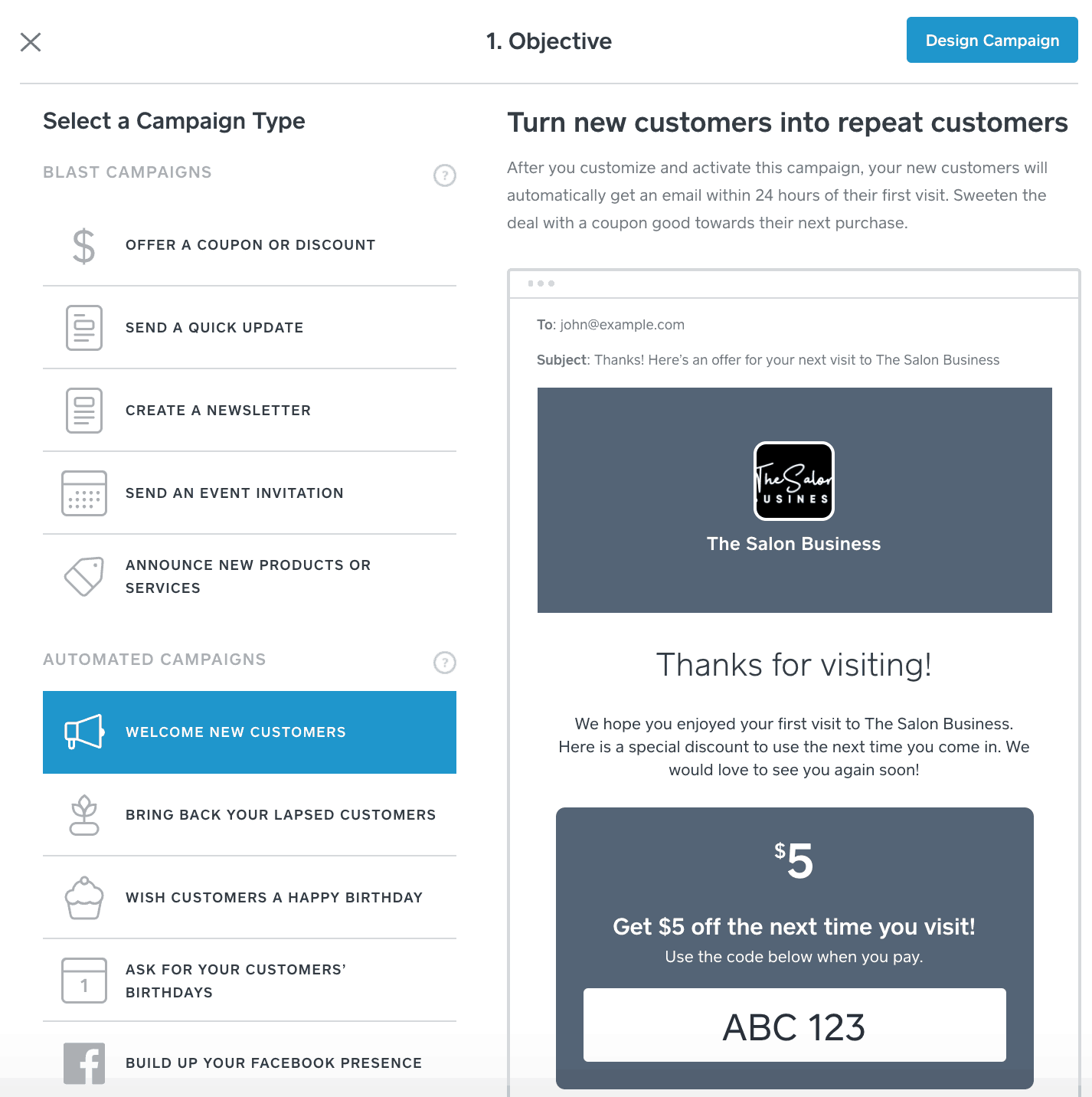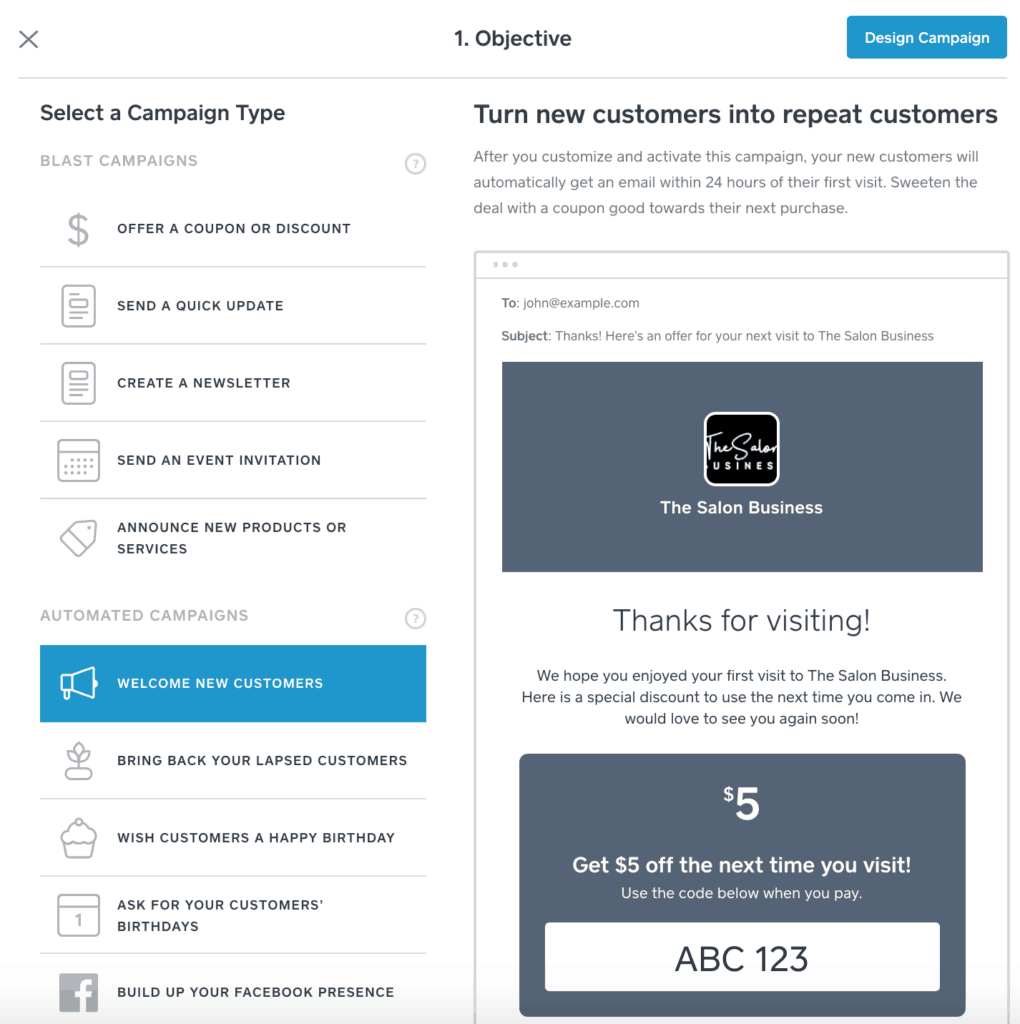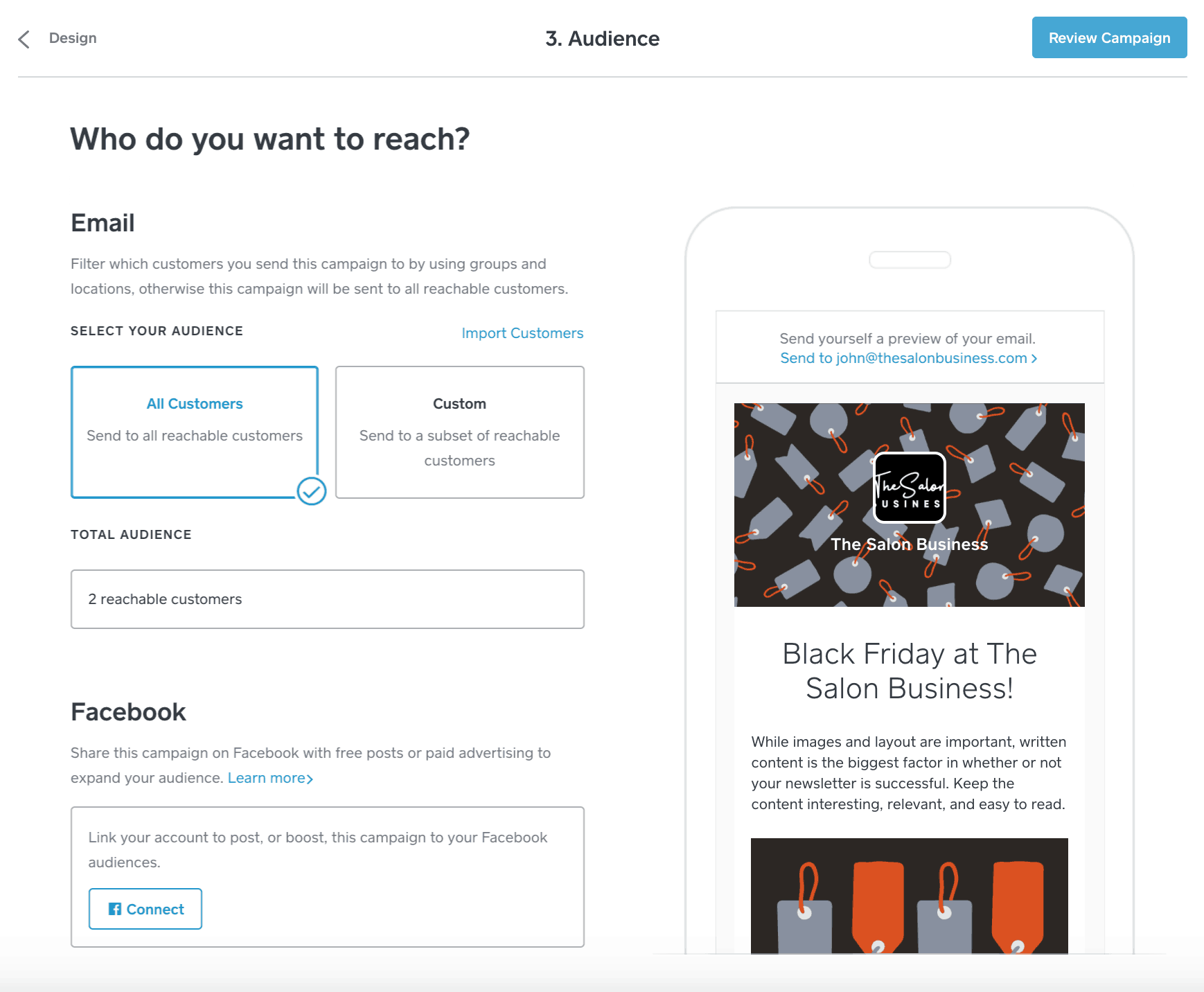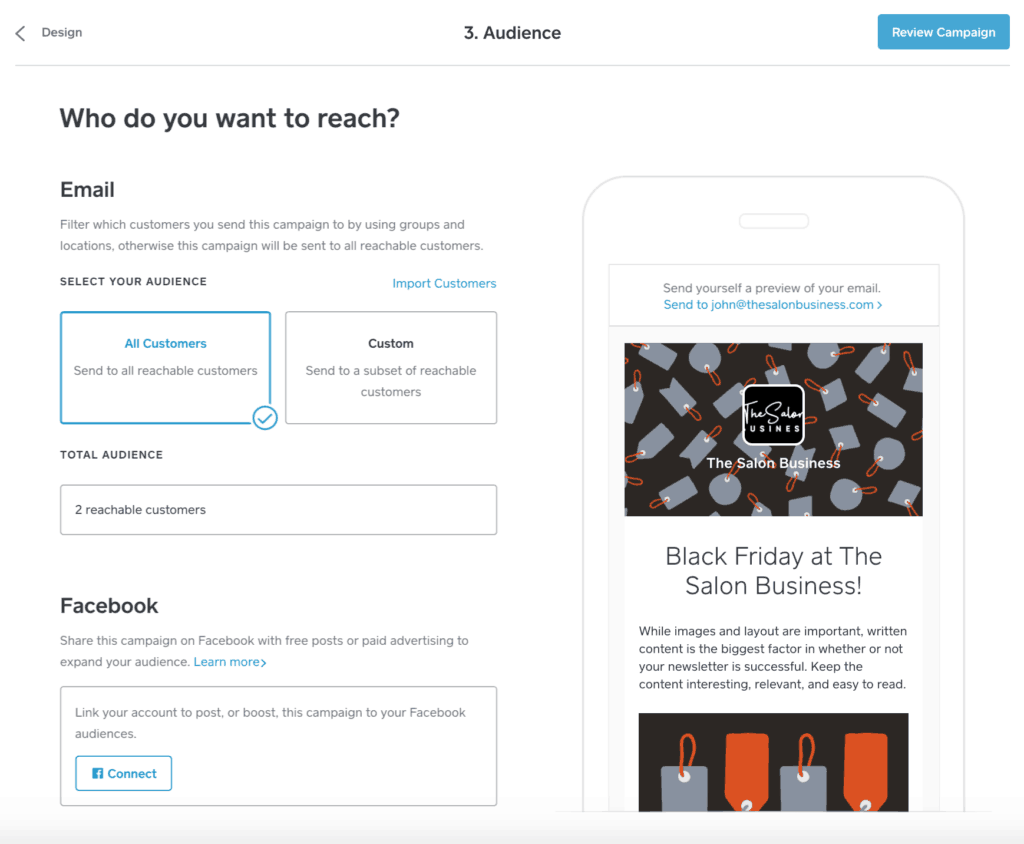 Acuity Scheduling
Acuity comes with rich functionality for email and sms notifications regarding appointments. However, it's not an email or SMS marketing platform.
The power of Acuity is that it integrates with other email marketing providers so that you can get the best email marketing support through a third party.
Client Loyalty Program
"It's always cheaper to retain a customer than it is to gain a new one".
That was part of the basic course when I studied marketing. And it's true. But we often forget this and just focus on bringing in new clients. Let's look at the support offered by Square and Acuity.
Square Appointments
You do not have a loyalty program built in to Square Appointments.
Instead, Square offers a dedicated loyalty program that works with their suite of solutions.
It's a powerful and easy-to-use loyalty program but it comes at additional costs.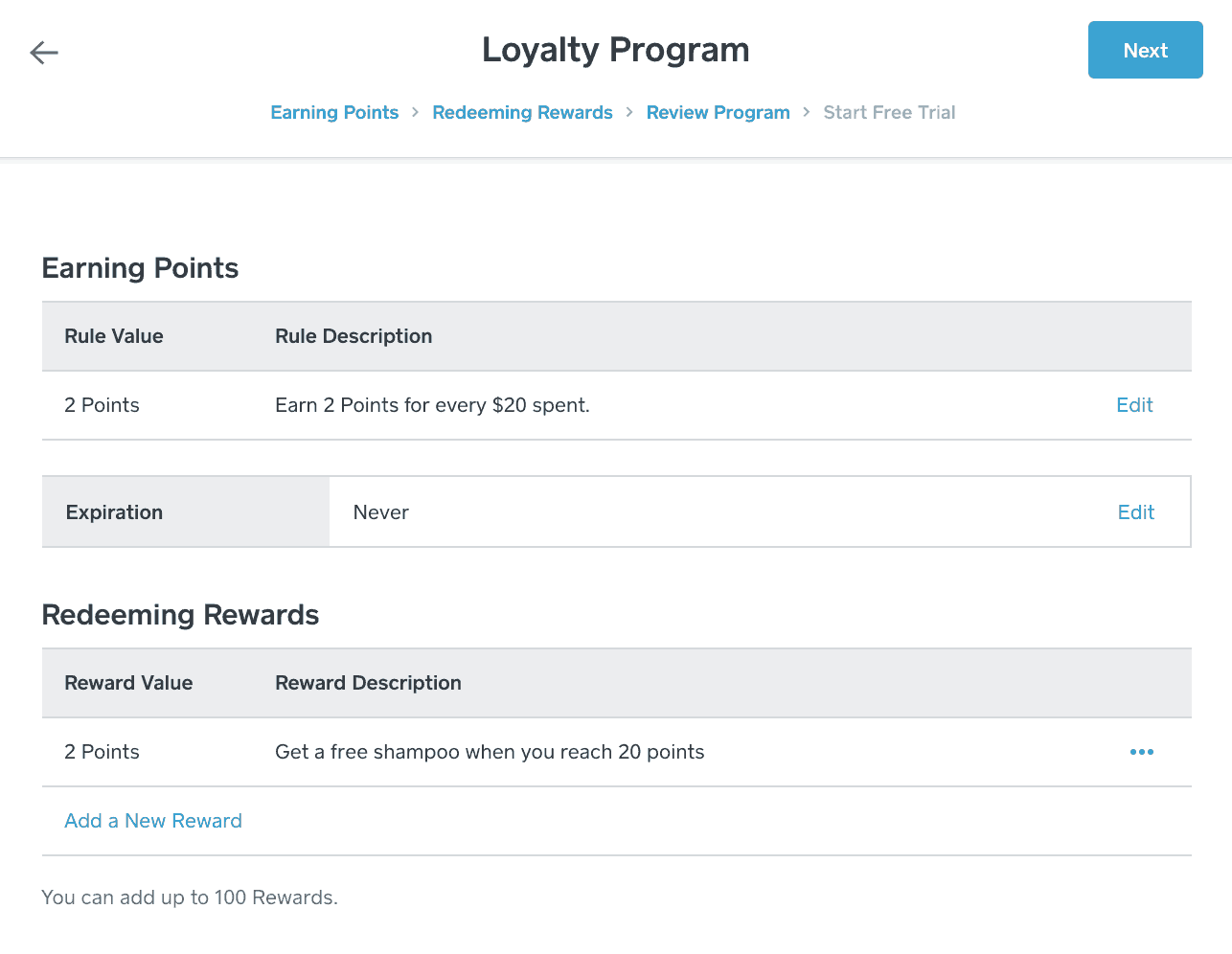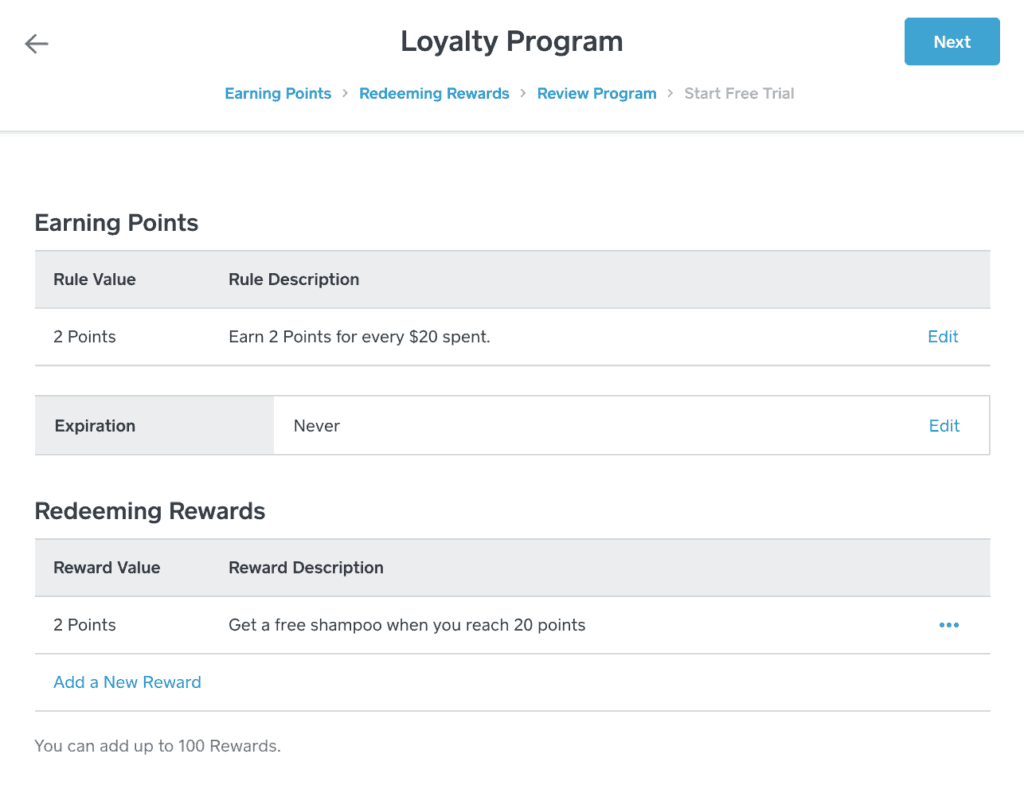 Acuity Scheduling
Acuity does not offer its own loyalty program. Instead, it integrates with the best loyalty program platforms on the market.
Website Builder
Your website is the hub of all your marketing. This is where you send new clients from your social media or other marketing efforts. It's quite likely it's also the first impression that a client has with you – so you want to get it right.
I'll go through how each of the recommended tools here can assist you with creating your website.
I have created a separate review for you that goes through the best website builders here. This is a good place to start if the website is the most important part for you.
Square Appointments
You can create a simple booking website in Square Appointments using their predefined layouts.
You can also generate a booking widget that you can add to your website independently on which platform you built it with.
On top of that, Square offers a solution called Square Online which integrates with the Appointments platform while also allowing you to sell products, gift cards, and subscriptions.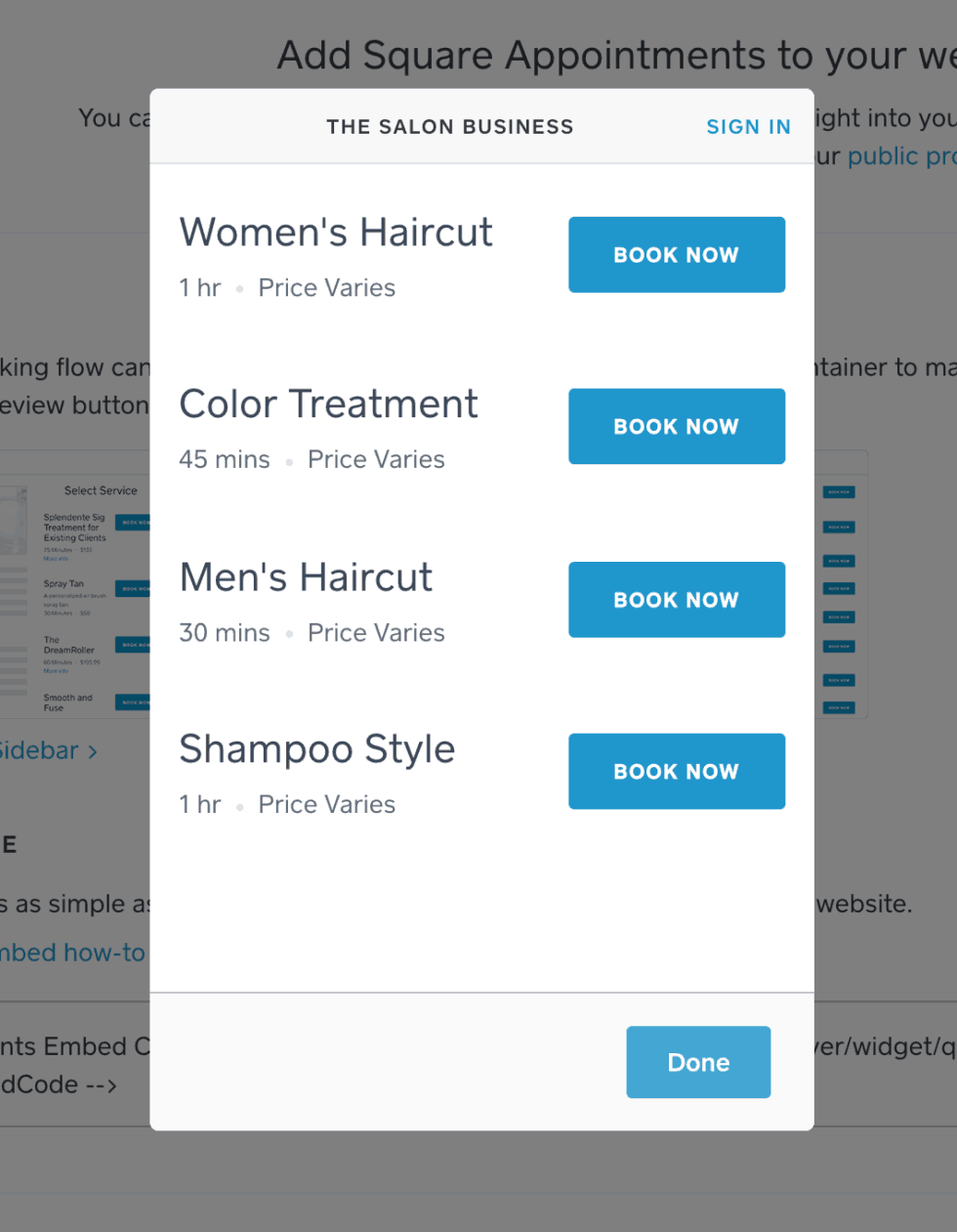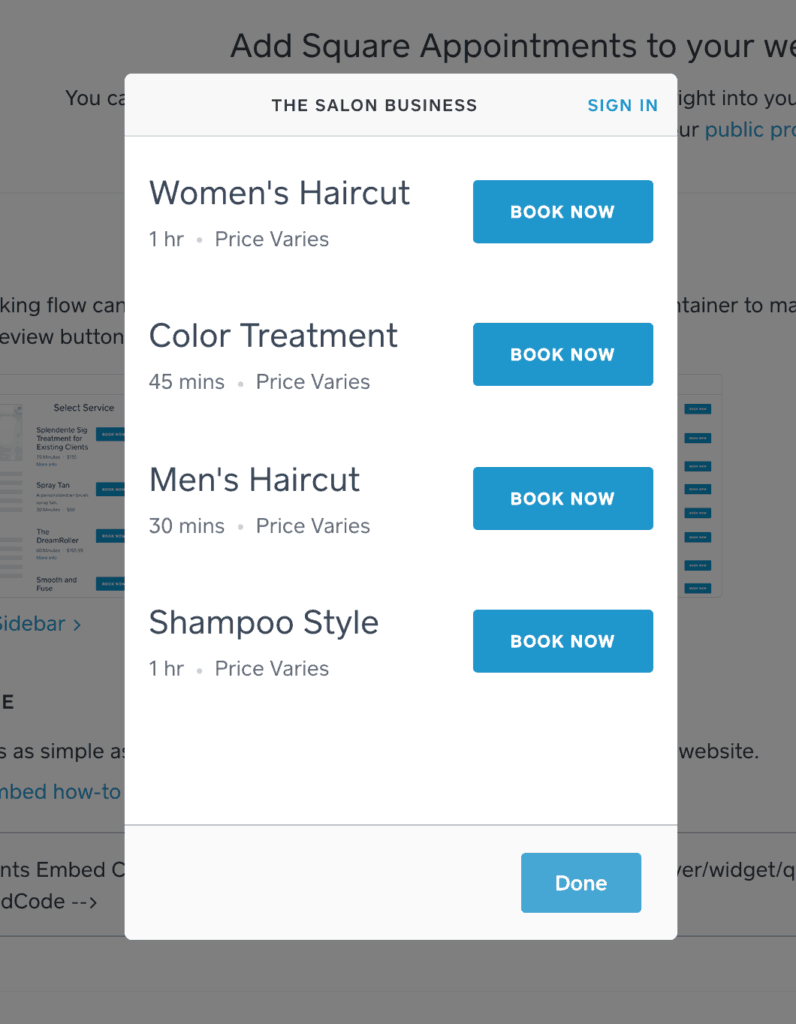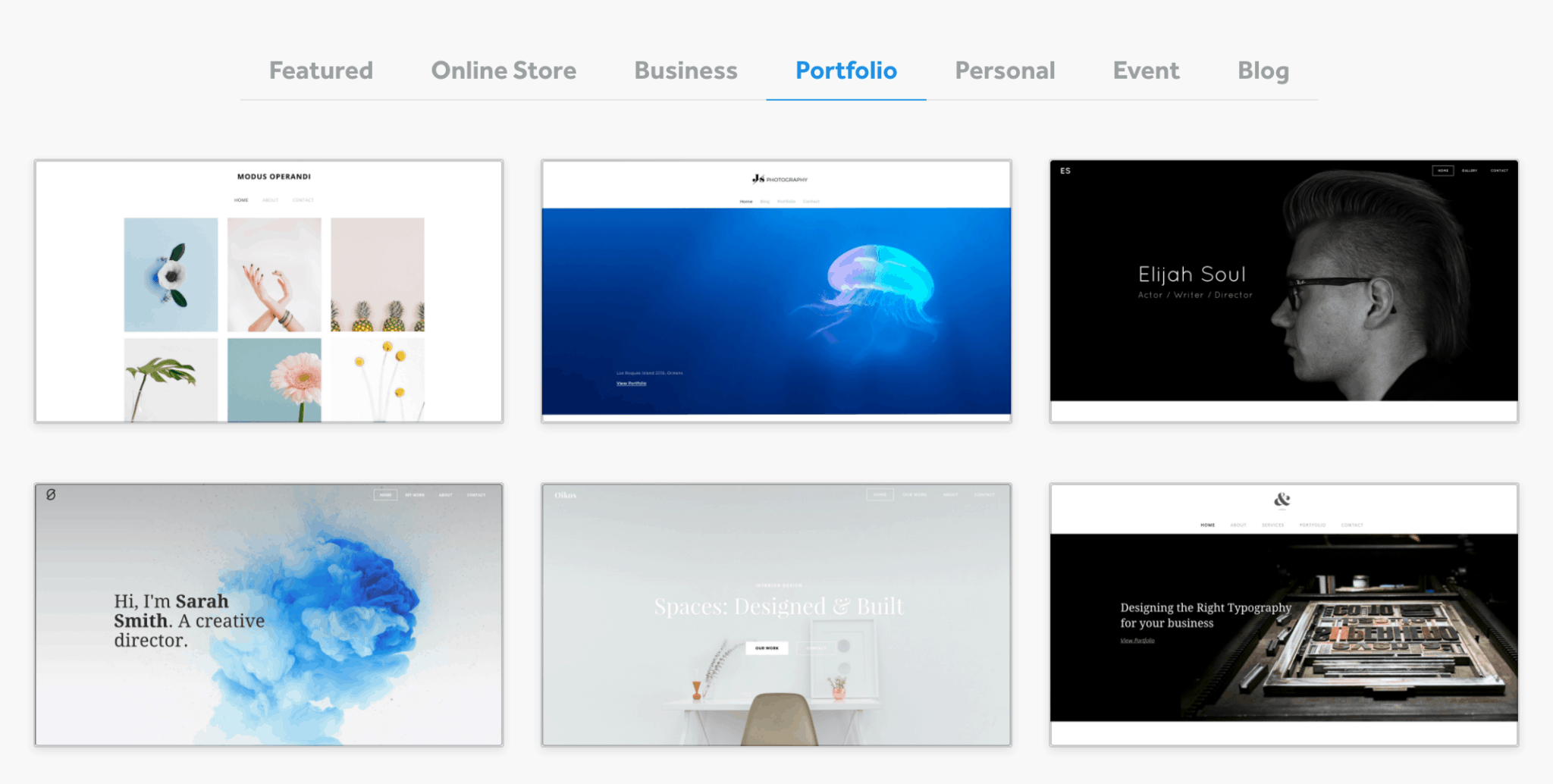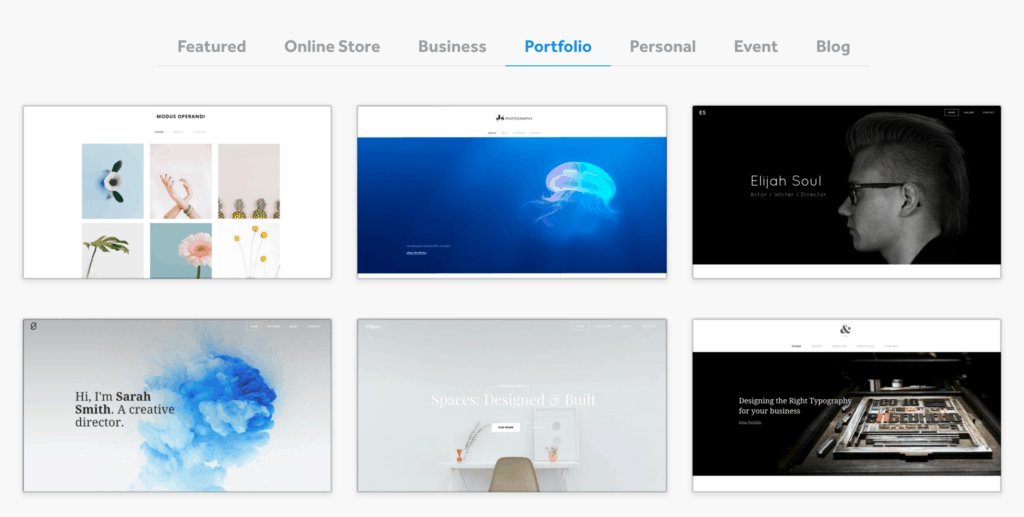 Acuity Scheduling
Acuity will help you create a simple, clean, booking website for your service business.
If you sign up for their large plan, you can also customize the booking experience completely.
However, Acuity is actually the same company as Squarespace – a leading website platform. And, naturally, Acuity integrates seamlessly with Squarespace.
Acuity also provides several options for how you can integrate their booking widget on your website.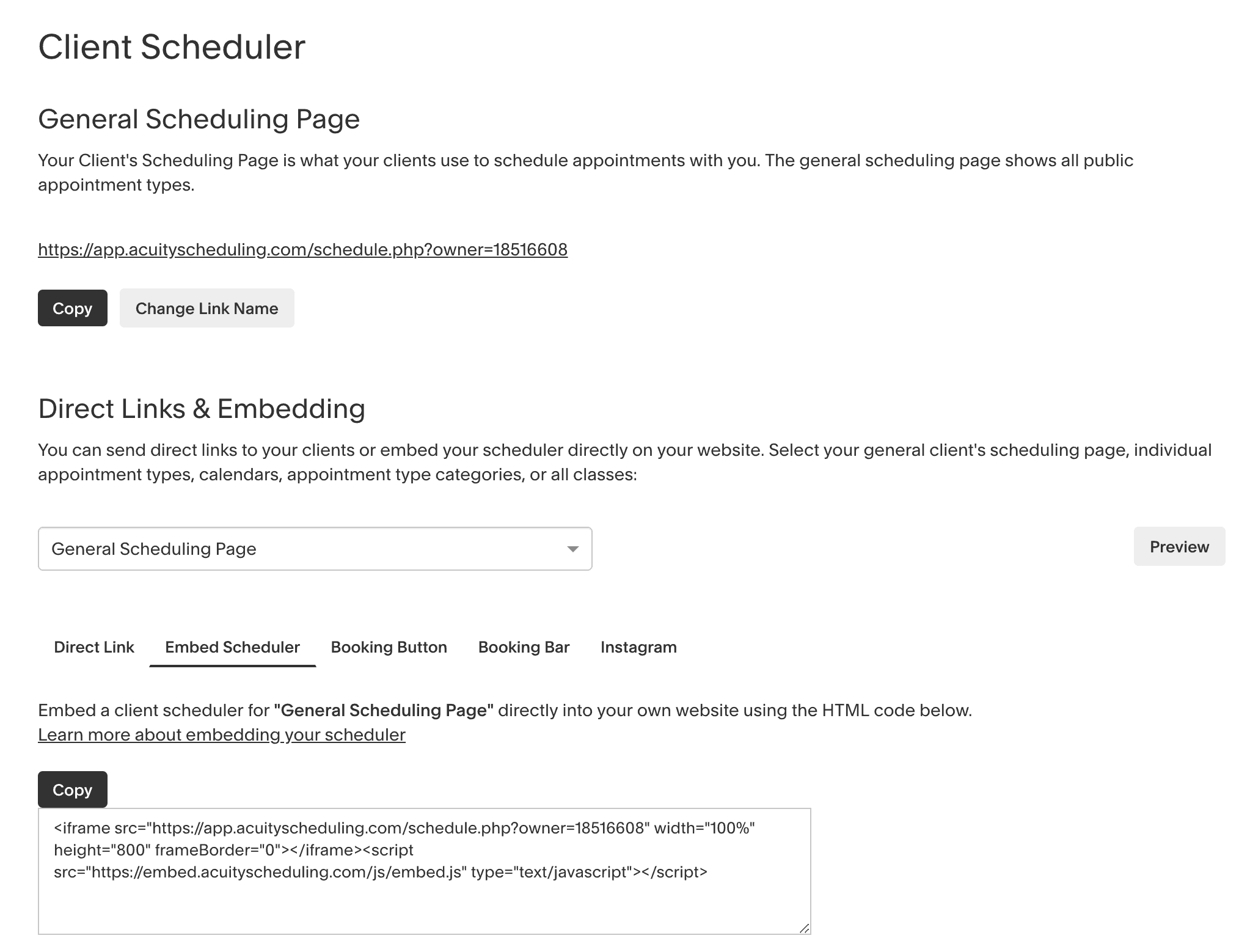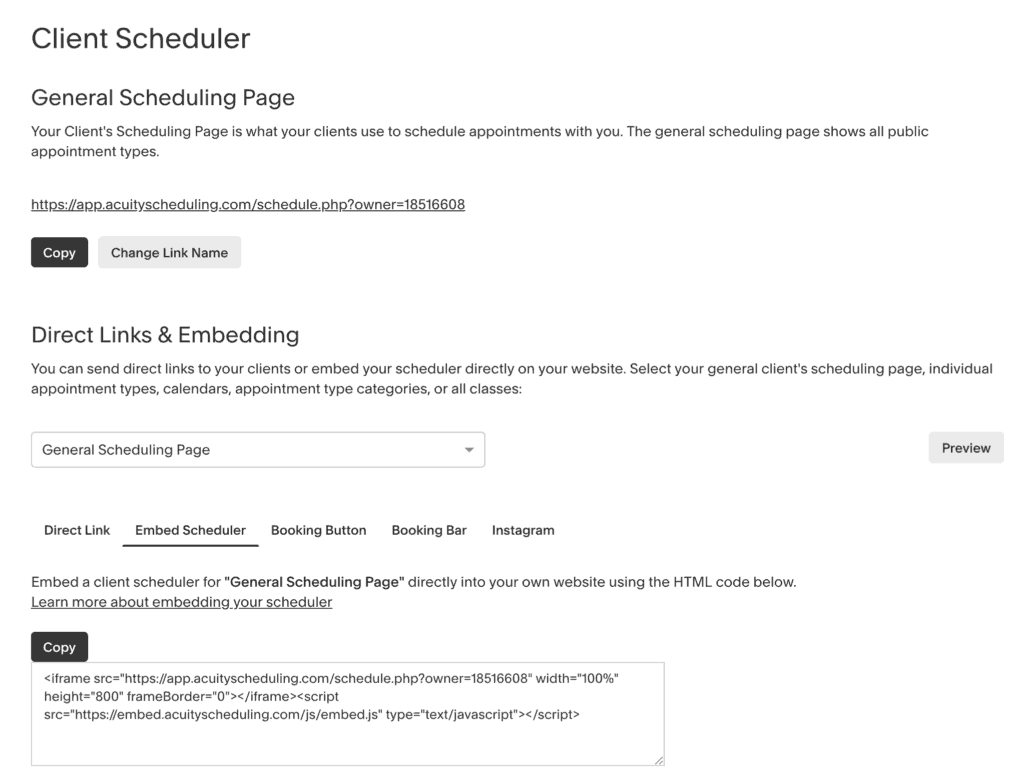 Social Media & Reputation Management
Social media has become the place to market your business. Let's look at how Acuity and Square support this.
Square Appointments
Square Appointments integrates with Google so that your clients can book you directly on the search result page without leaving Google.
For other social platforms you can link directly to you booking widget for fast booking of appointments.
The do not offer any reputation management support today.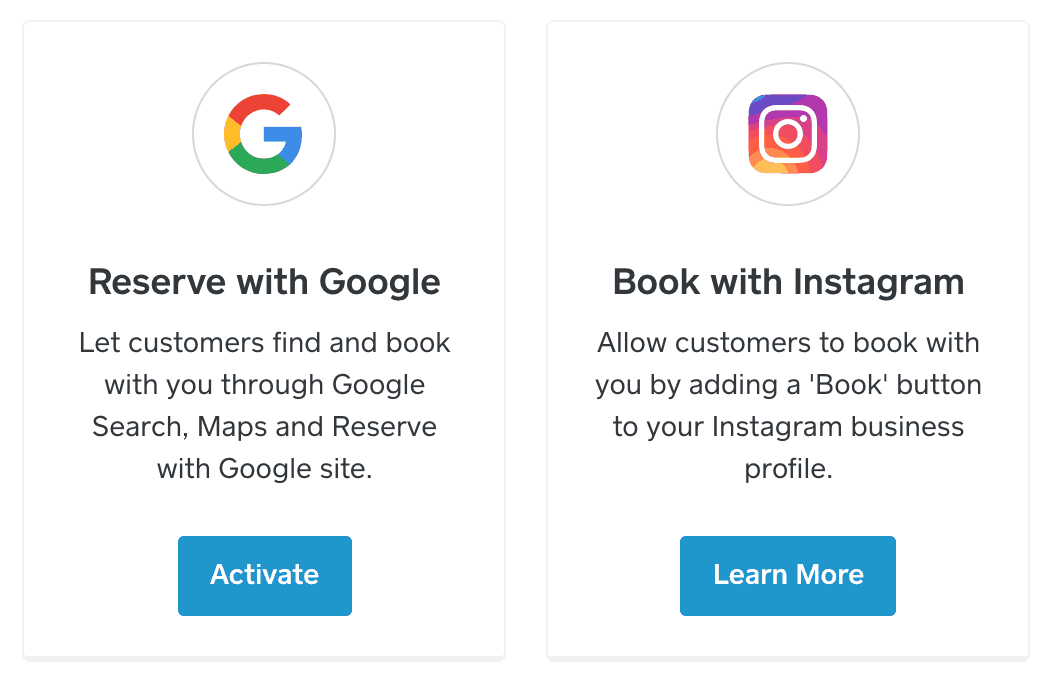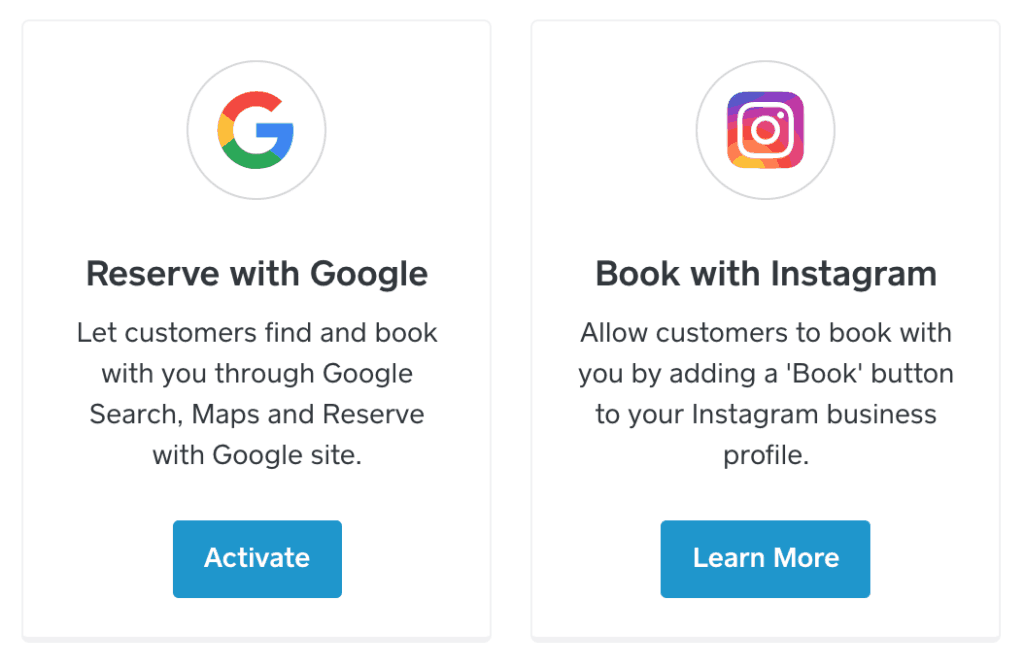 Acuity Scheduling
You can link directly from your social media to your Acuity booking page.
However, they do not provide further social media and reputations management support.
Instead you'd use a dedicate provider for this purpose.
Point of Sale (POS) System
Let's look at the point-of-sale support for Acuity vs. Square.
View my complete POS system top list here.
POS Hardware
Square Appointments
Square have a menu of hardware that you can purchase to streamline your check out process. They all have the modern and minimalistic design that you experience across all square products.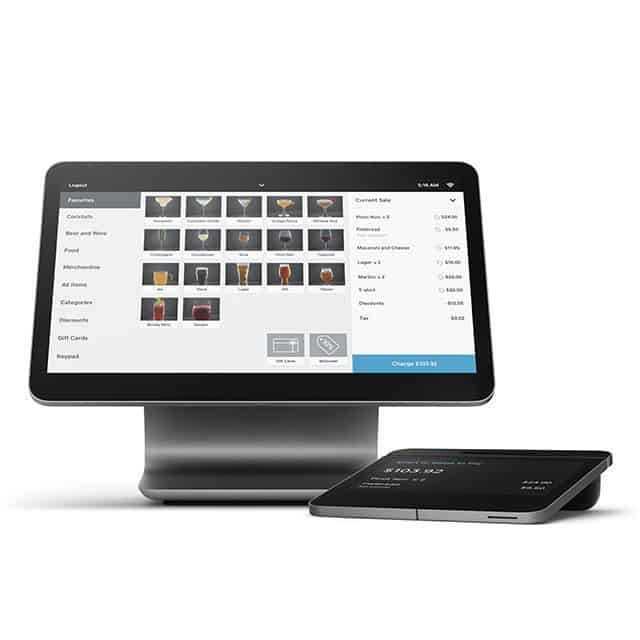 Acuity Scheduling
Acuity does not provide any POS hardware. However, you can integrate the platform with leading POS hardware solutions.
You can also manage check out directly in the Acuity tablet or mobile app.
Payment Options
Both options support a wide variety of payment options. However, this is where Square shines given payments is the core of their business.
View all my recommended credit card payment options here.
Square Appointments
Square of course shines when it comes to managing payments. After all, that's the core of their business.
The Square Payments software (which integrates with Square Appointments ) is free. You only pay per card transaction. You also get a free mobile card reader when you sign up.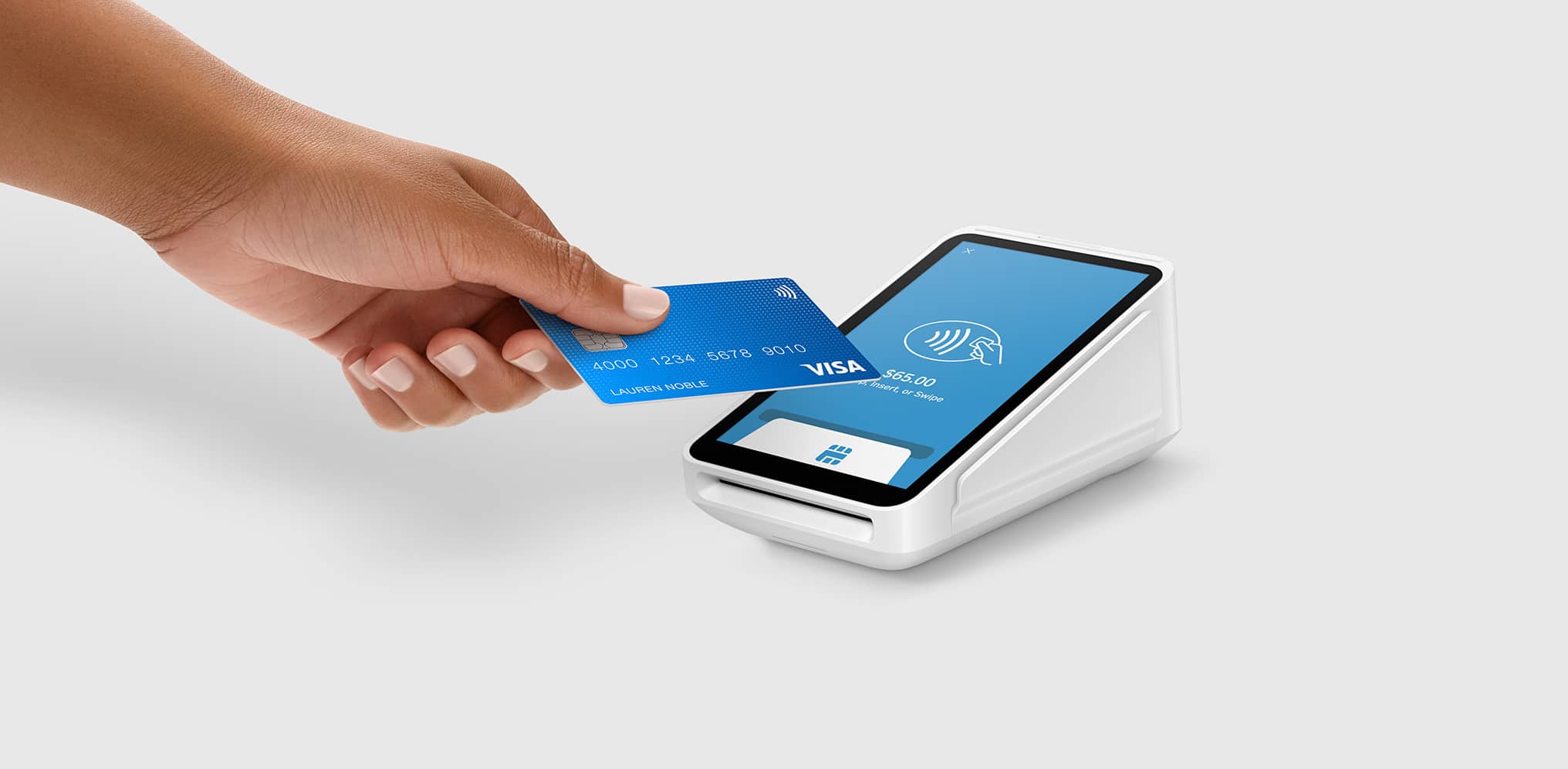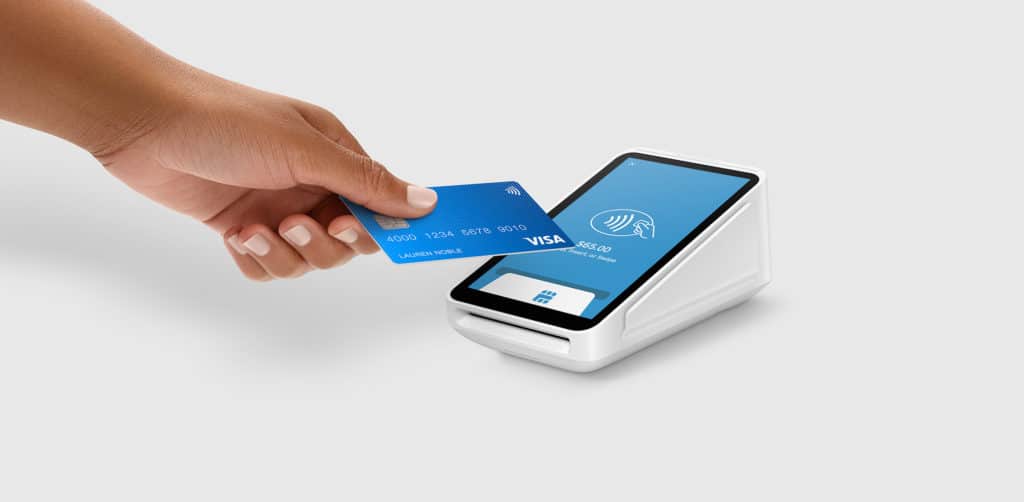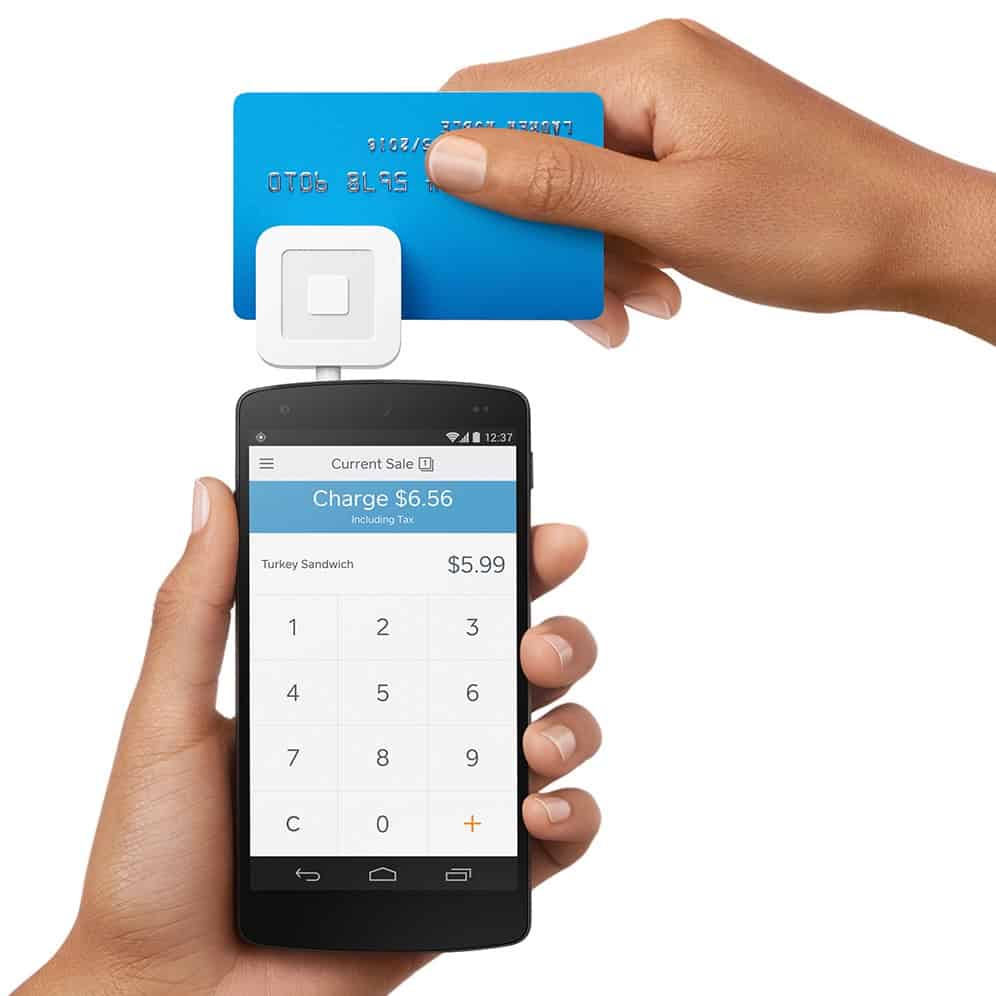 iPhone & Android Apps
Both Square Appointments and Acuity are cloud-based and can be accessed from a web browser. Let's also look at their mobile app support.
Square Appointments
Square Appointments is available on US & Canada Apple App Store and recently also for Android. Square Point of Sale app is however available globally.
You have full control of Square Appointments via the app.
User Reviews:
Google (840+ reviews): 4.4 out of 5 rating.
Apple (47'000+ reviews): 4.9 out of 5 rating.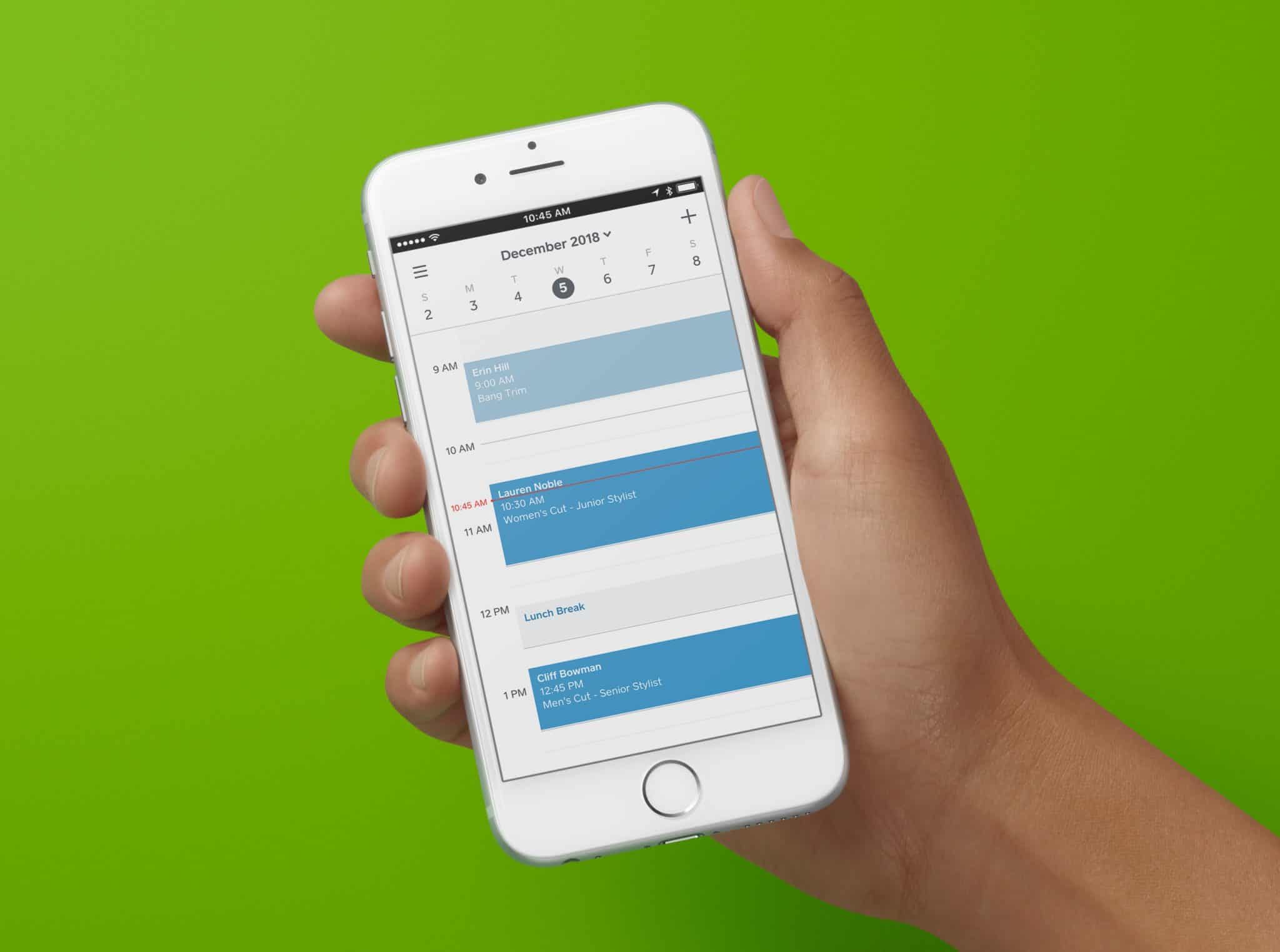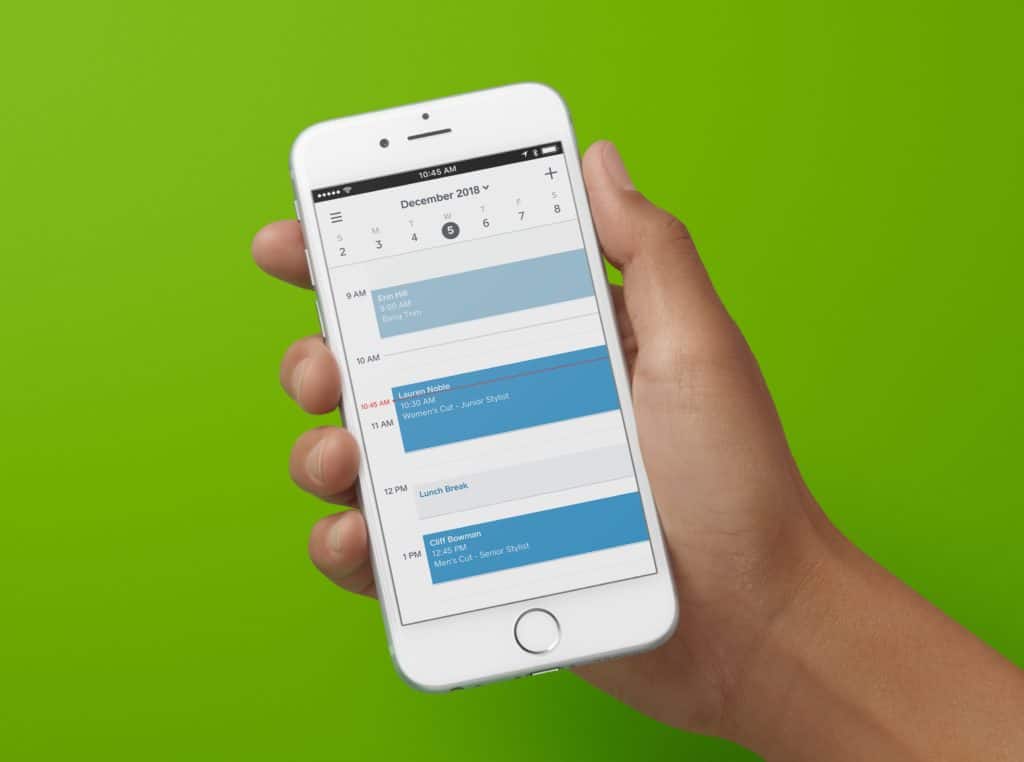 Acuity Scheduling
The app from Acuity is clean and easy to use and gives you full access to all features. It's available worldwide for iOS and Android.
User Reviews:
Google (1,400+ reviews): 3.7 out of 5 rating.
Apple (6'600+ reviews): 4.8 out of 5 rating.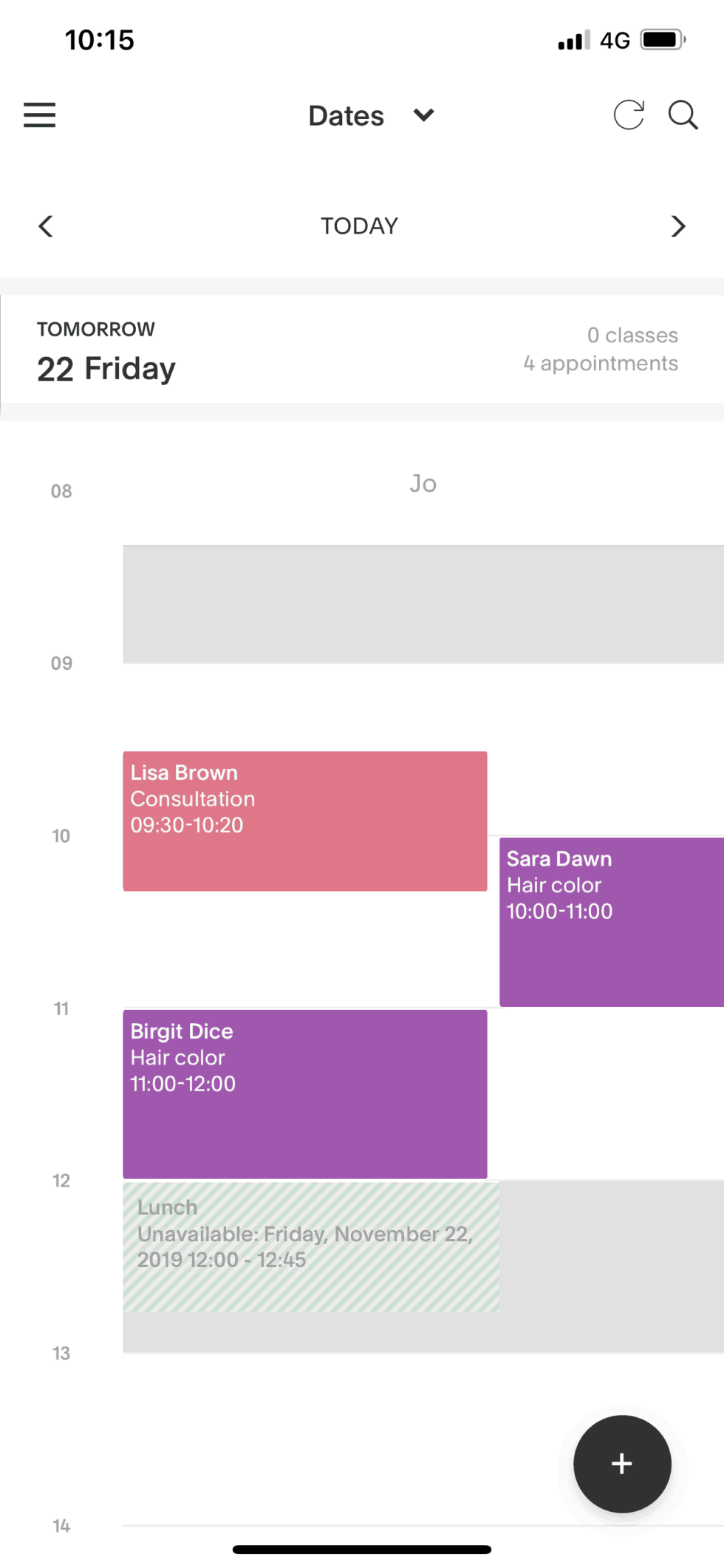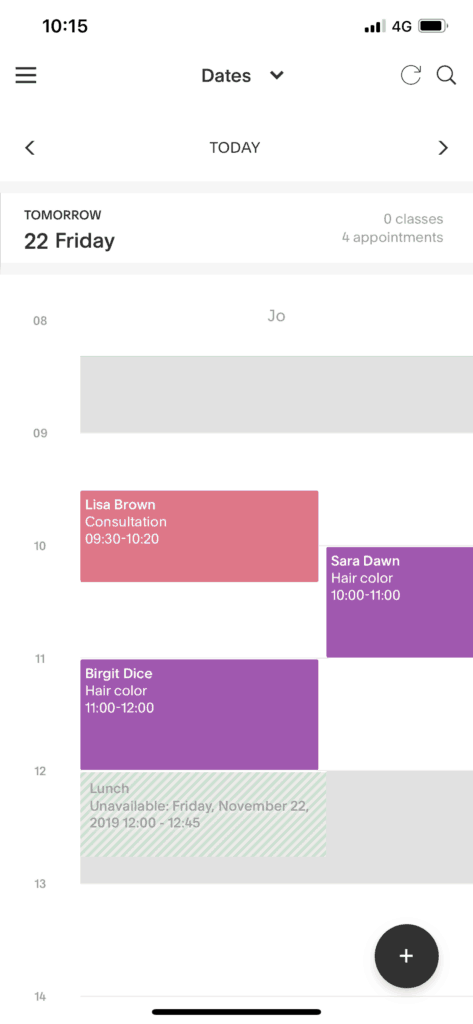 Summary & Conclusion
I hope this review of Square Appointments vs. Acuity Scheduling has helped you decide which fits you the best. At least, I don't know what else I can tell you to help you make up your mind 🙂
If you run a salon, spa, or barbershop business, I strongly recommend you also check out my top lists for your type of business: